5 reasons why military personnel become professional truck drivers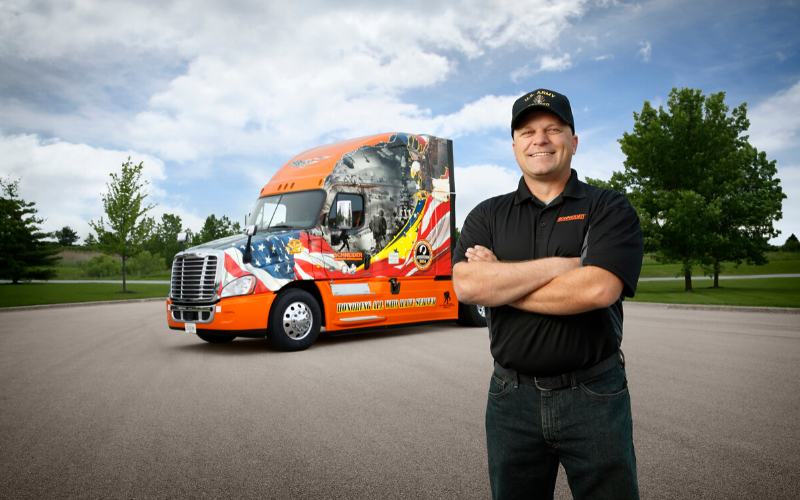 The right job can help make transitioning from military to civilian life seamless. The skills and attributes acquired in the military are applied regularly as a professional truck driver, making this a career that naturally marries your past with your future.
Here are five reasons why:
Independence
When your commanding officer gave you a task, you were expected to execute that task within a specific set of parameters. You were empowered to complete your mission, and you relied on your skills and training to respond to the situation appropriately.
As a driver, you'll have the same kind of autonomy. You'll get your load assignment and be expected to get it from point A to point B—safely and on time. There won't be a boss looking over your shoulder or micromanaging you. Within your truck, you have control over how you complete the mission.
Team atmosphere
While you'll enjoy the freedom that comes with being out on the open road, it's important to know you're not alone. The drivers you work with will provide you with a battle buddy (or two or three) to lean on. And whether it's a training engineer or your driver leader, you'll have a lot of different resources to leverage to make your job come together. These people will have your back on good days and bad, and will rally behind you to make sure you accomplish your goals.
A new mission every day
Transportation, like the military, is fast-paced and dynamic. The complex business challenges of a modern-day transportation operation like Schneider are exactly the kind of opportunities members of the military are looking for.
Your mission over the long haul (pardon the pun!) is to move freight, but the details will constantly change based on your load assignment, the landscape and the weather. No two days will ever be the same, but that's what keeps driving fresh. There's no time to rest on your laurels and get complacent because every day will provide you with a new opportunity to succeed.
Travel the country
Driving through the Rockies, Appalachia or along the Pacific Coast Highway? Just another day in the life of a professional truck driver. It's hard to beat the view from the driver's seat, so why settle for the standard 9–5 or life in a cubicle when you have the ability to see the majesty of our country's sights from sea to shining sea?
Core values
In the military, you were accustomed to making key decisions in line with the core values of your branch. Schneider operates the same way, embodying its four core values day in and day out regardless of the task at hand. These include:
Safety First and Always. Nothing we do is worth harming others. In the military, you're trained to identify specific situations and act in a way that provides the safest outcome. As a driver, you'll have to analyze the situations you're in and make the best decision given the circumstances.
Integrity in Every Action. Do what's right, legally and morally, and conduct your work to the highest ethical standards. This will set you apart and allow your leadership to shine.
Respect for All. The Soldier's Code pledges to "treat others with dignity and respect while expecting others to do the same." Schneider echoes that sentiment wholeheartedly. We can learn from one another and come out stronger together.
Excellence in What We Do. Take pride in your work, deliver a superior experience and be committed to continuous improvement.
For veterans and current military, Schneider driver and featured 2016 Ride of Pride driver Jon Ritscher sums it up like this: "When you are looking for a company, look for one that has been recognized for its military-friendly status. It's a great honor as a veteran myself to be able to come to a company that truly feels this way about [the military]."
Your Next Mission
Schneider's military history runs deep, and it's a legacy we are proud to carry on. We hire current and former military because they embody the strengths and qualities that are paramount for success. Here are a few ways we help you get behind the wheel:
Credit for Military Experience Program: Up to 100 percent of your time served will be converted to Schneider driving experience credit toward pay.
Apprenticeship Program: Use your GI Bill benefits to receive tax-free educational benefit checks up to $1,266 each month, in addition to your Schneider paycheck.
Extended benefits and differential pay if deployed for up to 18 months, and a guaranteed job when you get back from deployment.
Learn more about Schneider's military program and why 28 percent of Schneider drivers have military experience.
Join a top military-friendly trucking company.
Learn more about what benefits we offer to military personnel, fill out a pre-qualification profile and you'll be on your to an interview at Schneider.
About the author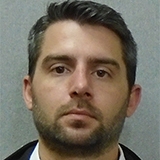 Matthew is Schneider's Military Recruiter. He served as an infantry soldier in the Army National Guard from 1997 to 2001 and worked several different civilian jobs before becoming a truck driver with Schneider in 2007. He drove in a variety of positions before advancing to a local instructor role, and then into Recruiting. Now he helps other veterans find fulfilling careers with Schneider.