Guardsman Joseph Morning shares how Schneider supports veterans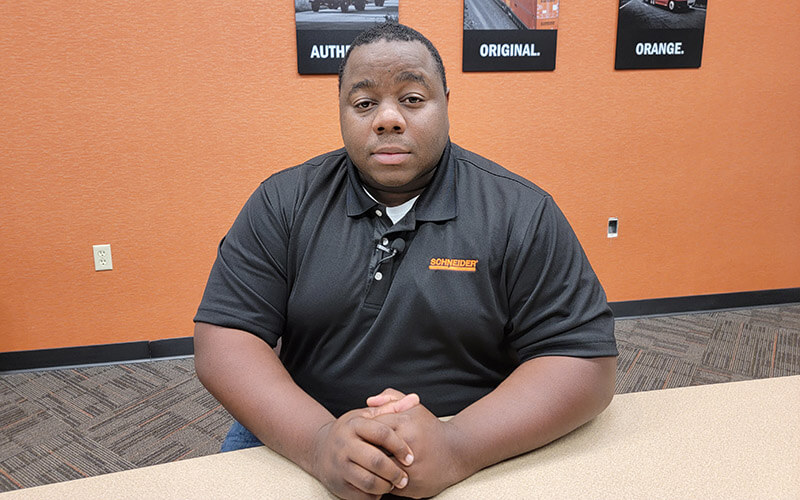 Estimated reading time: 4 minutes
Joseph Morning is a driver that truly goes above and beyond. Whether it's aiding his fellow drivers by sharing advice and wisdom as a Training Engineer or answering drivers' questions on Schneider's various social media pages, Joseph always seems to find a way to help others.
However, his dedication to service doesn't just stop with helping his fellow drivers. Joseph also gives back to our country by serving in the military.
Joseph currently has over 15 years of joint military service, with four years of service in the Marine Corps and over 11 years in the California National Guard. During that time, Joseph has been activated on numerous occasions and has completed five deployments.
But what was it that led Joseph to a career as a professional truck driver?
Why Joseph decided to pursue truck driving
When asked what drew him to truck driving, Joseph said that he's never been a typical nine-to-five office worker. He went on to say that he loves having new scenery and challenges every day, which is why he was so drawn to the military and truck driving.
"Being a truck driver is almost the equivalent of being in the military to an extent," Joseph said. "You have to be able to take care of yourself, other people around you, and you need to be aware of your environment. I feel that having those skills and transferring them over to truck driving worked out very well."
How Schneider's military benefits helped Joseph get started
Joseph said that he did a lot of research before choosing a company to drive for. Before making a decision, he researched and compared the pay, benefits and military offerings at each company.
"Schneider was one of four companies I looked into based on their military apprenticeship programs, Joseph said. "Of the couple carriers I looked into, Schneider's seemed to work the best out of all of them. Mostly because the other programs I saw were just paying back your GI Bill® while Schneider gave you the Military Apprenticeship Program, which, in my eyes, helps you more."
Schneider's Military Apprenticeship Program (MAP)
"While looking at using my GI Bill®, I checked a lot of trucking companies that had some sort of military apprenticeship program," Joseph said. "Schneider's MAP stuck out the most to me in comparison to other companies."
Schneider's Military Apprenticeship Program is designed to help veterans start their truck driving career by providing them with a monthly educational benefit check from Veterans Affairs in addition to their Schneider paycheck.

Credit for military experience
Another military benefit that Joseph took advantage of was Schneider's Credit for Military Experience Program. This program rewards recently discharged veterans' service by allowing them to transfer their military experience to driving experience and start their career with a higher salary.
Veterans with military driving experience receive 100% of their military experience and veterans who did not serve in a transportation capacity receive one year of experience when they start driving for Schneider.
"Given that I hold military occupations that related to driving a semi-truck, I was able to use that experience when I started out," Joseph said. "That allowed me to come in as a new driver without getting the new driver pay, which is a huge perk at Schneider."
How Schneider supports Joseph as a National Guardsman
As an active member of the California National Guard, Joseph often has state activations that happen without warning or time for preparation. However, Schneider works with him and other active service members to make sure they can do what they need to serve their country.
Whether it's getting home for drill on the weekends or helping veterans during deployments, Schneider is there to offer support.
"While activated, my dispatcher was still calling and emailing me just to check up on me," Joseph said. "That's something I felt passionate about because a lot of people feel like they're just a number. Having these personal emails and phone calls while gone made my place here at Schneider feel all that more secure."
Joseph's advice for veterans considering truck driving
When asked what advice he would give other veterans who are considering a truck driving career, Joseph said he would advise them to do their research.
"Don't be quick to run into a company just because they're throwing money at you," Joseph said. "Look at the culture, talk to other veterans that are there and build your opinion based on your own research and not what everyone else is saying."
Want to learn more about Schneider's military benefits?
We believe that supporting our veterans and active service members is important. That's why we offer a variety of unique benefits just for veterans.
About the author

Schneider Guy loves the "Big Orange." He's passionate about the trucking industry and connecting people to rewarding careers within it. He's been the eyes and ears of our company since our founding in 1935, and he's excited to interact with prospective and current Schneider associates through "A Slice of Orange."