Schneider marketer, veteran takes part in Wreaths Across America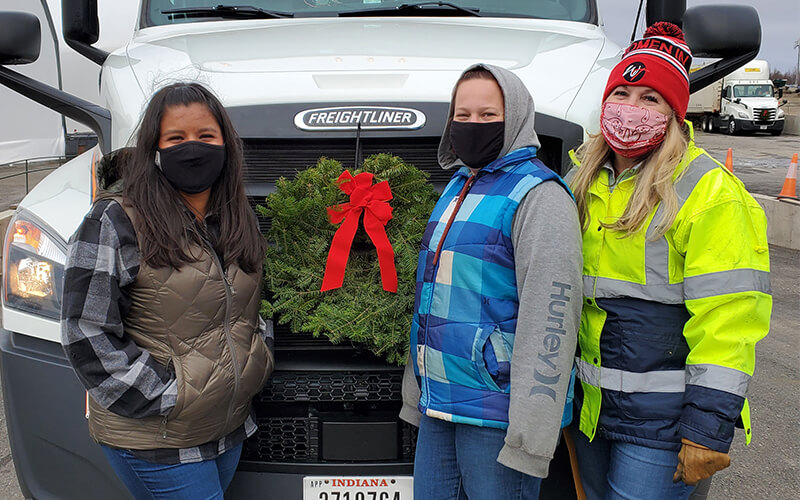 Over-the-road trucking is not a job, it's a career and a lifestyle.
That became clear when I had the opportunity to spend six days on the road with Schneider over-the-road truck driver and Women in Trucking (WIT) Ambassador Kellylynn McLaughlin. Not to mention, part of our journey included hauling wreaths for Wreaths Across America (WAA), an organization I've been passionate about for years.
This opportunity, to ride with a driver for a week and take part in the journey of hauling wreaths for WAA, was a dream come true for me.
Why I was chosen for this opportunity
My name is Nichole Garcia. I was a medic in the Army for seven years, and I have been the Digital Media Representative in Schneider's Marketing department since December of 2018. Supporting the military and its veterans is a huge passion of mine, and I am always looking for ways to increase my contribution.
As the ambassador for WIT, Kellylynn was told she was going to be dispatched a load that entailed hauling wreaths for WAA. Kellylynn wanted to invite a female veteran to ride along with her on the wreath-hauling journey so the veteran could experience first- hand how the WAA wreaths are made that are laid on the graves of fallen soldiers in national cemeteries across the country.
Through the nomination and selection process, myself, along with another female veteran named Janice, were chosen to ride along with Kellylynn for the experience.
To say I was excited about this opportunity is a severe understatement.
The beginning of our journey
My journey with Kellylynn started out at the Schneider facility in Indianapolis. I got a firsthand view of all the amenities Schneider drivers can take advantage of at our facilities around the United States. The biggest things I noticed about them were the support from the people working the driver services desks and the other drivers who were quick to help or offer advice.
Kellylynn and I got an assignment and immediately did our trip planning which included checking weather, traffic, fuel stops, drive time and our drive time clock. There was so much that went into planning before we could even get the wheels rolling. And of course, the pre-trip inspection also had to be done and logged.
Spending a week out on the road
And our journey began! I was lucky enough to experience every nuance of life on the road – tunnels, tolls, fuel stops, sleeping in the truck and so much more.
From Indianapolis, our first load took us to Pennsylvania. We stopped in Ohio the first night for fuel and headed out again the next day. We then made it to our drop in Pa. and had to go back to New York to pick up our next load, but we got stuck in traffic due to an accident.
After the third full day on the road, we were able to stop and take showers, and the Pa. Turnpike had a Starbucks, so things were really looking up! We made it to our destination – the Schneider facility in Shrewsbury – and I was able to help change the truck's windshield wipers and a headlight before turning in for the night.
On the morning of day four, we picked up our second passenger, Janice, and made it to our next destination: Dysarts truck stop in Bangor, Mass. We washed the truck so she was glistening for her debut at Wreaths Across America.
I learned that Dysarts is a famous truck stop, and I really felt like eating dinner there was my true initiation to life out on the road. We even sat at the "Truckers Only" table. This was the only night we didn't eat in the truck, and it was divine!
In the morning we shoved off to our second destination: the wreath pickup in Colombia Falls, Mass.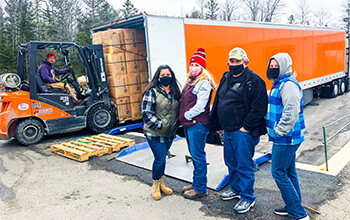 Picking up the wreaths for Wreaths Across America
WAA is a nonprofit organization that is dedicated to remembering our fallen, honoring those who serve and teaching our children the value of freedom. To be in Maine where it all started was so surreal.
We were able to get a tour of the thousands of acres that produce the balsam boughs that are used to make millions of wreaths to cover veterans' graves. I learned so much about the process and history of the balsam farm and got to meet the president and founder of WAA!
He even showed me how to make my own wreath. It was a once in a lifetime experience for most, and it was not wasted on me; I will treasure it.
We loaded up 3,897 wreaths in Kellylynn's truck and headed back down the coast. In the morning we said our goodbyes and my time on the road was done.
What I learned while out on the road
Riding along with Kellylynn for six days opened my eyes to what life out on the road is really like.
One thing that was unexpected was how well we ate. We planned our breakfast, lunch and dinner for each day and hit the grocery store to stock up before our journey started. And I knew truck drivers can eat well, from participating in our cooking in a semi-truck videos, but Kellylynn and I ate like queens – tacos, pesto ravioli and Asian salad … I ate better on the road than I do at home as a busy mom!
Some of the things I knew but didn't truly understand prior to this experience was space and amenities for drivers. Going to the bathroom was a challenge sometimes due to where you are geographically, and at customers, there isn't always one available depending on the time you drop off. Not all truck stops have showers, so staying clean proves difficult.
But the biggest obstacle of all was limited space! Moving around with two people in a sleeper is like a perfectly choreographed and executed ballet.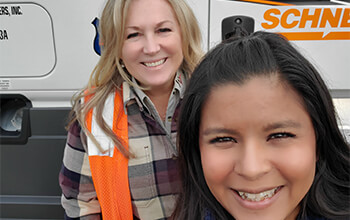 The end of my journey
When the wheels stopped on day six, I found myself feeling quite sad. Life on the road, though challenging at times, was also so simple once you learn how to do the 'dance.'
I am forever grateful for the experience I had with Kellylynn, WAA and Janice, the other female veteran who took this journey with me. It truly opened my eyes to what these drivers do and how they really are heroes of the highway.
Get a taste of freedom that comes with OTR truck driving.
Looking for a job that provides freedom, variety and constant movement? If so, an over-the-road driving opportunity at Schneider will be the perfect fit.
About the author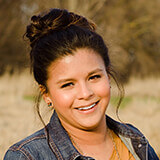 Nichole Garcia has been with Schneider Corporate Marketing since December 2018. She prides herself on the knowledge and experiences she has gained as an Army veteran, wife, mom and entrepreneur. Her free time is spent cheering on her three boys in any of the eight combined sports they play. Family and friends are very important to her, and she feels lucky that Schneider is a big part of that.