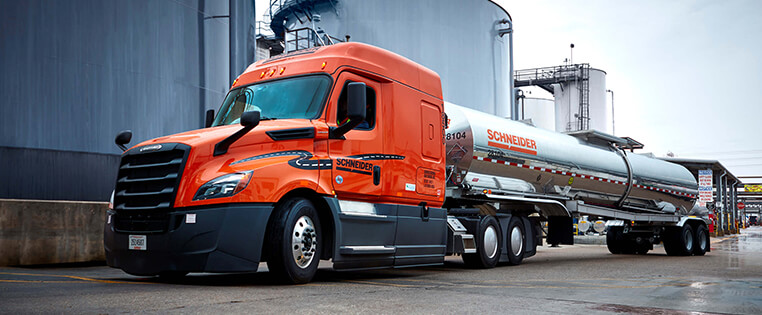 Regional truck driving jobs
What is a Regional truck driver?
Regional truck drivers haul freight within a specific area of the country. That creates jobs that are just right for drivers still looking to hit the open road while staying close enough to home to get there weekly or more. With Schneider's nationwide freight base covering every region, you have plenty of ways to get the best of both worlds. Explore the wide variety of Regional driving jobs.
Solo
Freedom and balance
All Regional driving jobs are Solo driving jobs. That's because a Team network is designed for long haul, in other words delivering freight from one region to another. You don't need a partner when you can typically haul a shorter Regional load from Point A to Point B on your own.

Van Truckload
Strong regional network
Schneider's largest division is Van Truckload, and it's home to our true regional network, with thousands of customers in every region. Your job will be to haul dry van freight in standard 53-foot trailers to the assigned customers in your region.
Our diversified freight portfolio ensures you'll have freight to haul year-round and top-notch equipment to haul it in. Options include:
Home weekly within 750 miles from home.
Central 24 states.
Northeast states only.
Western 11 states.
No New York City.
Dedicated
Reliable regional routes
Drivers in Schneider's Dedicated division deliver freight for one primary customer. While we don't refer to these jobs as Regional positions, many do function within a regional layout, boasting weekly home time.
Every customer's routes, schedule and pay package is unique, but whatever customer account you choose, you'll enjoy the predictability and consistency of regular runs that you can plan around. When you search for Dedicated jobs with a Regional framework, filter by home time and refer to the job description for details.
Intermodal
Maximize home time
Schneider's Intermodal division involves hauling freight to and from rail yards, which includes Regional and Local options. The exact structure of the Regional position will vary by region, but you'll typically stay within a few hundred miles of home and be able to get home at least weekly. In some positions, you can get home multiple times per week, or even daily in some cases near some major rail hubs like Chicago.
Earn up to $85,000 with a unique blend of mileage and load pay that rewards you for every part of the job.
Tanker
Higher pay potential
Schneider's Tanker division is an industry leader in the safe transfer of bulk liquids and chemicals, which includes a rigorous training program to make you a safe, elite driver.
As a Regional driver, you'll haul 75% non-hazardous loads and get home weekly. Couple that with the higher pay that comes from delivering specialized liquid freight, and it's a great way to achieve higher pay — typically $6,000-$10,000 more than most other solo driving jobs — without sacrificing the home time you need.
Why choose Regional driving?
The perfect blend

Regional truck driving combines the miles of Over-the-Road driving and the home time of local driving without sacrificing freight availability.

More home time

Although home time varies, most Regional drivers get home weekly or even multiple times per week. Get the reliable income you need without sacrificing time with those you love.

Familiarity

Driving close to home means you'll grow accustomed to routes, traffic patterns and even build a relationship with your dispatchers, leading to increased driving and earning efficiency.
Find Regional driving jobs near you