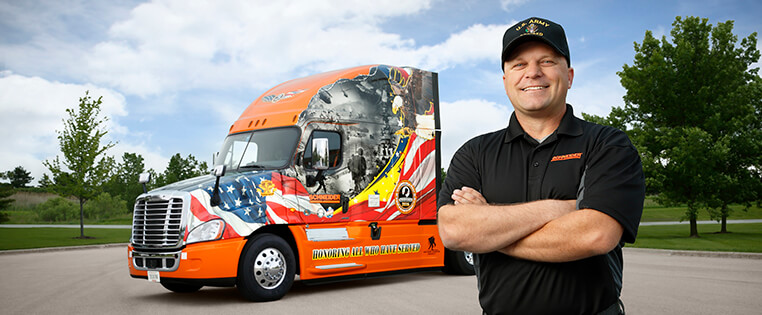 Truck driving jobs for military veterans
Join a top military friendly trucking company
Schneider is one of the nation's largest and most decorated employers of current and former military personnel. We're proud to offer great truck driving jobs for military veterans that recognize your service. Fill out our quick military pre-qualification profile to make sure you get the military benefits you've earned and read below why 15 percent of our drivers have military experience.
Credit for Military Experience Program
If you served in the military, we'll reward your commitment with higher starting pay. Here's how it works:
Military driving experience

Veterans who drove a truck in the military are credited with the exact amount of time they served for in driving experience when they join Schneider.

Veterans without military driving experience

Veterans who served in a non-transportation capacity in the military are credited with one year of driving experience when they join Schneider.
Eligibility: Service members active in the Guard or Reserves and those discharged in the last 12 months who meet basic driver qualifications
More military program benefits
Military Apprenticeship Program: Earn up to an additional $1,431 per month during your first year at Schneider.
CDL Training: Use your GI benefits to pay for your CDL training tuition.
Tuition Reimbursement: Those that utilize their GI benefits to pay for truck driving school may be eligible to receive an additional $400/month.
Home time for active service members: We offer guaranteed home time for weekend drill and annual training for Guard and Reserve members — without needing to use paid time off.
Benefits when you need them most: Get extended benefits and differential pay if deployed for up to 18 months.
Call a Schneider military recruiter today to talk through which benefits you qualify for: 866-838-7235
Ride of Pride military tribute trucks
Schneider is proud to have received 13 Ride of Pride trucks, a special fleet that serve as rolling tributes to military members past and present. Each Schneider driver who captains a Ride of Pride truck is a veteran, and the trucks travel to special events throughout the country.
Check out the program, the trucks and the drivers honored to participate in it.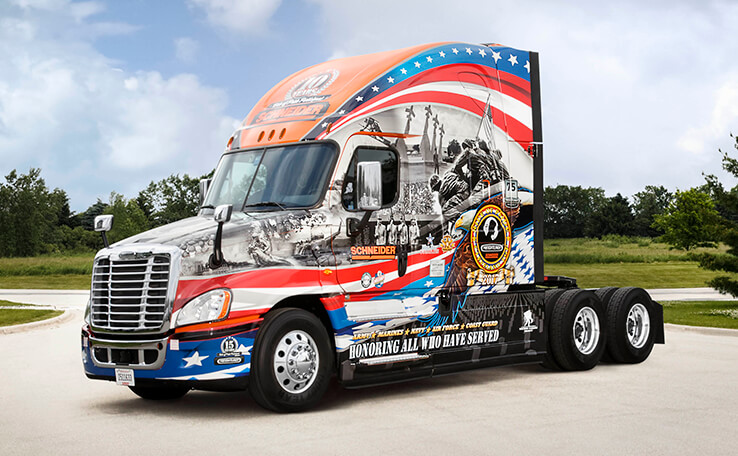 Decorated company
Schneider is one of the nation's largest, most-recognized business partners of military personnel. We are proud to let our record speak for itself:

2021 Military Friendly® Employer Gold Award by VIQTORY (formerly GI Jobs).
Named 2017 Most Valuable Employer (MVE) for Military Winner by RecruitMilitary.
Top 35 Veteran Employer by Military.com.
2016 Top Veteran Friendly Company by US Veterans Magazine.
HireVetsFirst employer ESGR (Employer Support for Guard & Reserve) 5-Star employer.
Ranked #6 on 2017 Best Company for Veterans by Monster and Military.com.
Sponsor of Enlisted Association of National Guard of the United States (EANGUS) Al Schneider Award.
Inaugural winner of the Department of Defense Freedom Award.
Proud supporter of AW2 (Army Wounded Warrior Program).
Ensure you get your military benefits