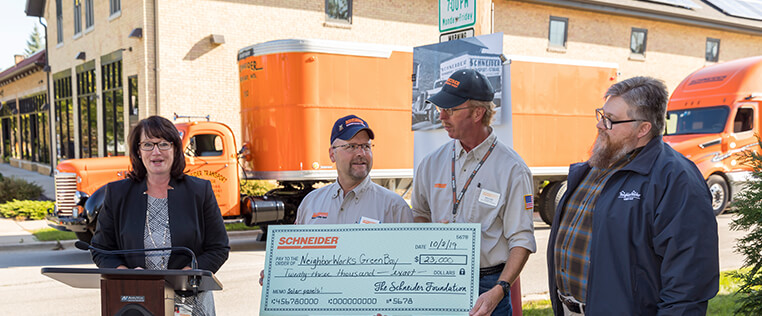 Charitable giving
Schneider is committed to being a positive force for change as a responsible member in the communities in which our associates live and work. We believe that demonstrating strong social responsibility benefits all of our stakeholders. This is the Schneider Way.
To be a responsible community member, Schneider's Charitable Giving Foundation was established in 1982 to provide support for charitable and non-profit organizations. The Foundation considers requests for money, time, services, and in-kind contributions from a variety of local and national organizations. The communities we serve include the areas around our:
Corporate headquarters in Green Bay, Wisconsin
Operating Centers and Operating Points throughout the U.S.
International locations in Canada, China, and Mexico
Schneider lives out its commitment to social responsibility by:
Operating safely
Providing a stable base of employment
Demonstrating ethical business conduct
Building a vibrant community
Giving History
Bellin Run, Wisconsin
This is the 9th year Schneider has been a part of the corporate challenge in the Bellin Run. Our goal has always been to increase participation of our associates and families in this fun, community fitness event. We met that goal, in fact, we had the most participation since the program began and increased the number of associates participating by 16 percent over last year. This year, 86 associates and family members were first-time participants. Overall, 169 associates and 105 family members trained for the event this year. The Bellin Run is so much more than an one-day event. Our focus has been encouraging associate participation to create and foster long-term fitness goals.
The Schneider Foundation is in it's 6th year as a major sponsor of the Kids for Running program. This training program draws thousands of children in grades 3 through 8 from hundreds of schools. The program culminates in the Bellin Run when the Kids for Running students and schools merge with the rest of the attendees on race day in a true community event.
American Red Cross, Wisconsin
The Schneider Foundation was the recipient of the Corporate Benefactor Award sponsored by the American Red Cross. The award is presented to the business that has attained an exceptional level of commitment and support. In the presentation introduction they stated "This company is committed to being a positive force for change as a responsible member in the communities in which their associates live and work. They believe demonstrating strong social responsibility benefits all of their stakeholders, and they call this the Schneider Way. Schneider lives out its commitment to social responsibility by operating safely, providing a stable base of employment, demonstrating ethical business conduct, and building a vibrant community. More than 70 organizations have benefited from the support and partnership with Schneider.
The Red Cross partnership with Schneider has truly been amazing with the philanthropy of their foundation, corporate office, and associates, totaling more than $250,000 since 2005. More recently, Schneider has contributed immensely to the success of our Dancing with Our Stars event including President and CEO Chris Lofgren and Foundation Manager Mary Gronnert, both serving as star dancers and collectively raised more than $160,000 for local programs and services. Additionally, Schneider Associates have served as a source for volunteers and have donated 356 lifesaving pints of blood during the past two years!"
Big Brothers and Big Sisters, Green Bay, Wisconsin
Jill Barlament, Match of the Month, Big Brother and Big Sisters. Jill has been a big sister to Jen since November 2006. Jill says they get to hang out as friends going out to eat, watching movies, playing board games, playing tennis, or as she says, 'chase the balls on the tennis court', which they can do again now that the weather has warmed up.
Golden House, Wisconsin
For over eight years, Golden House has been lucky enough to be supported by the Schneider Foundation through both event and primary sponsorships. Schneider employees have sat on committees, contributed to our board of directors, and volunteered for various Golden House projects throughout the years. We are grateful that Schneider has made a lasting commitment to serving victims of domestic abuse in Brown County.
Susan G. Komen, Georgia
Since 2012, with some help from the Schneider Foundation, Logistics Manager, Heather Stieneker out of our Atlanta field location has raised over $4,200 for the Susan G. Komen Race for the Cure 5K. Heather dedicated the race to a friend fighting breast cancer and her grandmother's legacy.
Peshtigo, Wisconsin
Team Peshtigo is ready for the Bellin Run. Coached by retired associate, Lynn VanHoof, this group of students have been training for the Green Bay Cellcom and Green Bay Kids for Running events.
Destination Imagination, Wisconsin
Five elementary, middle and high school teams qualified for the Destination Imagination Finals in Nashville. In the Technical Division entitled "Dig In", Ashwaubenon High School's Team "Too Hot to Hoot" tied for 10th place among 49 teams. In the "Going to Extremes" Scientific Division, the team "The ParoDI placed 2nd among 53 teams. In the Fine Arts Division, Laugh Art Loud, Team "Element" took 28th place from a group of 49 teams. At the Middle School Level and competing in the Tension Builds Division, "Team ICE" from Parkview placed 13th among 62 teams. And finally, at the elementary level, Valley View in the Pitch and Play Division, Team "The Shimmering Shining Stars placed 27th out of 46 teams.
Destination Imagination is the world's largest co-curricular creative problem solving program that facilitates teamwork, creative problem-solving, critical thinking and opportunities to solve and present solutions to challenges of science, construction, technical, community service and/or performance-based focus. Congratulations to all of the students and their advisors for a very successful year.
Junior Achievement, Wisconsin
On Saturday, February 15, 2014, Junior Achievement (JA) teamed up with Ameriprise Auto & Home Insurance, Cellcom/Nsight, Schneider Foundation, and Wisconsin Public Service Foundation to help educate local high school students about business. JA held its 19th Annual JA Business Challenge Event which allowed students to compete against one another as CEOs of simulated companies. More than 120 business leaders and high school students participated. This is JA's signature event of the year and a model for other similar events around the state. Two business mentors were paired with 2 students as they planned and executed each aspect of a fictional company's strategy: price, production, marketing, capital investment, and research and development. An index then ranked each company's performance to determine the best students who received scholarships. JA awarded $4500 in scholarships!
Inland Empire United Way, California
Kimberly Hardy, Fontana field location, recently planned and organized a Back-to-School drive from August 1 thru August 16. The Fontana location asked the Southern California Schneider associates to donate the basic essentials for kids as they begin the new school year. John Rodgers, their point of contact through the Inland Empire United Way, stopped by their office earlier this week and picked up the 100 items collected ranging from crayons to toilet tissue.
Second Harvest Food Bank, California
Four SNI associates and one associate's child, volunteered their time at the Second Harvest Food Bank located in Riverside, CA. The group spent four hours sorting various food items and preparing those items for distribution to those in need. This is the second time in two years that they have supported this organization in this manner.
For those not familiar with Second Harvest, they have a large warehouse in Riverside and serve both Riverside and San Bernardino Counties. The Food Bank provides food resources to non-profit agencies serving the needy. Food waste is prevented by salvaging useable but unmarketable food for redistribution to those who need it. The Food Bank alleviates hunger in the before mentioned counties by distributing food to certified charities. It is one of over 200 food banks affiliated with Feeding America, the National Food Bank Network.
Green Bay, Wisconsin
On Tuesday, July 23, 10 Schneider associates, all military veterans, were given the opportunity to watch history come alive by climbing aboard a 65,000-lb. B-17 bomber and step back in time to the World War II Era. They were able to stand in the footsteps of the bombardier, the navigator, and the waist gunner to relive history by experiencing this once-in-a-lifetime opportunity to fly in one of World War II's most vital and magnificent aircrafts.
The B-17 bomber is considered one of the greatest military airplanes ever built and one of the best-known Aircraft types of the World War II era. EAA's Aluminum Overcast flies the country today as a touring museum Of the World War II era, reminding us of just one trying time in our nation's history to maintain our freedom.
This opportunity was made possible through the Schneider Foundation and Jet Air Services in Green Bay, WI.
Make-A-Wish Foundation, Wisconsin
Scott Wolfe, Controller for Schneider and his wife, Michelle, and daughters, Lauren (left) and Kyra are pictured here at the recent Make-A-Wish Foundation "Gourmet Wishes" event in Green Bay. The Wolfe family was featured at the event and Michelle spoke about their experience and the Make-A-Wish Foundation. You see, Lauren was admitted to Children's Hospital of Wisconsin in Milwaukee on May 8, 2012, with acute heart failure. She remained in the ICU where she celebrated her 6th birthday on May 12. In spite of the difficult conditions, her family, Scott, Michelle and Kyra, and the staff at Children's Hospital made it a special day.
The Wolfe family took advantage of the Ronald McDonald house near Children's Hospital while Lauren was receiving treatment. Michelle spent most of the time with Lauren while Scott stayed with Kyra in Green Bay, making regular visits to Milwaukee. Lauren was placed on the heart transplant list on June 1. She remained at Children's Hospital with Michelle, with frequent visits from Scott and Kyra, until a new heart became available on June 27. Afterwards, her condition was closely monitored and there were regular visits back to Milwaukee for checkups and follow up tests. She continued to gain strength and was able to return to school on September 28.
Lauren's wish to go to Disney World was granted by the Make-A-Wish Foundation of Wisconsin this past February. Since that trip, she has regained all of the strength and energy that other kids her age have. The Schneider Foundation was proud to be one of the sponsors of the "Gourmet Wishes" event. The Make-A-Wish Foundation grants the wishes of children with life-threatening medical conditions to enrich the human experience with hope, strength and joy.
Casa, Wisconsin
The Schneider Foundation was recently presented with a thank you plaque from CASA of Brown County of their two-year sponsorship of its major fundraiser CASA Presents. Shown here are the event planners with our Community Giving Team. CASA of Brown County is a 501(c)(3) non-profit organization that recruits, screens, and trains everyday citizens from the community to be the voice of abused and neglected children in the courtroom, seeking to ensure them a safe and permanent home.
CellCom Marathon, Wisconsin
Led by Jean Vandenlangenberg, 45 volunteers from Green Bay worked the grills, beverage tents and ran a water station serving 13,000 runners and walkers in support of the local CellCom Marathon on Sunday, May 19. While the proceeds from this year's event are still being tabulated, last year's proceeds ($135,000) from the marathon went to Family Services, Junior Achievement and Unity Hospice/Palliative Care. As part of the Community Connect Team, Mary VanEgeren and 20 of the volunteers ran the water station at the half mile mark.
Lutherwood and the Sharing Place, Indiana
The Indianapolis Operating Center has supported Lutherwood and the Sharing Place over the last several years as they work to support those in need in our community. Special Thanks to Joe Heck and his ADTC Student Tori for letting me send them Out of Route this AM to pick up a load of Toys the Sharing Place has collected for a Christmas Toy Drive. Not only does our STA/OSR Group do a great job helping develop our drivers, they are able to use their skills to make a difference in the community! JOB WELL DONE!
Cerebral Palsy, Wisconsin
On March 3, Green Bay associates worked the Cerebral Palsy Telethon and presented a "Match Check" for $5,000 in addition to our annual pledge of $10,000. The telethon raised a total of $1.3 Million, all of which stays in the community.
YMCA, Wisconsin
Last summer the YMCA began work on the new Schneider Nature Center at Camp U-Nah-Li-Ya. Nestled in the Northwoods of Wisconsin, YMCA Camp U-Nah-Li-Ya has been owned and operated by the Greater Green Bay YMCA for over 75 years. Our commitment to developing character in their campers is the backbone of their summer camp program.
House of Ruth, California
Before heading out to spend time with family and friends over the long Holiday/Christmas weekend, Fontana associates contributed 39 gifts to be given to three local Southern California families in need. Thank you to everyone that participated and provided a gift and/or wrapped presents. A special thanks to Kimberly Hardy for organizing and coordinating event. This marks our inaugural event with plans to continue in the Holiday seasons to come. In the photo from left to right, Melissa Pitts from the House of Ruth (a local organization that assists families in need) and Kimberly Hardy our Fontana Divisional Solo Recruiting Manager.
Sandy Hook, Connecticut
The story started Dallas, when Kenneth and fellow Schneider associates decided to make personal efforts to try to comfort and console the families in Sandy Hook… He left the Dallas OC on a Saturday morning and set up a donation site in Plugerville, TX. He spent the entire weekend sleeping at the donation site. People came with stuffed animals, many with personal notes of condolences written by families who donated. With the help, support and direction of many associates, Kenneth was able to deliver over 1,000 stuffed animals to Connecticut personally on a load that picked up in Alvarado, TX and delivered into East Windsor, CT. The customer agreed to let us take the donations on the trailer with their load. (Thank you, Cindy!) Once Kenneth delivered the customer's product, he then made his "special" stop to drop off the stuffed animals he collected to a fire station in Bethel, CT, where the firefighters assisted him in getting the stuffed toys to the families in Sandy Hook.