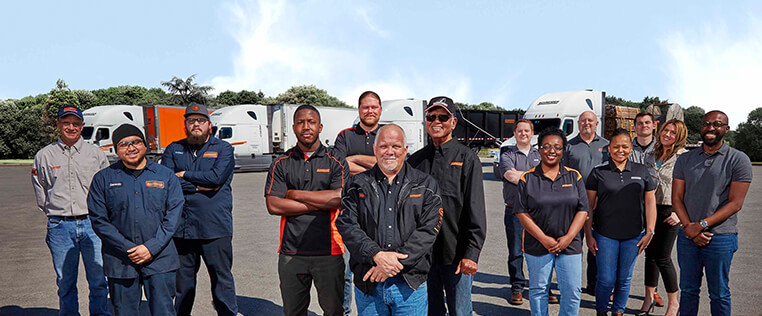 Diversity and Inclusion
We drive forward, together.
No matter your starting point, our destination is the same.
Schneider is comprised of safe, courteous, hustling associates who deliver superior experiences that excite our customers. We live out that mission with full commitment to our core values, which include Respect for All, and which characterize how we and our associates do business. Our history has taught us that treating everyone with dignity and respect is vital to our ongoing success. We embrace and seek out diversity that is inclusive of thought, race, ethnicity, gender, age, religion, sexual orientation, experience and background. We find that this diversity and openness ensures that all our associates have equal access to opportunities and resources to contribute fully to the organization's success, and it fuels innovation, improves strategic thinking and cultivates leadership.
Through our hiring, training, ongoing education and development programs we nurture an inclusive environment where associates feel safe, supported and empowered to share their creativity, experiences and ideas.
It is our wonderful differences that ultimately make us more cohesive. We are a unified team driving to the same destination: success.
Culture
We are driven by our uncompromising Core Values of Safety, Integrity, Respect and Excellence to deliver the goods that enhance the lives of people everywhere.
Actively seek diversity of thought, experience and background for projects and programs.
We strive to create a culture that supports and enables the needs of our diverse associates (e.g., space for prayer/meditation, nursing mothers, etc.).
We allow Flexible Work Arrangements.
Schneider Foundation donates more than $1.5 million annually to non-profits across North America.
Schneider Women's Network, established in 2007, whose mission is to impact and inspire women leaders who have the ability to influence, develop and enrich other women across the organization.
Our commitment to diversity is that our associates will reflect the communities in which we work and live.
Corporate sponsor of events and programs such as Women in Technology, Current Young Professionals Network.
Talent management processes
We target outreach and recruitment to attract diverse talent; we use a third-party tool to create gender-neutral job postings.
Diversity competency component woven into selection and performance management processes.
We conduct ongoing pay equity analysis to ensure equal pay for equal work.
We ensure diverse representation within career development programs (e.g., mentor program, mid to senior leader succession planning, Accelerated Development program, Leadership Exploration and Development program, internship program, etc.).
Related awards and certifications
Great Place to Work Certified.
New North Workplace Excellence.
Best Companies for Veterans.
Next Generation Best Place to Work – Green Bay Chamber of Commerce.
Weyenberg Prize for Business Excellence.
University of Wisconsin – Green Bay
Women in Trucking - Top Companies for Women.
30 Best Internships for Diversity – The Vault.