8 unique facts about the Schneider Women's Network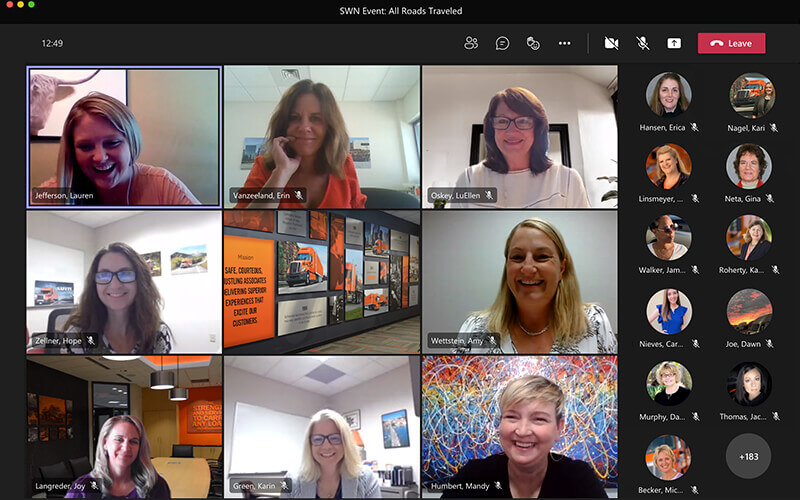 Estimated reading time: 5 minutes
Since 2007, the Schneider Women's Network (SWN) has been helping Schneider attract, develop and retain the best talent, especially female talent, to ultimately maximize business results.
We met with co-founders, Director of Recruiting, Joy Langreder, and Manager of Compliance and Talent Processes, Karin Green, to learn more about the SWN and came away with eight unique facts about the organization.
What to know about the Schneider Women's Network
1. It's one of the first of its kind.
Prior to the formation of the SNW, Schneider had never had any type of employee resource group or business resource group. So, the founders looked to other local and national organizations for insight into how to form such a group.
What they found was that very few local organizations had women's networking groups. When they looked at transportation companies across the country, the same thing was discovered.
"Founding something that was brand-new and hadn't been done before, that's what was kind-of fun about it," Joy said. "It was groundbreaking stuff in the transportation industry at that time, so it felt like we got to help lead the industry in this way."
2. Other organizations have turned to Schneider for guidance on how to start a women's networking group.
Because Schneider was one of the first companies in Green Bay and one of the first transportation companies in the country to form a women's network, it led to a plethora of companies reaching out for help on how to start one as well.
Karin said being able to share that experience has led to more companies in Green Bay being able to provide the resources and support many female employees in the area are looking for.
"There were a lot of people early on, especially locally, who asked for our feedback on how the network was working at Schneider," Karin said. "And being able to provide insight was another neat way to fill the gap."
3. Anyone, regardless of gender, is encouraged to participate.
Although the name of the organization is the Schneider Women's Network, men are also invited to take part in the events and activities the group coordinates.
"Part of what we're also trying to do is educate and share what challenges women face in the workplace," Joy said. "While working through what those look like, it's good to have our male counterparts partnering with us and understanding how they can help in this effort as well. From the beginning, we've always welcomed anyone who wants to come to our events."
Additionally, the SWN targets its resources to all individuals. No matter what your role is within the organization or if you've been working for two years or twenty, you will find value in the topics being covered at events and in resources.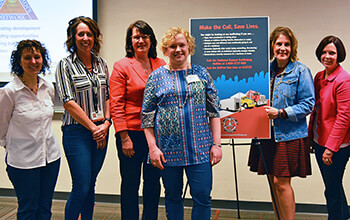 4. It does more than hold networking events.
While offering a variety of large-scale events is a significant part of the organization, there are a wide variety of other opportunities Schneider associates can take advantage of through the SWN.
Examples include training programs, development sessions, resources on how to become a mentor or mentee, book suggestions and book reviews.
"The purpose of all of the programming we offer is to help people develop, grow, network and be connected with others," Joy said.
5. Participating is as easy as opening your laptop.
Because many associates have switched to working remotely since the beginning of COVID-19, most SWN programs and sessions are now virtual – a change that has really benefited the group.
Schneider has locations across the country, which sometimes made it difficult for associates who are not based in Green Bay to participate in SWN opportunities. Now, associates from across the organization can participate in every event.
"Something we've always placed a lot of emphasis on is making sure our associates in the field feel connected and are able to attend events," Karin said. "We are having events that are 100% virtual, so everyone is participating from a remote standpoint. It's really leveled that feeling of participating."
6. Schneider's CEO is the current executive sponsor.
The SWN always has an executive sponsor – someone from the Schneider Executive Team - who works with the group to provide guidance, feedback and support for events.
Joy said the fact that the current executive sponsor is Mark Rourke, Schneider's CEO, speaks volumes about the value he sees in diversifying the workplace.
"Our CEO is that invested in our efforts that he spends time with us to talk about our strategy and our next steps and help us evolve the group," Joy said.

7. There are great leadership opportunities associates can take advantage of.
Schneider associates who want to be involved in the SWN, beyond attending events and programs, can join one of the SWN teams. These teams coordinate the various events the SWN hosts.
This allows associates to grow the skills they may not be able to within their day-to-day role, which can be useful as they grow into new roles within the organization.
"Each of our events has an event planning team that creates and then executes the event," Karin said. "Associates build their network by working within this project team and bring an effective, high-quality event to the organization. They get experience and exposure that is not often available elsewhere in the organization."
8. It's just one facet of our overall focus on diversity, equality and inclusion.
Creating a workplace that celebrates diversity, equality and inclusion (DEI) has been Schneider's focus since the beginning.
And the SWN is just one of many current DEI efforts Schneider embraces.
"I feel proud that we can say we have a history of focusing on a respectful, inclusive environment," Karin said. "We are evolving our DEI initiatives and efforts, but it's something the organization has valued for a long time."
Learn more about Schneider's networking opportunities
Schneider puts an emphasis on making connections with colleagues and joining groups that promote career development. Learn more about these opportunities and how associates can get involved.
About the author

Schneider Guy loves the "Big Orange." He's passionate about the trucking industry and connecting people to rewarding careers within it. He's been the eyes and ears of our company since our founding in 1935, and he's excited to interact with prospective and current Schneider associates through "A Slice of Orange."