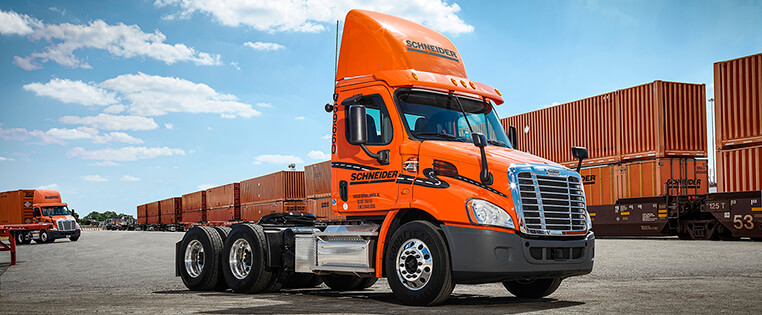 Local truck driving jobs
What is Local truck driving?
Local truck drivers haul freight within a day's drive of home, meaning you can get back home every day. These jobs are typically available in more urban environments with a robust customer base close by. You'll master driving in the area you live in, delivering multiple loads or at least making multiple stops every day. It's a great way to add variety to your work day. See what's available near you.
Solo
Always close to home
All Local truck driving jobs are Solo driving jobs. Team drivers are needed to haul freight long distances, but as a Local driver, you'll never have to drive long distances. In fact, you'll never be more than a day's drive away from home, so you'll get there daily. Instead of the companionship of a Team partner, you'll see your family and friends daily anyways.

Dedicated
Know what the day holds
Schneider's Dedicated division involves hauling freight for one primary customer on steady lanes with a consistent schedule. You won't necessarily see "Local" in the job title, but if you find a Dedicated customer with daily home time, it's a Local format.
Each customer is different in terms of exact work schedule, type of freight and pay package, but you can be assured that the pay will reward you for the mix of miles, stops and any outside-the-truck work involved.
Intermodal
Local roads and rails
Intermodal drivers haul freight to and from rail yards, and Local opportunities are particularly available near large rail hubs like Chicago, Los Angeles, New York City, Dallas and Atlanta.
These jobs typically require previous driving experience, and they go fast to experienced Schneider drivers looking for more home time. Keep a close eye out for them to open up if you're looking for a great blend of home time and unique driving work environments.
Tanker
Liquid loads hauled locally
Tanker drivers haul primarily liquid loads, with hands-on loading and unloading processes, and pay packages that reward all facets of the work. You'll haul 75% non-hazardous loads close to home.
Drivers enjoy being among an elite group who haul tanks, and Schneider provides industry-leading paid Tanker training that'll get you up to speed quickly and safely. Then you'll hit the road with the opportunity to earn some of the highest pay among Local drivers due to the challenging but fulfilling nature of the work.
Why choose Local driving?
Daily home time

Nothing beats sleeping in your own bed. That's what you'll do as a Local driver, driving a day-cab truck at work and getting home every day to be with your family.

Work-life balance

You don't need to sacrifice your home or social life to become a truck driver. As a Local driver, you get the option to see your family and friends daily.

Relationships

Local driving allows you to build relationships with your team leader, customer employees and helps you stay closer with family.
Find Local driving jobs near you