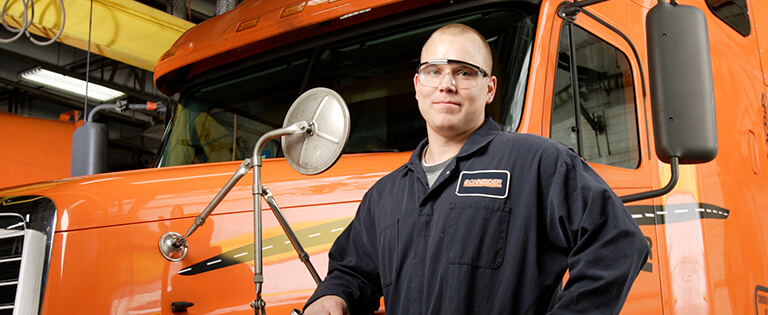 Resources
Schneider's technicians are best in class
Schneider is always looking for smart, creative, and diligent technicians who have safety at the forefront of their minds. With technicians like you, Schneider is one of the safest, largest and most efficient fleets in the industry. Join our team today!
The hiring process: How it works
Step 1. Create a candidate profile and apply for jobs
Search for a position you're interested in, read the description and click "Apply Now." To get started, you will create a profile. Then you can:
Upload your resume and background information into our system
Apply to open positions quickly through the Job Search tab
Check submitted application status through the My Jobpage tab
Share open positions with friends via email or social media
Step 2. Application review
Our recruiting team reviews all applications and resumes. If your background lines up with the requirements for the position, we'll reach out!
Step 3. Phone interviews
If you're one of the most qualified candidates for the position, someone from the Schneider team will call you to set up an interview with a recruiter. Usually, these interviews take place over the phone, but some may be conducted face-to-face. Interview tips are below.
Step 4. Additional interviews
After your interview with a recruiter, you may have an additional phone conversation with the hiring manager. Then, we may call you to set up a face-to-face interview at a Schneider facility. We'll provide you with specific interviewing details, based on the role you are interviewing for and the location of the position. You could have several interviews when you're at Schneider, each with different members of the hiring team.
Step 5. Fill the position
Members of the hiring team will work together to decide if you're the best person for the job. If you are found successful during the interview, you will be required to pass a drug screen and background check prior to starting work.
Step 6. Begin a dynamic career at Schneider
When you've reached this step, congratulations and welcome to the Schneider family! We are so excited to have you on our team and can't wait for you to start making your mark here. Fasten your seatbelt and get ready for a challenging, fulfilling career.

Interview preparation: Tips for success
1. Tell us your story
Congratulations on landing an interview at Schneider! During the interview, share with us your successes and tell us your story. Use your resume and show us your accomplishments in the areas of education, certificates, project work and more. Use the time of the interview to your advantage and ask for the job.
2. Research Schneider
Who is Schneider and what do we do? These are two of the most important questions you will want to know off the top of your head. You don't need to know the transportation industry to have a career at Schneider — we can help you grow your knowledge through our company-offered trainings. Understanding our mission, core values and what we do will help you go a long way in the interview process. To gain more information on Schneider, review schneider.com and schneiderjobs.com.
3. Prepare questions to ask the Interview Team
After researching Schneider, you will have the information you need to formulate the best questions to ask our interview team. Ask the experts. They will be able to provide you more insight about what our Maintenance team is like — the culture, the environment and the career paths. Our team will be able to help you understand what the day-to-day work is in the role that you are looking for.
4. Use real-life/specific examples
Schneider's interview questions are based off of behavioral-based interviewing. In layman's terms, we are looking for specific examples from your story that illustrate past success that can be a foundation for future success.
Some questions that will help you think about specific examples can include:
Present examples of technical work you have completed, including diagnostics and repairs.
Tell me about a time you had to persuade another person to make a decision. How did you go about persuading that individual?
Tell me about a time that you had to work on a technical project and it was a success. What steps did you take to make it a success?
Still have some questions? Here are some answers for you:
Q. What type of work do you do in your shop?
We provide a wide range of services to our fleet equipment and our owner-operators' equipment. This includes diagnosing and repairing engines and component parts, performing preventive maintenance and doing quick repair services — including tire changes, light electrical work and minor body work in our Express Bays.
Q. Does Schneider provide training for maintenance employees?
A. We know how important it is to stay current on the latest technology and equipment. Schneider offers paid training, including with Original Equipment Manufacturers (OEM), for all maintenance associates provided by dedicated in-house technical trainers. Our paid technical training sets you up for success within your current role and future career goals.
Q. What kind of Maintenance career advancement opportunities does Schneider offer?
A. At Schneider, we offer career advancement opportunities for roles such as Diesel Technician I, Diesel Technician II and Maintenance Team Leader to name a few. For rockstar technicians, you may have the opportunity to participate in a technical high-potential program that specializes in functional areas as "champions" (e.g. Air Conditioning, Electrical, Driveline, Engines).
Q. What if I'm having trouble applying for a job?
A. Send an email to our Maintenance Recruiters at recruiting@schneider.com and highlight as much information as possible from the below list:
What issues are you experiencing? Take a screenshot if you can.
What role did you apply to? Please include the Job Number.
Did you apply to our role from a job board? If so, which one?
What error message did you receive?
Are you using Wi-Fi or an ethernet internet connection?
What search engine are you using (e.g. Google Chrome, Internet Explorer, Mozilla Firefox)?
Q. Do you have a location near me?
A. We have facilities located all over the United States and one in Canada. To find a diesel technician career in your area, view the map.
Q. Where can I see the most current roles at Schneider?
A. Visit schneiderjobs.com to view current maintenance openings in your area. You can also follow us on Facebook, Twitter, LinkedIn, Snapchat, Instagram, and Pinterest to stay updated on Schneider events, industry information, professional development tips and more.
Find a Diesel Technician job near you