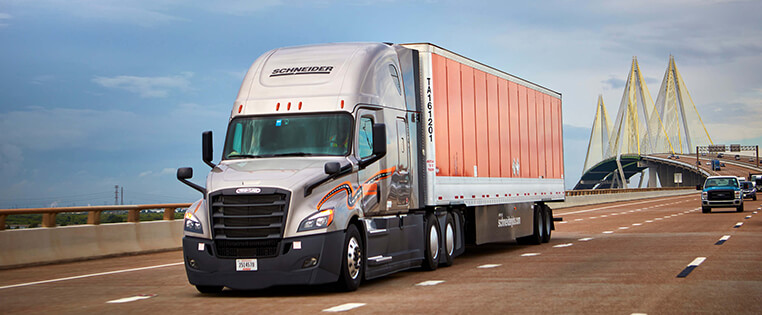 Dry Van Truckload trucking jobs
What is Van Truckload trucking?
Schneider's largest division gives you the most opportunity. Haul a huge variety of goods in standard 53-foot dry van trailers, delivering to a diverse customer base throughout the U.S. This is our bread-and-butter, and yet we're transforming traditional trucking through powerful predictive technology. That means your next load, like your next driving career, is custom designed around you and your needs.
Solo
Total freedom of the open road
When most people think of trucking, they think of the opportunities available for Van Truckload Solo drivers. It's freedom to the fullest, exploring the open road with no boss over your shoulder and setting a schedule that works for you. Van Truckload Solo drivers can choose Over-the-Road, Regional or Part-time.
Team
The ultimate combination
If you've never considered teaming, it's time to. Partner with a friend and earn up to $98,000 a year each, while covering 5,000-6,000 miles a week hauling the best loads. That's because customers pay extra to keep high-value freight moving on the best lanes. We'll give you the newest equipment to haul it with.
Van Truckload Teams home time options, with flexibility:
Drive 18-23 days = home 3 days
Drive 24-29 days = home 4 days
Drive 30-35 days = home 5 days
Drive 36-41 days = home 6 days
Drive 42 days or more = home 7 days
Regional
Closer to home
Van Truckload Regional drivers get the best of both worlds: variety and high-mileage dispatch like OTR drivers, with more home time as you drive closer to home. Regional drivers earn $38,000-$80,000, depending on experience level and how you structure your schedule. Home time options include:
Home weekly staying 750 miles from home
Central 24 states with no Northeast driving
Western 11 states
Northeast region
Over-the-Road
Long-haul adventure
Van Truckload Over-the-Road (OTR) drivers enjoy maximum miles and money, averaging 2,500 miles per week and 600 miles per haul, with the potential to earn $75,000 per year. Full-time OTR drivers can usually expect to be home two days for every two weeks out, but you can choose from more than a dozen potential home time options, including:
11 days out, 3 days home
14 days out, 7 days home (three drivers share two trucks)
3 weeks out, 5 days home (Jet-Set driving jobs)
28 days out, 5 days home
Part-time
On your schedule
Van Truckload Part-time drivers enjoy the combination of our stability and the flexibility you need. Choose how many days and hours you work, whether that's getting home every night to supplement your income or spending a few days on the road at a time — followed of course by extended home time. Depending how many hours you work, you may also be eligible for benefits.
Get a glimpse inside VTL's freedom and variety
Why choose Van Truckload?
Adventure

It's hard to beat the view from the driver's seat as it changes every day. You'll travel the country (or just your area of it — your call), earning big money as you do so, thanks in part to 95 percent no-touch freight.

Variety

Every day is different, and every load is different, but you still get maximum efficiency with our high-tech-driven dispatch. Plus, you have so many positions and home time options to choose from.

Miles

Whatever Van Truckload position you choose, high miles will be a hallmark. Our analytics crunch trillions of load combinations to pick the best one for you. Plus, our diverse freight base keeps you moving year-round.
Find Van Truckload driving jobs near you