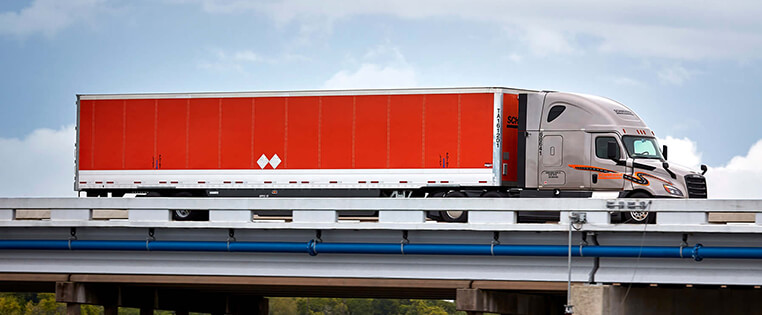 OTR truck driving jobs
What is Over-the-Road (OTR) truck driving?
Over-the-Road truck drivers, also called long-haul truckers, specialize in hauling freight long distances, as opposed to regional or local routes. You'll typically be on the road a couple weeks at a time, though you have many options! You'll drive a "sleeper cab" tractor with a comfortable bed in back so you can sleep at a full-service Schneider facility or truck stop. Join thousands of drivers loving the OTR lifestyle.
Solo
Freedom to the fullest
Solo OTR driving jobs are where it's at if you want total independence. Get away, explore the country and maximize your mileage and paycheck potential. Consider this the best of old-school, long-haul trucking, combined with best of new-school technology and driver amenities.
With Schneider's extensive freight network, you'll always have loads to move, and with our nationwide facility network, you'll always have a home away from home.
Team
The best companionship and compensation
All Team driving jobs are OTR jobs (but not all OTR jobs are Team) because Teams are designed to keep the truck moving over a long haul. It's not uncommon for one Team load to cover well over 1,000 miles by alternating Team partners.
Teams deliver premium freight — 98 percent of which is no-touch — while earning the most money (up to $98,000) and driving the newest trucks. Plus, Team partners enjoy each other's company, a nice touch within the OTR lifestyle away from home.
Van Truckload
A nationwide network
Schneider's Van Truckload division is home to the company's classic long-haul network, spanning 48 states and delivering goods for thousands of customers. For every load assignment, our next-gen technology considers hundreds of trillions of combinations, all to come up with the next load that's perfect for you.
Van Truckload's OTR options include:
All 48 states with home time options.
Eastern 37 states with home time options.
Jet-Set: Fly into the network to drive.
Dedicated
Added consistency
Schneider's Dedicated division allows you to haul freight for one primary customer. Many customers feature regular routes on the shorter end of the spectrum, but some offer a true long-haul framework — a perfect blend of the OTR feel with the predictability and consistency Dedicated is known for.
Pro tip: When you're searching for OTR Dedicated jobs, you won't typically see OTR in the job title, but the job description and less frequent home time will clue you in. Our National Dedicated fleet, for example, has home time every other week supporting new business start-ups and providing surge support and vacation coverage.
Tanker
Liquid long-haul
OTR Tanker drivers specialize in the safe transfer of bulk liquid chemicals, 75% of which are non-hazardous. You'll enjoy the longer lengths of haul that OTR is known for, coupled with specialized loading and unloading to break up your workday a bit. Of course, that also means you'll enjoy a great blend of mileage and accessorial pay, pushing your earning potential to $78,000 in many cases.
The Tanker division also offers a unique OTR home time package: choose the six days a month that you want off.
Why choose OTR driving?
Paid travel

Get paid to see the country. If you want to get away, hit the open road and satisfy your travel bug, there's no better way than the long-haul lifestyle.

Longer hauls

Leave your days of hauling multiple stop loads behind you. With an OTR trucking job, get under a load, stop as little or as much as you want and rack up the big miles you long for.

Bigger money

More miles means bigger paychecks. Rack up major miles and bring home the big bucks as an OTR truck driver.
Find OTR driving jobs near you