Experienced Tanker drivers: Earn a limited-time $1,500 transition bonus on top of already existing sign-on bonus when you switch to Schneider.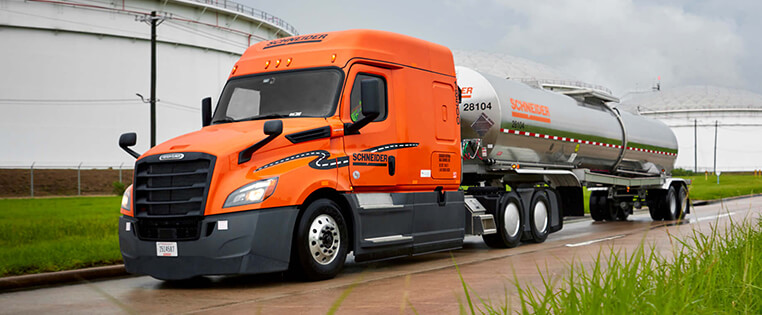 Tanker truck driving jobs
What is Tanker driving?
Tanker truck drivers deliver liquid bulk (e.g. water) or dry bulk (e.g. sand) loads, typically in steel tank trailers with hands-on loading and unloading processes with pumps and hoses. The trailer can be designed to haul chemicals and corrosives, or contain multiple compartments, or control product temperature (e.g. Heat in Transit). Schneider features a leading liquid freight base with 75% non-hazardous loads, giving you more options.
Solo
Even more options
Solo drivers hit the road on their own, enjoying the freedom and independence they crave. Nearly all of Schneider's Tanker jobs are for Solo drivers, so every other option besides Team is available to you. Make sure you explore all the options to find the work type, freight characteristics and schedule that best fits your goals and needs.
Dedicated
Consistent routes

Dedicated drivers haul freight for one primary customer, and we've seen a surge of customers choosing Schneider to take over their private Tanker fleets. That means you'll get to know the customer well, from the people you work with, to the routes you'll run, to the chemical make-up and unique loading/unloading requirements of the freight you haul.
It's a great way to add consistency to your week, while still enjoying all the perks of Tanker driving. Explore the specific Dedicated accounts and customers near you.
Intermodal
Roads and rails

Intermodal truck drivers haul freight to and from rail yards, typically near urban environments and large rail hubs. Schneider was the first in the industry to successfully deploy a Tanker trailer that also fits seamlessly on a train, and customers are continually discovering the value.
You'll haul liquid bulk chemicals in a 40-foot tank trailer that can be used on the rail and over-the-road. Since you'll need to stay near rail hubs, you'll enjoy greater home time potential and the unique work environment of Intermodal, while still earning the big bucks of Tanker driving.
Over-the-Road
Long-haul liquid loads
Over-the-Road drivers specialize in hauling freight long distances, and with Schneider widely recognized as the leading network chemical hauler, we have plenty of long-haul routes to keep mile-hungry Tanker drivers happy.
Get the best pay on the roads. Earn up to $0.59 per mile and performance pay up to $0.04 per mile. Plus, earn up to $950 in weekly guarantee pay during your first 120 days. With about 15 percent of pay from accessorial (load/unload), you can hit $76,000 per year depending on your location and experience level.
Regional
Weekly (or more) home time
Regional drivers deliver loads within a smaller geographic area, which makes it easier to get home more often. Regional Tanker drivers can get home weekly or even multiple times per week, depending on the job and your location.
Earn up to $0.61 per mile on typically shorter hauls and two-thirds non-hazardous loads. About 25 percent of your pay comes from accessorials through the hands-on loading and unloading of freight, and bringing tanks to and from tank wash locations. Schneider's robust network means you'll have freight to haul year-round, all close to home.
Local
Get home daily
Local drivers haul liquid loads close to home, which means you'll get there every day. This is the best way to get the big earnings hauling Tanker loads with the ability to get home every day for your family and friends.
Local Tanker pay packages are built to maximize driving in a smaller area — mileage, but also accessorial and performance pay that rewards you for all aspects of the work you do. We'll also help you get your hazmat endorsement.
The ins and outs of Tanker driving
Why choose Tanker driving?
Bigger money

Among the highest paid in Schneider's fleet, including more accessorial pay.

Hands-on

Loading and unloading tanks provides a nice change of pace to the day-to-day.

Elite paid training

75% of loads are non-hazardous, but you'll be prepared for 100%.
Find Tanker driving jobs near you