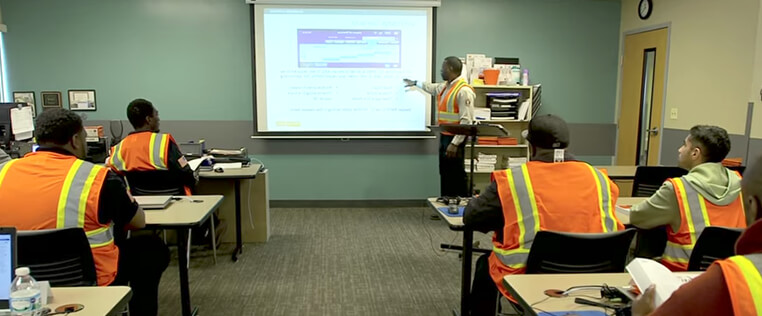 Paid CDL training
How to pay for CDL training
Schneider is committed to both the next generation of truck drivers and those returning to the industry. That's why we make sure the cost of CDL training doesn't stand in your way. No matter your financial situation, options are available to help you pay for training. Explore them all, pick the right one(s) for you and get on the path to start earning!
Company-paid CDL training options
Paid CDL training and on-the-job experience

CDL Apprenticeship Training (CAT)


A paid 5-week CDL apprenticeship that gives new drivers real-world experience.


This program helps candidates by:

Offering help with transportation to training.
Paying drivers while they learn and train.
Providing state-of-the-art automated transmission equipment.
Training drivers with an experienced Over-the-Road trainer.
Providing Schneider paid lodging and meals during classroom training.

Up-front payment with a reserved Schneider job

Company-Sponsored CDL Training


Two to four weeks of paid CDL training with a guaranteed Schneider driving job once training is complete.

This program provides candidates with:

Assistance finding a truck driving school in your area.
Schneider paid lodging (if applicable).
A reserved job with Schneider once CDL training has been completed.

Tuition Reimbursement after graduation, up to $400/month

Tuition Reimbursement


Schneider offers tuition reimbursement to many recent driving school graduates, paid out in monthly installments of $200 per solo driver and monthly installments of $400 per team driver.

This program helps candidates by:

Providing candidates with monthly tuition reimbursement payments (up to $7,000).
Reimbursing tuition for candidates who used a lender to pay for truck driving school.
Allowing veterans and military members to pay for their tuition using GI benefits.

Forms needed:

Copy of receipt or loan agreement.
Copy of enrollment agreement or invoice from the candidate's truck driving school stating the cost of the driving program.

Availability and eligibility may vary. Call our driver recruiting team to talk through options at 877-872-1766.
Other payment options
Veteran Affairs Education Benefits

If you served in the military, you may be eligible for VA education benefits through the Military Apprenticeship program that can cover the cost of your truck driving school education.

How to apply and questions: VA Customer Service at 888-442-4551
Eligibility: Varies by benefit — visit benefits.va.gov

Federal Student Aid

Depending on your financial situation, you may be eligible for federal student aid, which is accepted as partial or full payment by some truck driving schools.

How to apply: Fill out a Free Application for Federal Student Aid (FAFSA)
Eligibility: Varies — financial aid determined by government
Questions: Contact truck driving school of choice to determine if the educator accepts federal grants for the CDL training program.

Workforce Innovation & Opportunity Act

WIOA funding is available to help enhance training and employment opportunities for individuals facing barriers to employment.

How to apply: Local Career Services or WIOA office
Eligibility: Individuals underemployed, unemployed, dislocated
Questions: Contact nearest Career Services office or driving school

Student financed

If you're able to pay for driving school on your own up front or through a personal loan provider, that can work great, too. If you choose this route, keep in mind you may be eligible for tuition reimbursement if you apply to Schneider soon enough.

How to apply and questions: Contact your bank or other loan provider
Eligibility: Varies
Get pre-hired
Did you know? You can get pre-hired as a potential Schneider driver before you even step foot in truck driving school. Fill out the form in the link below, and once it's reviewed and approved, you can use the form to secure loans, grants or other funding for school.
Schneider can help you get your CDL