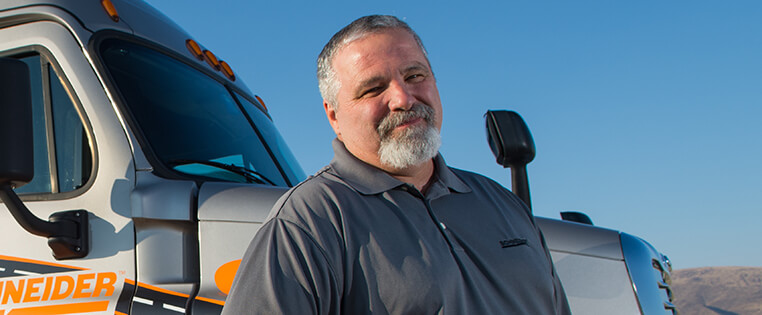 Solo truck driving jobs
What is Solo truck driving?
Solo driving is what most people think of when they think of truck driving: One driver in the truck, hitting the open road to haul freight. It's a dream come true for those who can't stand a boss over their shoulder. You'll always have a great support network at Schneider, but if you crave independence and want to make your own decisions, solo truck driving is for you. Chart your course with the widest variety of driving options.
Van Truckload
The open road
Schneider's largest division features the broadest range of opportunities for Solo drivers. Haul dry-van freight in standard 53-foot trailers to a huge variety of customers. Every day will be different in this maximum-adventure format, and there's always freight to haul year-round with Schneider's massive network.
There are literally dozens of home time arrangements to choose from, ranging from home throughout the week staying within 750 miles of home to being out for weeks at a time hitting all 48 states. Hit the road running and earn up to $850 in weekly guarantee pay during your first three months driving with Schneider.
Dedicated
The consistency you crave
Schneider's Dedicated division gives you the opportunity to haul for one primary customer. That means you get to know the freight, the routes, the schedule and even the people you'll interact with at the customer you will primarily haul for.
Predictability and consistency is the name of the game within Dedicated, so you can know what to expect in everything from the day-to-day to your weekly pay. Plus, with a huge variety of customers to choose from (e.g. dry van, reefer, flatbed), you can find one with the schedule and freight characteristics that work for you.
Intermodal
The roads and the rails
Schneider's Intermodal division involves hauling freight to and from the rail yards, typically near cities with large rail hubs. You've never seen a train pull up to a store location because that's where you come in, and about 70 percent of your loads will be drop-and-hook.
Your proximity to the rail hubs also means you'll stay closer to your home and get there more often. Regional and Local positions offer a unique blend of mileage and per-load pay that rewards you for the work you do.
Tanker
The liquid loads
Schneider's Tanker division offers the highest earning potential for Schneider Solo drivers, as you haul liquid loads with an established leader in the specialty chemical transportation industry.
Because the freight is more specialized, you can earn up to $10,000 more than other driving jobs. Do the work with confidence after completing our industry-recognized paid Tanker training. This is your path to becoming an elite driver within an already-elite fleet.
Why choose Solo driving?
Freedom

When do you need to get home? Where do you want to stop to eat? What radio station will you listen to? You decide! From your bottom line to your next rest break, there's no need to consult with someone else.

Schedule flexibility

You can't move the day of your kid's birthday. Whether you're trying to coordinate an important family get-together, your next doctor's appointment or just a healthy sleep schedule, you make the final call on what works.

More driving options

Other than urgent, security-intensive, cross-country loads that only a Team can execute, every driving option under the sun is open to you. Every freight type. Every driving style. Step up to the buffet of career options.
Find Solo driving jobs near you