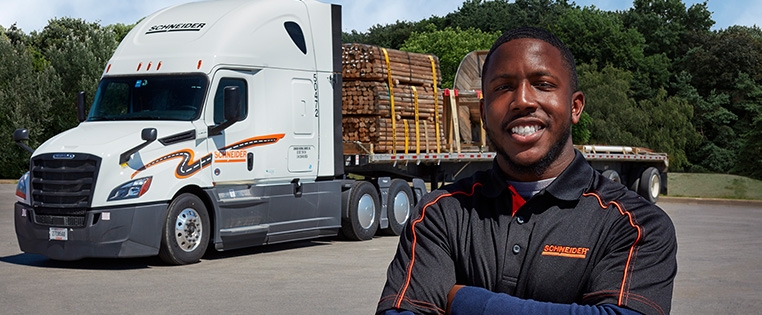 Inexperienced truck driving jobs
Why new and inexperienced drivers choose Schneider
Schneider offers a wide selection of inexperienced truck driving jobs and is the ideal carrier for drivers who are new to trucking. Our top-notch training and dedication to safety ensures new drivers learn to be as safe and efficient as possible when they hit the road. Still need a Class A CDL? No problem. We can help you find a great truck driving school in your area and reimburse your tuition, or we can pay for your training up-front with one of our company-paid CDL training options.
Getting started

Benefits of becoming a truck driver
Still wondering if truck driving is for you or if Schneider is the right trucking company to drive with? Explore six benefits of truck driving.


How to become a truck driver

Once you've decided truck driving is for you, it's time to get rolling. Schneider is here to help new truck drivers like yourself start your careers off right. View our three-step starter guide.

Paid CDL training

The cost of getting a CDL shouldn't stop you from starting a driving career. Schneider offers a variety of company-paid CDL training options to help you pay for CDL training. Discover your training options.

Finding a truck driving school

If there aren't any Schneider paid CDL training options available in your area, find a truck driving school near you. Then, once you've completed school and started at Schneider, we'll reimburse you for your tuition expenses.

First year

Inexperienced truck driver orientation

Driving school will teach you the basics of truck driving, but we'll sharpen your skills during our paid orientation for new Schneider drivers. See for yourself why our training teams are among the best in the industry. Learn what orientation is like.

First year as a truck driver

Don't go into your new driving career not knowing what to expect. We've created a clear timeline of what you can anticipate during your first year as a Schneider driver. Explore your next 12 months.


First year truck driver pay

Schneider knows experience comes with time and believes new drivers shouldn't have to worry about pay while they learn the ropes. That's why we offer a variety of pay packages, paid training and orientation options and a Guarantee Pay program that ensures you'll earn reliable income as a new truck driver. Learn more about first year pay.

Schneider's driver benefits package

We understand the importance of rewarding drivers' hard work. That's why we offer competitive benefits including: a leading 401(k) with company match, health care options, paid time off, paid holidays and much more. Discover more driver benefits.

Let us help you find your best inexperienced truck driving job.