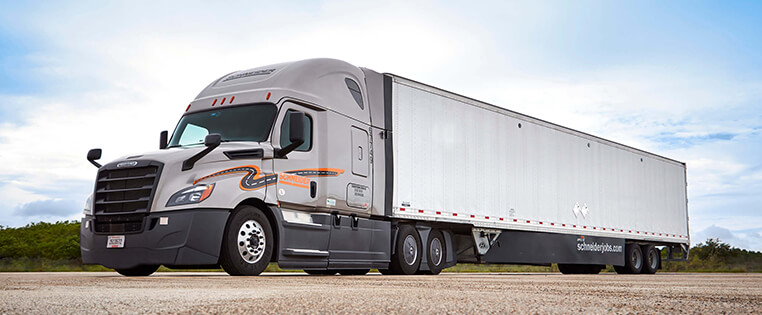 Dedicated truck driving jobs
What is Dedicated trucking?
Dedicated truck drivers haul freight for one primary customer. Because you'll be dedicated to delivering their freight, you'll get to know their people, their schedules and their routes, giving you an unparalleled consistency in both your professional and personal life. A huge variety of Dedicated customers means an impressive array of driving and career options for you. Explore them all, and get started.
Solo
Freedom to choose
Solo drivers enjoy a wider variety of work types, while enjoying total freedom out on the road. The experience available and pay potential is as unique as the Dedicated customers available near you, whether it's e-commerce, manufacturing, retail or something else entirely. It's important to recognize the variety you can choose from.
Team
Elite lanes
Team drivers get more done and earn more together. For Dedicated specifically, that means some customers have time-sensitive, high-value freight that needs to travel long distances without stopping for as long as a Solo driver would need to stop.
That means teams often get premium lanes like coast-to-coast, and most customers want to unload their own high-value freight, so you won't have to worry about touching it. Of course each customer is different, but Dedicated Teams can expect the best of the best because of the nature of their work.
Tanker
Higher pay
Tanker drivers haul liquid loads, and more Dedicated customers are choosing Schneider to replace their private specialty fleets due to the high caliber drivers we hire. The type of liquid freight — ranging from water to hazmat chemicals, within a wide variety of industry sectors — will vary by customer.
No matter what, the specialized nature of the freight will lead to higher pay potential, while still enjoying all the other benefits of Dedicated, like consistency.
Over-the-Road
Long-haul routes
Over-the-Road (OTR) drivers specialize in delivering long-haul loads. Some Dedicated customers of course require long-haul loads, depending on their business needs.
You won't find "Over-the-Road" in a Dedicated driving job title, but you can find this lifestyle by reading the Dedicated job descriptions near you. Some indicators to look for include longer time away from home, higher weekly mileage potential (e.g. over 2,500) and a higher percentage of no-touch freight.
If you're interested in the OTR life, you may want to look into our National Dedicated Fleet (supporting start-ups and surge support) or Jet-Set options (fly in to haul for a customer not near you).
Local
Home delivery
Local drivers deliver freight within a few hundred miles of home, so you can expect to get home every day driving day-cab tractors, with some options even available for box trucks.
Don't look for "Local" in the Dedicated driving job title; rather look for daily home time in the description. These positions are typically available to more experienced drivers, but the only way to know is to actually check since we're adding new Dedicated business all the time!
Regional
Optimal balance
Regional drivers strike an optimal balance between the miles and earning power of Over-the-Road drivers and the home time of Local drivers. Most Dedicated customers tend to fall within this driving type since most jobs feature weekly home time potential, often on a Monday-Friday schedule.
As you explore the jobs, let the description be your guide, with home time being your primary filter. The exact nature of the work will vary based on the customer accounts available near you, and our Dedicated customer base expands regularly.
Part-time
Flexible work schedules
Part-time drivers haul freight on a schedule that works for them. Whether you're doing it to supplement another income or simply be home more often, options are available. Within Dedicated specifically, the schedule and pay structure will vary by the Dedicated customer's needs and routes.
Whatever the specifics, you'll enjoy top-notch home time, hours you can work around and potentially the opportunity for benefits, depending how many hours you work.
The inside scoop on Dedicated driving
Why choose Dedicated driving?
Consistency

Consistent miles + consistent freight = consistent paychecks.

Specialty

Choose from dry van, reefer, flatbed, home delivery or other freight.

Belonging

Being with one customer is like a small family within the big Schneider family.
Find Dedicated driving jobs near you