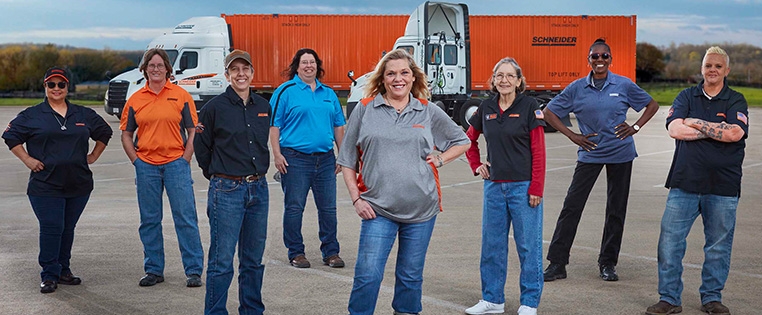 Women in trucking
Come home to Schneider
Nearly 1,000 women have said yes to a truck driving career with Schneider, and we're dedicated to growing that number every day. Be part of the women in trucking revolution with a company that's proud to be a leader in it.
A track record of empowering women
Here are awards to prove it:
Meet the women who drive Schneider further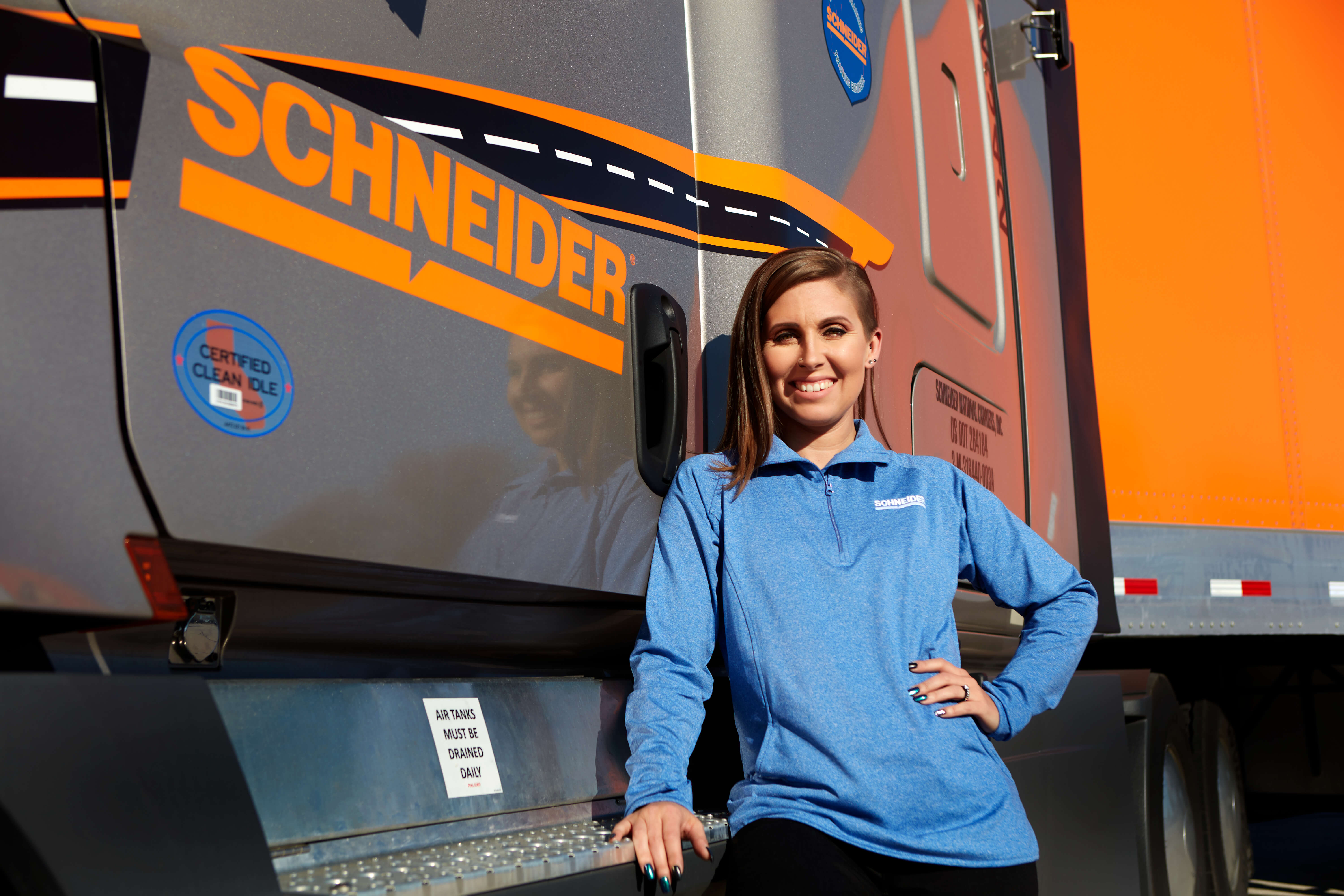 2021 – KayLeigh McCall
Company driver, training engineer and WIT Ambassador
Not only is she a Dedicated driver, training engineer and the 2021 Featured Female Truck Driver, but KayLeigh McCall is also Women In Trucking's Driver Ambassador. Outside of work, KayLeigh is a wife and mother to four children. Get to know KayLeigh's role as a truck driver.
Read about KayLeigh's journey to becoming the Driver Ambassador
Why women drivers choose Schneider
Equal pay.

Plain and simple: Women drivers at Schneider get equal pay, benefits and earning opportunity as men. Period. Set yourself and your family up for success by earning up to $110,000 per year and by taking advantage of Schneider's all-encompassing benefits package.

Paid CDL training opportunities.

Our superior safety training and selection of inexperienced driving jobs make Schneider an ideal carrier for women. We offer a wide selection of company-paid CDL training options, including tuition reimbursement, that can help you cover the costs of getting a CDL. Plus, we provide safe and comfortable conditions during driver orientation, that include separate sleeping arrangements when same-gender training isn't possible.

Superior home time.

Approximately 75% of Schneider drivers get home weekly or more. If you need to get home daily or on a consistent schedule, we have those options. If you are interested in staying out longer to earn more, we have over-the-road opportunities as well.

24/7/365 support.

From training engineers and team leaders to Schneider's driver support line, there's always someone available to help you when you're in need. Plus, Schneider's facilities located across the country offer free, safe and secure parking, in addition to 24/7 driver amenities like free showers, free laundry, truck maintenance, cafeterias, lounges exercise equipment and more.

Comfortable equipment.

Our trucks are spec'd with equipment and technology to make your life safer and more pleasant on the road. Automated transmissions are easier to drive, seat ergonomics are designed specifically for your comfort and new tractors feature comforts of home like refrigerators, memory foam mattresses and in-cab power through APUs and power inverters.
Find a truck driving career: