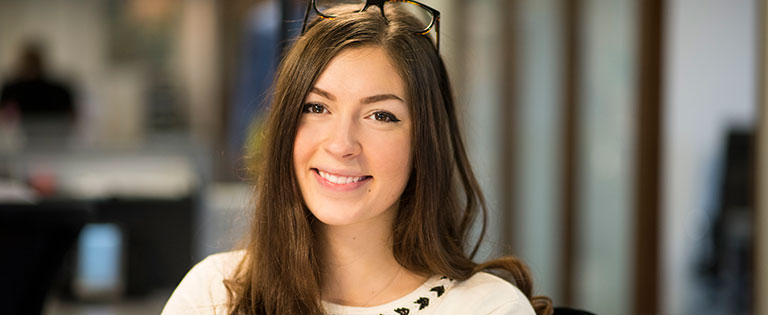 Resources
We hire the very best people
Schneider is always looking for enthusiastic go-getters, innovative thought leaders and anyone who wants to make a difference in a company that touches the lives of people every day. If that's you, we want to set you up for success and do everything we can to get you on our team.
The hiring process: How it works
Step 1. Create a candidate profile and apply for jobs
Search for a position you're interested in, read the description and click "Apply Now." To get started, you will create a profile. Then you can:
Upload your resume and background information into our system
Apply to open positions quickly through the Job Search tab
Check submitted application status through the My Jobpage tab
Share open positions with friends via email or social media
Step 2. Application review
Our recruiting team reviews all applications and resumes. If your background lines up with the requirements for the position, we'll reach out!
Step 3. Phone interviews
If you're one of the most qualified candidates for the position, someone from the Schneider team will call you to set up an interview with a recruiter. Usually, these interviews take place over the phone, but some may be conducted face-to-face. Interview tips are below.
Step 4. Additional interviews
After your interview with a recruiter, you may have an additional phone conversation with the hiring manager. Then, we may call you to set up a face-to-face interview at a Schneider facility. We'll provide you with specific interviewing details, based on the role you are interviewing for and the location of the position. You could have several interviews when you're at Schneider, each with different members of the hiring team.
Step 5. Fill the position
Members of the hiring team will work together to decide if you're the best person for the job. If you are found successful during the interview, you will be required to pass a drug screen and background check prior to starting work.
Step 6. Begin a dynamic career at Schneider
When you've reached this step, congratulations and welcome to the Schneider family! We are so excited to have you on our team and can't wait for you to start making your mark here. Fasten your seatbelt and get ready for a challenging, fulfilling career.

Interview preparation: Tips for success
1. Get to know Schneider
Take the time to get to know Schneider. We don't expect you to be industry experts, but you should show that you have made the effort to research Schneider. This also helps you come up with questions to ask your interviewer regarding the company or role. We recommend visiting schneider.com and further exploring schneiderjobs.com
It's also important to get to know the individual(s) you will be meeting with. Spend some time reading your interviewer's LinkedIn profile. This will provide you with some talking points.
2. Come prepared with questions
This isn't just our opportunity to get to know you; it's also your opportunity to get to know Schneider. We want you to be excited to come in to work every day. The only way that happens is if you work for a company that you believe in — one that you truly want to work for. So, ask us about the things that matter to you. We'll be happy to give you answers.
3. Be ready to discuss real-life experiences
This may be the most important tip on the list. You should know that Schneider uses a behaviorally grounded, competency-based interview style. That's a fancy way of saying we think real-life examples are the best way to tell your own story. To prepare for the interview, think through your life experiences — things that you accomplished in school, at work or in the community.
Ideas to help you prepare:
Provide a specific example of a time when a co-worker or classmate criticized your work in front of others. How did you respond? Did that event shape the way you communicate with others?
Describe two specific goals you set for yourself. Did you meet them? What steps did you take to ensure you met your goal? What did you learn from the experience?
4. Think of the interview as an opportunity to sell yourself
Know your resume and accomplishments. As you respond to questions, use elements of those accomplishments to craft your reply. More importantly, if you are not asked questions that will reveal your traits and experiences, take the initiative to work them into the conversation and sell your story. Your time will be limited, so use it wisely. Good luck — we know you will do great! For more resources, check out our Slice of Orange blog.
Still have some questions? Here are some answers for you:
Q. What kind of people do you hire?
A. Naturally, certain roles require certain expertise. But in general, we are looking for innovative, enthusiastic, energetic and hardworking individuals who are ready to take on challenges. We want people who are willing to contribute their ideas and continually help Schneider become a better organization.
Q. Does Schneider provide training for employees?
A. Yes. Office associates can participate in training ranging from instructor-led to self-study to e-learning. We offer new-hire courses, leadership training and skill courses, such as negotiation and presenting. We also maintain a corporate library with 1,500 books, computer simulations and more than 170 online courses that align to our core competencies.
Q. What kind of career advancement opportunities does Schneider offer?
A. We like to say our associates can design their own career path. Some people pick one role and excel at it for years. Others move throughout the company, making their mark in different areas as they go. Schneider supports both routes. We offer tuition assistance and online training sessions to help associates meet their goals — whatever those goals may be.
Q. What if I'm having trouble applying for a job?
A. Email recruiting@schneider.com and provide as much of the following information as you can. One of our talented team members will get back to you after receiving your response to the below information:
Specific details about the problems you're running into. Screenshots are helpful, too.
What position/opening/vacancy were you applying to? Include the vacancy name
What brought you to schneiderjobs.com?
Was it on a job board?
Did you receive an error message? If so, what was the message?
What type of Internet connection do you have?
What Internet browser and version are you using?
What time of day were you using the system?
Q. Are there relocation opportunities?
A. With more than 200 locations in the United States, Canada, Mexico and China, more than 50 on-site customer locations, and our corporate headquarters of more than 2,400 associates in Green Bay, Wis., there are plenty of relocation opportunities if that's what you desire. For some of our roles, we look for individuals who are willing to consider relocation. As part of the interview process, we will discuss this topic and talk to you about current location openings and future preferences, so you land just where you want to be.
Q. How can I stay up-to-date on job openings at Schneider?
A. Schneider is on Facebook, Twitter, LinkedIn, Snapchat, Pinterest and Instagram. Connect with us today for up-to-date job postings, culture insights, industry news, interviewing tips, resume advice and much more.