Andrew Becker: Making a difference on Schneider's support shift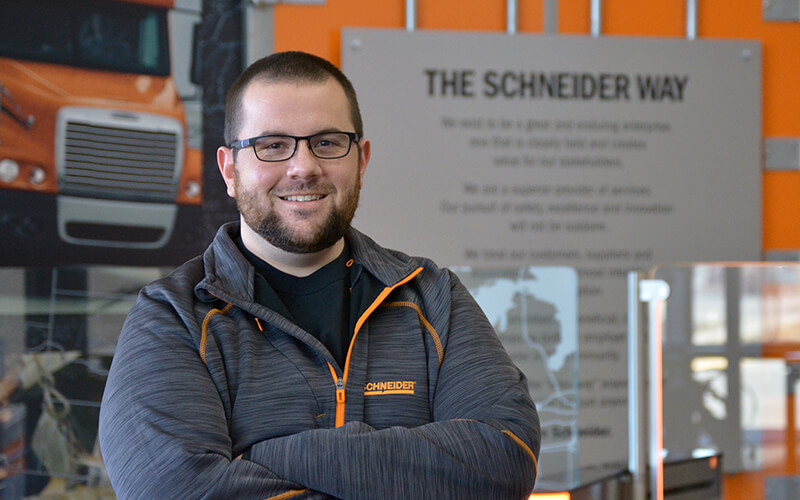 As a company whose truck drivers are moving freight at all hours of the day, it takes a team of individuals to assist those drivers while most people are typically asleep.
Third shift team leader for Schneider's Dedicated Operations, Andrew Becker, is one member of that team. Andrew leads a group of 11 Operations Specialists who work with Schneider drivers to help solve problems, answer questions about loads and routes, get in touch with their leader, etc.
Andrew explained that working in operations can be challenging, especially during second or third shift. However, the feeling of accomplishment he gets when assisting a driver makes his job worth it.
"For example, if there's a frustrated driver who's at a customer with the wrong order number, I try to put myself in their shoes and what they're going through in their truck 1,000 miles away from home," Andrew said. "Being able to help them out gives me a sense of gratification that I was not expecting in this job."
Andrew's journey to joining Schneider
Prior to working at Schneider, Andrew was the manager of a convenience store. He worked there while attending Northeast Wisconsin Technical College and after graduating with a degree in business management.
Andrew loved working at the convenience store but decided to pursue another opportunity when the owner decided to sell it. Being from Green Bay and frequently seeing orange trailers on the road, in addition to hearing good things about the company, applying to Schneider was a no-brainer for Andrew.
"When I had my initial phone screening with Schneider, the recruiter thought Operations Specialist would be a good role for me," Andrew said. "And I didn't have a background in office work, so I was at the mercy of what people thought would be best for me. I rolled with it, did another interview and got the job in January of 2020."
Keeping an open mind and trusting another person's judgement proved to be beneficial.
"I loved the Operations Specialist role," Andrew said. "It ended up being a perfect fit for me."
Advancing in his career in Operations
After working on second shift as an Operations Specialist for about a year, Andrew was promoted in January 2021 to the role he's in now: Dedicated Operations team leader. Although he was promoted to support third shift as a team leader, Andrew has been helping fill gaps on second shift since his transition.
Despite starting a new job during a global pandemic, Andrew said he has still felt noticed and appreciated at Schneider.
"I started at Schneider in January and we moved to working remote in mid-March, so 90 percent of my time here has been spent at home," Andrew said. "My leaders still saw enough in me to promote me to team leader while I've been working from home. That shows they notice the work I'm doing, despite not being over my shoulder all the time or sitting at the desk next to me."
Why Andrew works on support shift
Agreeing to work second shift wasn't an easy decision for Andrew, as it was something he hadn't done previously.
"Honestly, I had hesitation when I was started at Schneider because I'm a morning person, and I worked 7 a.m. to 3 p.m. Monday through Friday at my old job," Andrew said. "And when I got the job offer from Schneider, it was for second shift, so that was a bit of a transition for me."
However, after spending a few months in his second shift Operations Specialist role, Andrew started realizing the benefits of working 4 p.m. to midnight.
"I think the reason why I enjoy working support shift is because it's so fast-paced," Andrew said. "People who work in Dedicated Operations on first shift are assigned to a specific account, so you get really familiar with that account. But on support shift, you're dealing with so many different accounts that it piques your interest each night."
How support shift opens doors of opportunity
Andrew explained that interacting with such a large and diverse group of people on support shift has allowed him to network with people he otherwise wouldn't have.
It's why he believes he was able to advance his career so quickly at Schneider.
"Support shift is not cookie cutter; it's more for the critical thinker," Andrew said. "For someone who truly wants to propel their career and have the potential to move up by working with all these accounts and different people, I think it support shift is a great opportunity."
As for his short-term goals, Andrew hopes he can continue to make an impact at Schneider and grow his career, as well as help others grow theirs.
"I love leading people and working on a team," Andrew said. "I hope to excel in my role and lead by example so my associates can excel in their roles, too."
Ready to apply for a support shift role?
Explore our second and third job opportunities and find a role that works with your career goals and schedule.
About the author

Schneider Guy loves the "Big Orange." He's passionate about the trucking industry and connecting people to rewarding careers within it. He's been the eyes and ears of our company since our founding in 1935, and he's excited to interact with prospective and current Schneider associates through "A Slice of Orange."