Cooking in a semi-truck: Quick and easy fall meal ideas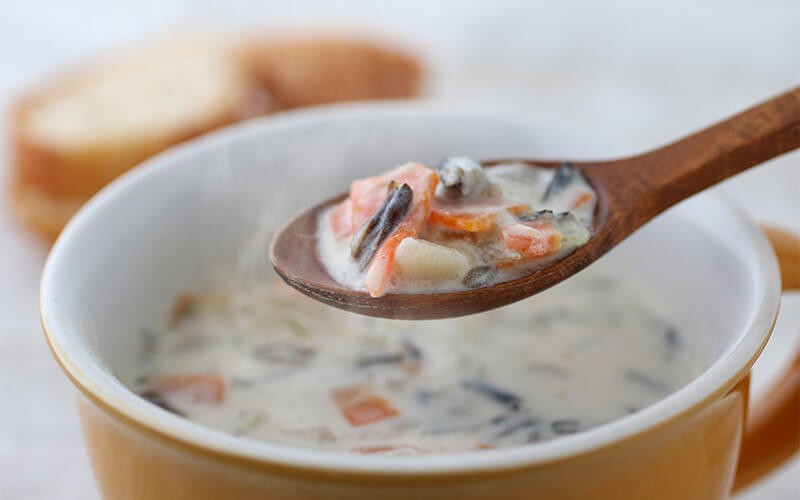 Estimated reading time: 4 minutes
Maintaining a healthy diet while on the road can sometimes be challenging for truck drivers, as it can often feel easier to turn to unhealthy fast-foods instead of cooking their own meals.
However, eating healthy on the road doesn't have to be a challenge. In fact, cooking in your semi-truck can be fun, healthy and save you money in the long run.
So, with the cold weather and the holiday season approaching, we wanted to share a few quick and easy fall food recipes that can help truck drivers expand their cooking abilities and improve their overall diet on the road.
The following main dishes, sides and sweet treats can be made using some of our favorite pieces of cooking equipment for truck drivers.
Delicious main dishes
Turkey and gravy
Equipment and ingredients:
Slow cooker, turkey (pre-cooked or uncooked), gravy, salt and pepper.
Instructions:
Place desired amount of turkey in slow cooker and season to taste with salt and pepper. Pour gravy over turkey and cook on low for four to six hours.
Wild rice soup
Equipment and ingredients:
Slow cooker, wild rice soup mix and water.
Instructions:
Add your favorite wild rice soup mix to the slow cooker and add the amount of water recommended on the soup mix packaging. Cook for roughly two to three hours on low or until rice is fully cooked.
Savory Sides
Slow cooker stuffing
Equipment and ingredients:
Slow cooker, stove-top stuffing mix, butter and water.
Instructions:
Add recommended amount of butter and water to the slow cooker. Cook on high for one and a half hour. Add the stuffing mix to the liquid after it has been heated. Stir and fluff with a fork before serving.
Roasted vegetables
Equipment and ingredients:
Slow cooker, potatoes, carrots, onion, garlic, water and olive oil.
Instructions:
Cube potatoes and carrots, chop onion and garlic and place them in the slow cooker. Add 2 tablespoons of water, 3 tablespoons of olive oil and season to taste with salt and pepper. Cook on low for seven to nine hours or until veggies are tender.
Sweet treats
Apple spice waffles
Equipment and ingredients:
Baby dash mini waffle maker, cooking spray, boxed waffle mix, eggs, one apple, oil, cinnamon and nutmeg.
Instructions:
Peel an apple and chop it into fine pieces. Add 2 teaspoons ground cinnamon and 1 teaspoon of ground nutmeg to the apple chunks and mix. Next, follow the instructions on the waffle mix box to make the waffle batter. Add the seasoned apple pieces to the waffle batter and mix thoroughly. Apply cooking spray to your mini waffle maker before using it to cook your batter.
Apple Cider
Equipment and ingredients:
Water and apple cider drink mix.
Instructions:
Combine one packet of apple cider mix with a cup of warm water and enjoy! You can also add a cinnamon stick if you're feeling especially festive.
Tips for making more healthy meals on the road:
1. Incorporate fruits and vegetables into meals.
It's important to maintain a well-balanced and healthy diet, especially when spending hours driving each day. One way to improve your health and make sure you are getting the proper vitamins and nutrients is by adding fruits and vegetables to your meals.
So, be sure to always add a vegetable to your lunch and dinner meals and try to work more fruits into your diet by adding them to your breakfast, snacks or desserts.
2. Plan and prepare your meals ahead of time.
Just like you plan your trip before hitting the road, you should always plan and prepare your meals before you leave home.
Although it is possible to cook and portion your meals before you start your trip, it can be just as helpful to simply prepare and portion out ingredients you plan to cook throughout the week.
3. Simplify your recipes.
It's easier than you might think to bring the flavors of your favorite home-cooked meals on the road with you. Oftentimes, all it takes is simplifying your recipe or swapping out ingredients for ones that are easier to take with you on the road.
Take a look at your favorite recipes to see how you can make adjustments, and don't be afraid to get creative!
4. Make cleanup easy.
One of the biggest differences between eating at a restaurant and cooking meals in a truck is the clean-up process. But, with the right equipment, cleanup can become a quick and easy process.
You can make clean-up a snap by using tools like disposable slow cooker liners or aluminum pans to keep your cooking equipment mess-free.
Looking for more recipes to try on the road?
Learn how to cook in a semi-truck and find a variety of unique on-the-go recipes and on our YouTube playlist.
About the author

Schneider Guy loves the "Big Orange." He's passionate about the trucking industry and connecting people to rewarding careers within it. He's been the eyes and ears of our company since our founding in 1935, and he's excited to interact with prospective and current Schneider associates through "A Slice of Orange."
More posts by this author