Schneider Engineering careers: how we stay on the cutting edge
Want a job that will encourage you to be innovative?
At Schneider, we pride ourselves for always trying to improve and be better. Apply for a job with us and take part in the effort.
About the author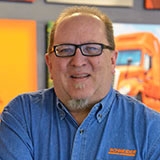 Bob, a senior engineer with Schneider, has worked in operations research since 1982. Since 2005, his work has concentrated on fleet operations, pay package design, employee recruiting and retention, pricing, purchasing, routing, revenue management, fleet sizing, and operations using a variety of operations research, predictive analysis and economic analysis techniques. Prior to 2005, he was responsible for dozens of supply chain strategy projects on a consulting basis in both manufacturing and retailing industries concerning facility location, inventory management, forecasting, and warehousing operations.