Improving environmental sustainability in the workplace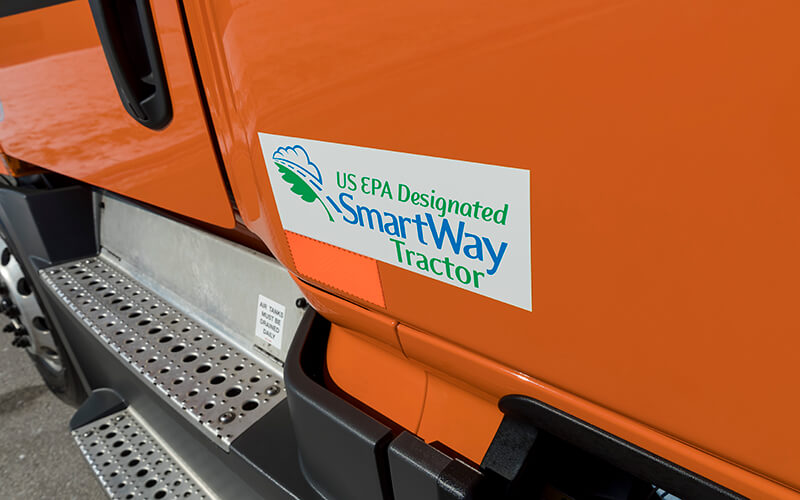 Have you ever noticed Schneider trucks drive slower compared to other companies' trucks on the interstate? Driving at a slower pace not only increases safety, but it also reduces fuel consumption. A truck traveling at 75 mph uses 27 percent more fuel than one going 65 mph.
Environmental sustainability in the workplace is currently at an all-time importance, and Schneider has been leading the way since 1978 by incorporating sustainable practices into our everyday business efforts. Reducing fuel consumption is just one example of our efforts, as we are trying to be greener within our offices, shops, warehouses and trucks.
Ways Schneider is enhancing environmental sustainability in the workplace:
1. Improving air quality and fuel efficiency.
Schneider has won EPA's Smartway Excellence Award nine years in a row. EPA SmartWay has a list of partners who measure and improve their performance on air quality and fuel efficiency.
Since SmartWay's inception, their partners have saved a total of 215.4 million barrels of oil, while also reducing carbon dioxide, nitrogen oxide and particulate matter by over 103 million metric tons; this is the equivalent to the annual energy use in over 14 million homes.
Not only has Schneider been awarded the SmartWay Excellence Award year-over-year, but in 2018, Schneider was one of nine multimodal carriers to qualify as a SmartWay High Performer.
2. Using smarter equipment.
Schneider has implemented 20 different fuel-efficient features within our fleet to make sure we are operating responsibly and conserving fuel. Between 2017-18, Schneider decreased fuel consumption by 5 million gallons.
As we continue to make great strides to reduce our environmental impact, these future truck features will help make us even more sustainable.
3. Reducing, reusing and recycling.
Our maintenance division is committed to creating less waste, and one way is by retreading 92,950 tire casings each year. Making a tire retread uses one-third less oil than making a brand-new tire and puts fewer tires in landfills each year.
Our maintenance division also recycles 160,000 gallons of oil and 12,000 batteries annually.
4. Being more sustainable in the office.
Improving and reducing our trucks' carbon footprint is an obvious way to become more sustainable, but we also look inside the office to determine, 'Where can we be better?'
We have a green team who audits our facilities to identify where our energy saving opportunities are. For example, since we re-lamped our office locations, we've seen a 12.5 percent reduction in energy consumption.
5. Using railroads to be more energy efficient.
Schneider works with the most energy efficient rail providers. These providers have made significant efforts to reduce their carbon footprint and committed to sustainability improvements each year.
On average, moving freight by rail is two times more energy efficient than over-the-road transport. Each railroad Schneider works with can move a ton of freight 474-500 miles on a single gallon of fuel.
6. Optimizing supply chain.
We are freight experts, and our logistics division helps our customers optimize their supply chains. Not only does supply chain optimization help our customers' bottom dollar, but it reduces unnecessary truck movement and emissions emitted into the atmosphere.
What does the future hold for Schneider?
Unfortunately, when I shake the Magic 8-Ball it says, "Ask again later," so I don't know exactly what Schneider will do in the future to improve its sustainability efforts.
However, I do know we are committed to reducing our impact on the environment. One example is that Schneider has committed to purchasing and testing Tesla's new electric semi.
I am excited to see what Tesla's new trucks can do to help us reduce our carbon footprint and what other initiatives Schneider will continue to take part in.
Be a part of our sustainable organization.
We are always looking to become more sustainable, but we need committed people like you to help us improve. Learn more about our opportunities and find your fit.