Ruby Langkau: Appreciating every day as a Schneider driver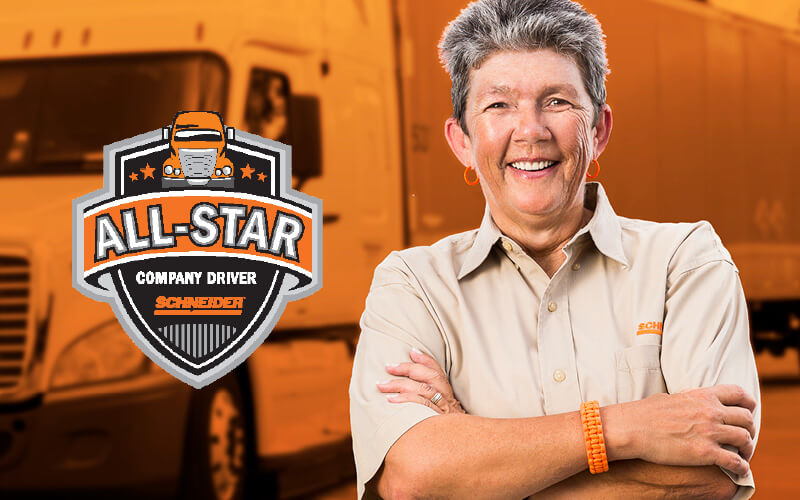 When Schneider Dedicated driver and All-Star Ruby Langkau started truck driving back in 1997, she did it to see the country. Her children were grown and she enjoyed traveling and working with various equipment and technology, so a transportation job seemed like the right fit.
Over 20 years and more than 2 million miles later, Ruby has satisfied her desire to travel. What keeps her motivated now is the opportunity to complete a new challenge each day.
"Every day when you get up and get into your truck, it's an opportunity to do better than the day before," Ruby said. "The load you hauled yesterday is in the past and tomorrow isn't here yet, but today is another challenge to do things the right way."
From military roots to an office technology catalyst
Ruby began her career as a military police officer in the U.S. Army and served overseas in Berlin, Germany from 1974 to 1979. Once her second child was born and her military contract ended, she decided to separate from the military to concentrate on raising her family.
When Ruby and her family settled in Florida in 1982, she put her business management degree to use as a paralegal in a real estate attorney's office. When Ruby's boss decided he wanted his firm to write software for lawyers, Ruby jumped at the challenge and was among the first software writers in the country.
Ruby stayed in the software industry after her company's buyout in 1996 and worked in customer service at AOL. It was there she met a former Schneider driver. Ruby talked to him about her desire to travel and see the country, and he recommended working for Schneider.
"He told me I would get the opportunity to see the country if I drove for Schneider," Ruby said. "And I said, "Let's go see America!"
Later that year, Ruby's youngest son headed off to military basic training and she interviewed with Schneider. Ruby began truck driving the week following her son's basic training graduation and her husband joined her a couple months later.
Trying different driving jobs at Schneider
Ruby's driving career at Schneider can only be described as varied. She and her husband started at Schneider as team drivers in 1997. When he retired in 2000, Ruby drove solo for a short time before recruiting her sister to join her.
The women took a break from Schneider in November 2002 to drive off-road dump trucks, building levies and hauling sand for a local mining operation. They returned to Schneider as a team in August of 2003 and drove together for a few more years before taking separate paths: Ruby took a solo position in Dedicated, and her sister signed on as a yard spotter.
Driving solo on a Dedicated account suits Ruby well.
"I like the independence of driving and the security that comes with working for a great company," Ruby said. "It's like Schneider is letting me run my own business while keeping me safe under their umbrella."
It also gives her plenty of time to spend with her husband, children, grandchildren and great-grandchildren.
Having more goals to accomplish
Despite her track record for trying new things, Ruby has no plans to hang up her keys any time soon. Her current goal is to keep driving for Schneider until she turns 70 years old.
"I love driving, and I wouldn't trade this for any other career in the world," Ruby said.
"Schneider has allowed me to be independent. When I came out to drive truck, I had a bit of baggage and Schneider has given me the opportunity to rewrite my life."
Additionally, Ruby said she has had a lot of fun along the way.
"I've had more fun and more positive feedback in my driving career than I did in any other career," Ruby said. "Plus, I work for the best trucking company out there."
What could truck driving for Schneider give you?
A consistent pay check, health care, a flexible work schedule… the benefits of being a truck driver for Schneider are abundant. See more for yourself and find a job near you.

About the author

Schneider Guy loves the "Big Orange." He's passionate about the trucking industry and connecting people to rewarding careers within it. He's been the eyes and ears of our company since our founding in 1935, and he's excited to interact with prospective and current Schneider associates through "A Slice of Orange."