Dana Rau-Courtier: Driver Instructor, All-Star and Unsung Hero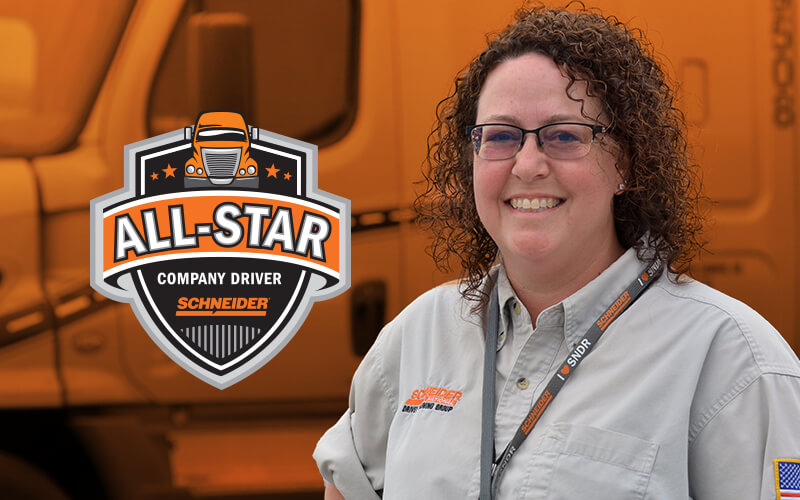 In late June of 2020, Schneider Driver Instructor and All-Star, Dana Rau-Courtier, was asked by her leader to go to Kaukauna, Wis. to accept an award on behalf of Schneider. Confused, Dana agreed and made the 20-minute drive from Green Bay to where the award ceremony was taking place.
Little did Dana know; the award was meant for her, not Schneider. On June 19, Dana was recognized as an Unsung Hero and received the Northeast Wisconsin Service Award from Wisconsin Representative Mike Gallagher.
Dana earned the award because of her contributions to the transportation industry since she started her career, in addition to shifting her focus from teaching new drivers to delivering essential freight when the COVID-19 pandemic started.
"I was really humbled by it and really honored to be recognized for my contributions to the industry and community," Dana said. "I was so surprised I won the award."
Dana's career as a truck driver
Dana became a Schneider truck driver in 2002 and tried it all. She drove Over-the-Road, Dedicated, Intermodal and Teams. She loved the predictable home time that came with being a Dedicated driver but has many fond memories of Teaming and seeing the country.
"Did you know the Mall of America has truck parking?" Dana said. "I loved being able to go there. I also loved driving through the Rocky Mountains, and I once met a lady who owned a fruit stand in South Carolina. She sold the best peaches."
Dana became a Training Engineer in 2004 and during that time, she took new drivers out on the road with her. This is when she discovered her passion for teaching and mentoring.
"In 2007, Schneider asked me to move to Green Bay to become a Driver Instructor," Dana said. "I didn't want to move to Wisconsin because of the cold winters, so Schneider offered me a flex position so I could go back home to Michigan when it got too cold."
Dana agreed and accepted the flex position in Green Bay. She had one taste of being a Driver Instructor and quickly changed her mind, though – the rewarding feeling she got from teaching new drivers was well worth the cold Wisconsin winters.
Dana found a home in Green Bay and has been living there permanently ever since.
What it's like being a Driver Instructor
Today, Dana has helped thousands of new truckers become successful Schneider drivers through her instruction during driver orientation. She has also earned two Schneider Presidential Awards in her career.
Dana said her favorite part of the job is having students who are eager and willing to learn. There are challenges that come along with it, though.
"My job is challenging, but it's not hard," Dana said. "The biggest challenge is making sure people have the necessary skills to be successful out on the road. Everyone has a different learning type and different needs, so it's my job as an instructor to make sure I can teach to those needs."
Dana's down-to-earth, charismatic personality has helped open other doors for her at Schneider. She is often asked to be in videos for Schneider and has been told by many new drivers that they recognize her from YouTube.
"Schneider has given me so many opportunities to grow as person," Dana said. "I teach in the classroom, I go out on the road, I get asked to be in videos and I even get to work with people at other campuses."
As a Driver Instructor, Dana is still required to haul at least one load per quarter to keep her driving skills fresh.
What she looks forward to in the future
In her 18-plus years as a truck driver, Dana said she has seen a lot of changes, especially when it comes to technology and equipment drivers use. One of her goals for the future is to continue expanding on her knowledge of Schneider's truck simulators.
She also hopes to see more women join the industry, as more flexible driving opportunities continue to become available.
"Women make some of the best drivers because we take our time, and we are so detail-oriented," Dana said. "And, because we know we are the minority in the industry, we have this extra passion to do the job well and prove people wrong."
Dana's main goal as she continues her career at Schneider is to keep giving new drivers the confidence and knowledge they need to be successful.
"Just before a student leaves for the road, I tell them they are capable of doing this job," Dana said. "I tell them to believe in themselves, always do the right thing, trust in the training they received and, if something feels wrong, just stop and ask for help."
Searching for a new truck driving job?
Schneider is hiring drivers across the country. Enter your ZIP Code and see what driving opportunities are available where you live.
About the author

Schneider Guy loves the "Big Orange." He's passionate about the trucking industry and connecting people to rewarding careers within it. He's been the eyes and ears of our company since our founding in 1935, and he's excited to interact with prospective and current Schneider associates through "A Slice of Orange."