Bob Wyatt: A guy who's in it for the long run
Safety First - It's our #1 core value
When Bob Wyatt was handed the keys to his first orange Schneider truck, he likely hopped in the cab, turned on the radio and cruised down the road to Tie a Yellow Ribbon 'Round the Ole Oak Tree and Bad, Bad Leroy Brown. No, Bob isn't a big Tony Orlando buff or Jim Croce groupie; those were just the most popular tunes of the day … back in 1973.
Do some quick math and you'll easily realize Bob is a 46-year veteran of the Schneider fleet. But here's something even more amazing: Every single one of his 5.4 million miles has been traveled safely and without a preventable accident. Every. Single. One.
"I started driving for Schneider when I was 24 years old," Bob said. "I started driving a truck when I was 17. I've spent over 52 years in a truck."
The journey from race van to Van Truckload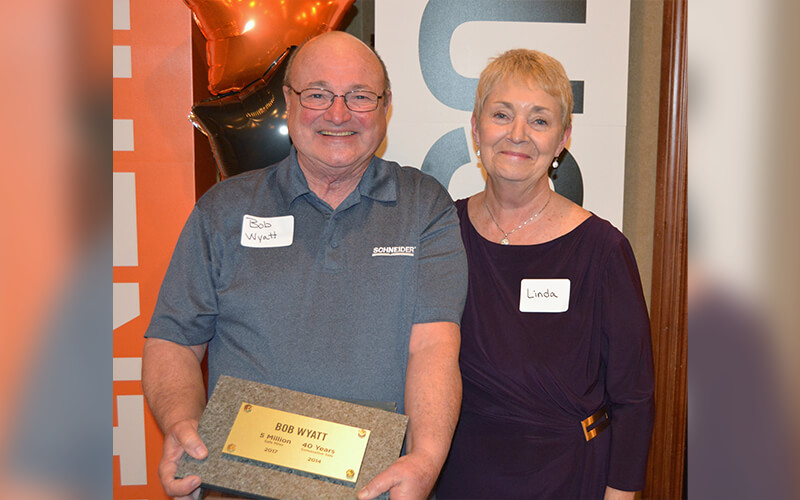 Bob got his first taste of life on the road when he tagged along on runs with his dad, a driver for Mayflower. He got his professional start in 1965 driving a race van for Carroll Shelby, an American racing and automotive legend. When Bob met and married his wife, Linda, his priorities shifted away from speed, and he started to look for work that offered security and stability.
Bob's next stop was driving locally for a cola company in his hometown of Springfield, Ill., but the miles didn't deliver the kind of paycheck he wanted. Plus, he missed the road. Before long, he began to wonder what else might be out there. He didn't wonder long.
"Some of the Schneider drivers I met at work were always talking about how great their company was and how much money they were making," Bob said. "That's when a friend and I packed our suitcases and headed up to Green Bay for orientation."
Soon, Bob was spending his days doing just what he hoped: criss-crossing the country and earning a good, honest living doing it. Though he's had the chance to drive for other divisions of the company over the years, he chose to stick with over-the-road.
"I just always wanted to run long," he explained.
Words of wry wisdom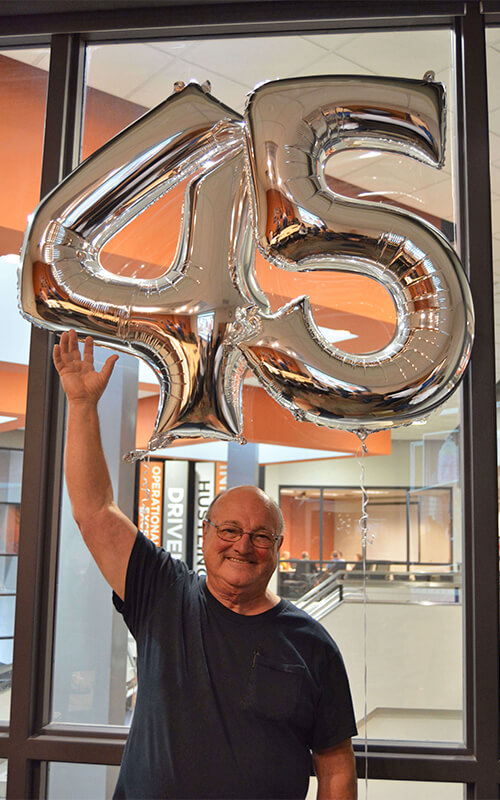 How did this down-to-earth, no-bones-about-it guy with a dry sense of humor achieve the five-million-mile (plus!) mark?
"No one can tell anyone else how to drive safely for millions of miles or even to town and back," Bob said. "You do it one mile marker at a time, keeping your mind clear and your cellphone in the trailer."
Bob added, "You can't become complacent. I believe 90 percent of driving is what's in your mind, so you have to keep on top of things. People are crazier out on the road today, and there's so much more traffic. If you just drive in a straight line, you'll get hit 10 times before noon!"
5.4 million miles… and counting
Reflecting on his career, Bob said, "When I first started driving, I was nervous and didn't want to mess up. Each year that went by, though, I banked the things I learned and I kept going—and I kept learning. After this many years on the road, I just know what I have to do and I do it! God blessed me with a natural talent and love for driving, and for that I am thankful."
Speaking of being thankful, that is exactly how Schneider feels, knowing Bob has no plans to retire anytime soon.
"I don't know what I'd do with myself if I wasn't on the road," he said.
Bob makes the entire industry better—and safer—simply by being the driver and person he is.
"I found a home when I found Schneider," Bob said, "I work with some good people here who have drivers' interests at heart. And their motto of 'Safety First and Always' has resonated with me each and every day since I started."
Are you in it for the long run?
Apply to be a driver for Schneider and see where the road could take you.
About the author

Schneider Guy loves the "Big Orange." He's passionate about the trucking industry and connecting people to rewarding careers within it. He's been the eyes and ears of our company since our founding in 1935, and he's excited to interact with prospective and current Schneider associates through "A Slice of Orange."