Adventure awaits: How one Schneider driver makes every load a travel opportunity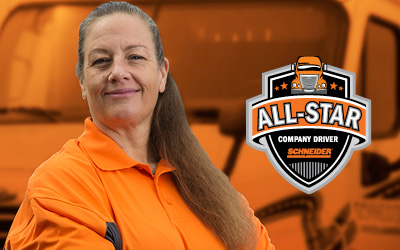 "Last year I was in a Georgia truck stop and saw clothes on clearance so I asked the manager if I could get a deeper discount if I bought them all," recalled Colleen. "I bought $80 worth of t-shirts because I was in the right place at the right time and saw an opportunity to fill a need."
"I have friends and family all over the country so sometimes I'll stop and see them; other times I'll rent a car to check out the area," said Colleen. "I just like being wherever I am."
"I love being over the road and not knowing what each day will bring. I like to fly by the seat of my pants," laughed Colleen. "This job suits me."
Start your own adventure!
Your next chapter awaits. Don't miss out on this opportunity to start your Schneider driving career. At least take a look what's out there.
About the author

Schneider Guy loves the "Big Orange." He's passionate about the trucking industry and connecting people to rewarding careers within it. He's been the eyes and ears of our company since our founding in 1935, and he's excited to interact with prospective and current Schneider associates through "A Slice of Orange."
More posts by this author