Veteran reflects on 5 years of Wreaths Across America deliveries
Estimated reading time: 4 minutes
Jon Ritscher has been driving with Schneider since 2013. However, before joining Schneider, Jon served in the United States Army for a little over eight years, completing two tours in Iraq.
He began his career at Schneider as an Over-the-Road driver and took advantage of Schneider's Military Apprenticeship Training Program. Three years after joining Schneider, Jon was selected to be Schneider's 2016 Ride of Pride driver.
Schneider's Ride of Pride program
Ride of Pride drivers like Jon have the unique opportunity to travel across the country to haul loads all while visiting driving schools, attending memorial parades and various veteran events as well as making special deliveries for Wreaths Across America (WAA).
However, Ride of Pride drivers only serve in this role for as long as their truck is in service, and unfortunately, it is time for Jon's specially wrapped truck, which he has named "Valor," to retire.
"Typically, the Ride of Pride trucks will retire after five years which usually lands around the summertime," Jon said. "But we were able to stretch it out a bit to allow me to make the Wreaths Across America delivery one last time."
So, we sat down with Jon to discuss how his time delivering for Wreaths Across America has impacted him and what he looks forward to during his final WAA delivery as an official Ride of Pride driver.
Jon's first Wreaths Across America delivery
Every year, drivers who take part in WAA's wreath deliveries travel up to Maine to fill their trailers with wreaths from the WAA headquarters.
"Going up there is unlike anything else," Jon said. "You have so many of the wrapped trucks and veterans going up there to pick up the wreaths that it's truly a family and community environment."
He said that even if the drivers and volunteers don't know each other when they first arrive, they quickly discover bonds between those who have served their country in the military.
Delivering wreaths to Arlington National Cemetery
During his first year delivering wreaths, Jon was a part of the escort convoy. This police escorted convoy makes its way from Maine to Arlington National Cemetery in Washington, D.C. and makes a variety of stops along the way.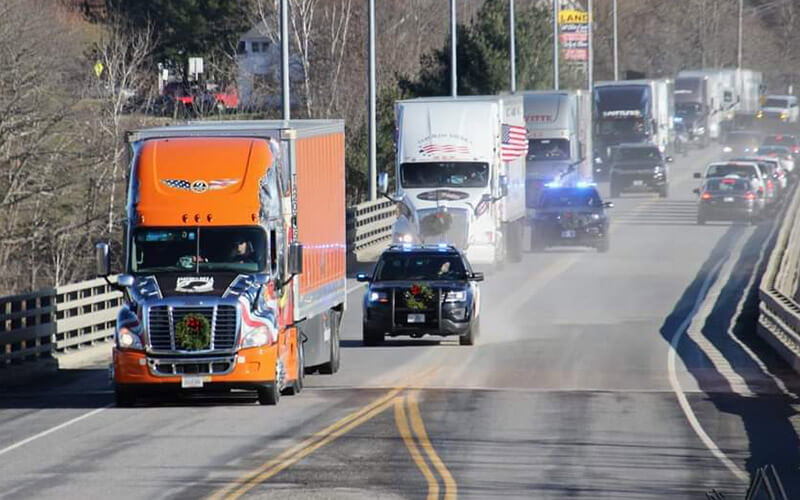 "We would stop at schools and veteran memorials and each one was having a ceremony there," Jon said. "You'd get the local community honoring the local veterans there and also WAA had presentations about what we were doing, how it all started and how we were continuing with that mission.
Jon said this delivery was especially significant for him, not just because of the unique escort experience, but because it was the first time he had ever visited Arlington National Cemetery.
"I had seen pictures of it and the Tomb of the Unknown Soldier in the military, but actually being able to get there was really humbling and indescribable," Jon said. "You feel the honor and respect that everyone gives to those veterans who have served and either didn't make it home or passed away and are entombed there."
What makes Jon's final wreath delivery special
For the last four years, Jon has delivered wreaths to the Sarasota, Florida National Cemetery. However, this year, Jon has been given the chance to deliver wreaths to Arlington one last time, bringing his Ride of Pride journey full circle.
"It warmed my heart that I'd be able to experience this one more time," Jon said.
He is especially excited to be a part of the WAA convoy once again this year. Due to the pandemic last year, only one truck was able to take part in a partial police escort, with the rest of the trucks making their own way down to Arlington to stage the wreaths.
"This year they're hoping to be able to go back to what they have done in the past with the level of support and number of volunteers that are able to come out," Jon said. "It's an honor being able to deliver wreaths to the cemetery again."
Jon's plans after his Ride of Pride truck retires
Jon said that once his Ride of Pride truck is retired, he will go back into a regular truck and continue to work on his normal Dedicated driving account.
It's definitely something I've known would happen at some time," Jon said. "But actually being this close to the truck's retirement is hard to prepare for."
He said one of the things he'll miss the most is making the trip up to Maine and delivering wreaths for WAA. Jon said that he may be able to participate in the deliveries down the road, but that it's not guaranteed, so he intends to take in as much as he can before his truck retires.
He also hopes to stay involved with the WAA program at a local level by helping at the national cemetery near his home.
"It's definitely been a life-changing experience for me," Jon said. "I've learned and grown so much just being able to do this. I've been truly grateful to have the opportunity."
Want to learn more about Schneider's Ride of Pride program?
Find out how the Ride of Pride program started and what rolling tributes represent to veterans and civilians alike. Visit our Ride of Pride webpage to learn more.
About the author

Schneider Guy loves the "Big Orange." He's passionate about the trucking industry and connecting people to rewarding careers within it. He's been the eyes and ears of our company since our founding in 1935, and he's excited to interact with prospective and current Schneider associates through "A Slice of Orange."
More posts by this author