Recent Growth Driving Need for More Driver Recruiters

"Driver recruiting is a fast-paced, fun environment. Every day I get to help people better their lives by helping them find a career in a field that has many opportunities. I love knowing that what I do helps individuals provide for their families and helps keep the American economy moving."
-Lance Kaster, Driver Recruiter. 3 years with Schneider

"The best thing that I love about my job as a Military recruiter with Schneider is the ability to be able to help other fellow veterans out with employment. When a veteran leaves the military, it is a very scary feeling for some. You are not sure what the future will hold for you and your family. Will you find a good job to support your family? As a military driver recruiter I can help make that happen for so many of the candidates that I interview."
-Jay Hull, Driver Recruiter. 7 years at Schneider, 4 as a driver.

"Driver Recruiting is very flexible with time off. My job allows me to have a great work-life balance."
-Shawna Lynaugh, Driver Recruiter, 4 years with Schneider
How to apply to be a Driver Recruiter
We are currently looking for energetic and motivated individuals to fill our open Driver Recruiter positions. It's easy to apply!
About the author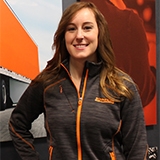 Courtney Zahn joined Schneider as a Driver Recruiter in June 2017. In her time with Schneider, she has worked with new CDL holders and experienced drivers; she has also participated in multiple Facebook live events to promote Schneider's commitment to safety and excellence.
Courtney is a 2012 graduate of UW-La Crosse and currently lives in Hobart with her fiancé Mitch.