Driver pay: Schneider improves performance pay, adds automatic increases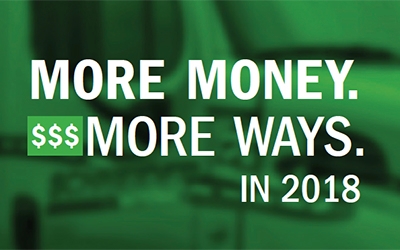 Schneider's truck driver pay packages are designed to attract and retain the best drivers in the industry, and we're excited to announce significant improvements that reward top-performing drivers even more in 2018.
Effective Jan. 1, 2018, Schneider implemented a simplified and improved performance pay program that pays out weekly and automatic annual pay increases for Van Truckload, Dedicated and Tanker drivers.
Simplified and improved Performance Pay Program
In the new Performance Pay Program, drivers' incentive — now up to $.04 per mile paid out weekly — will be based on safety (no preventable accidents) and three other simple metrics:
Miles per gallon (MPG) achievement vs. standard: Simply comparing actual MPG compared to the standard.
Fuel solution compliance: Based on percent of compliant fuel stops.
Work time compliance.

Van Truckload:Metric focusing on returning to work from time off vs. when expected.
Dedicated and Tanker: Metric focusing on number of days a driver is available to work in a quarter.
While these metrics apply to most drivers, some metrics vary based on unique work configurations.
In the new Performance Pay Program, drivers can earn up to five total points across metrics. The prerequisite to receive performance pay is to avoid any preventable accidents. After that, you simply need to earn a minimum of three out of five points to participate.
Scoring system:
SCORE 3 POINTS
SCORE 4 POINTS
SCORE 5 POINTS
Earn an extra $.02/mile PER WEEK
in performance pay
(for miles you drive during the next quarter)
Earn an extra $.03/mile PER WEEK
in performance pay(for miles you drive during the next quarter)
Earn an extra $.04/mile PER WEEK
in performance pay
(for miles you drive during the next quarter)
METRIC SCORING
MPG: 1-3 points Fuel Compliance: 1 point RTW: 1 point
Increased Weekly Paycheck Potential
The Performance Pay Program will reward drivers for each paid mile. Instead of a quarterly lump sum payment (generally taxed at a higher rate), you'll receive a weekly performance rate (generally taxed at a lower rate) in addition to your standard line haul rate.
You will receive this weekly performance payout for three consecutive months, based on prior quarter performance. At the end of each quarter, your points will be recalculated and your new score will apply to your mileage rate the following quarter.
Example:
Current base line haul rate of $.44 per mile.
At the end of the quarter assessment period, you earned all five points on your scorecard (which equates to $.04 per mile).
You will then receive $.48 per mile for the miles you drove over the next three months (paid out as part of your weekly paychecks).
Did you know? We recently asked Van Truckload drivers: "In regards to pay, what is most important to you?" The top two answers: Earnings per week (as opposed to annual earnings) and consistent paychecks. This new program improves both!
Double payout potential now!
As we transition into this new Performance Pay Program, drivers who work at least 60 days in the first quarter of 2018 (January through March) can get both a lump sum quarterly bonus paid out in April (based on previous metrics) AND the above cents-per-mile incentive paid out weekly May-July.
There may still be time to apply to work long enough in first quarter for a double payout potential!
Automatic annual pay increases
Under the new pay program, you will get an automatic $.01 per mile annual increase each year until reaching the maximum pay rate for your particular driving job. Previous annual increases were tied to performance through the annual review process.
More components of a better driver pay package
These new upgrades are part of an already complete truck driver pay package at Schneider that also includes:
Top-notch base pay rates that are constantly reviewed to ensure they're competitive and paying drivers for the work involved.
A leading 401(k) plan with a company match.
Comprehensive medical benefits.
Advantage Club with unique opportunities after five years with Schneider.
Driver referral bonuses for every driving school classmate, team partner, relative or friend you refer as a company driver or owner-operator.
Limited-time sign-on bonuses with many positions — including up to $15,000 per Team driver!
Group discounts, passenger program, paid time off, milestone awards and more perks.
More upgrades are also coming soon — stay tuned!
Learn more about our pay and benefits.
As a Schneider driver, you'll earn what you deserve and have options for medical, dental, vision, paid-time-off and more.
About the author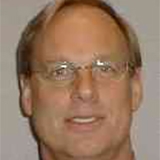 Pat has been with Schneider for 36 years, and is currently Senior Transformation Partner for Driver and Owner-Operator Compensation and Hire-to-Pay Processes. He works to ensure accurate and timely compensation that is market competitive and performance based, designed to attract and retain driver associates. He has held several other roles, including Regional Operation Director, Director of Van Operations Support, Director of Pay Services and Operation Center Manager.