How Schneider's Internship Program prepared me for success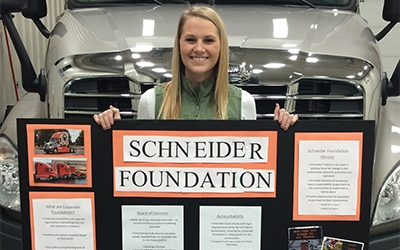 My journey with Schneider began as a summer intern in 2013 after my freshman year at the University of Wisconsin-Green Bay (UWGB). I was referred to Driver Recruiting by another intern in the department. After completing the summer internship, with an outstanding performance, I was offered a position within Driver Recruiting while attending college.
My position at Schneider is to lease owner-operators on our Pick Your Own Freight Percentage Lease Program. Some of my responsibilities include reviewing candidate applications, running motor vehicle reports, collecting truck paperwork and reviewing driver qualifications. My responsibilities have grown, as has my experience, in the two and a half years I have been with Schneider. I have been able to complete presentations, own my own lease opportunity requisitions, train peers and implement process changes.
Currently, I am a senior at UWGB majoring in Public Administration with a minor in Human Development. I chose this major so I could make a difference in government-related fields by focusing on policy analysis and public management. After graduation my goal would be to see myself in a profession where I am able to use my Public Administration degree and the experience I have gained from Schneider.
A stronger foundation
Last semester, I took a class focused on management styles and skills for nonprofit managers. My field research project was created to deepen the understanding of management issues in nonprofit organizations. The purpose was to be able to apply topics we learned in class to a real life organizational situation and understand the theory and importance of management.
For my field research project, I chose the Schneider Foundation because I wanted to get a better understanding of a corporate foundation and its role in our communities. The project required interviewing a member from the organization, as well as putting together a poster board layout summarizing the topic.
To learn more about the Schneider Foundation, I sat down with LuEllen Oskey, Foundation director. LuEllen provided the history, purpose and goals of the Foundation. I used this information to create a presentation for my peers, professors and other faculty members.
The Schneider Foundation annually gives out one million dollars each year to a variety of charitable recipients and non-profit organizations. The Schneider Foundation invests in the communities where their associates live and work to demonstrate social responsibility for all stakeholders.
Schneider is special because …
What I've found most enjoyable from my two and a half years with Schneider is the culture. The people that I interact with are dynamic and create an atmosphere making my role enjoyable. I find in my role, I am able to build relationships, use my decision-making skills and create my own goals and aspirations.
In my role I am able to make a difference, and I am driven by the results my team and I achieve. It feels great to be a part of something so special. I am hopeful my experience as a summer intern will inspire others to pursue an internship with Schneider. I really like that I am able to apply what I have learned in school to my position at Schneider and then go full circle and apply my work experience with my college education at UWGB.
Where could an internship with Schneider take you?
An internship with Schneider will help you gain experience and apply what you're learning in the classroom to real world situations. See what opportunities we have available.