New Schneider operations manager: Meet Army veteran Jonathan Bass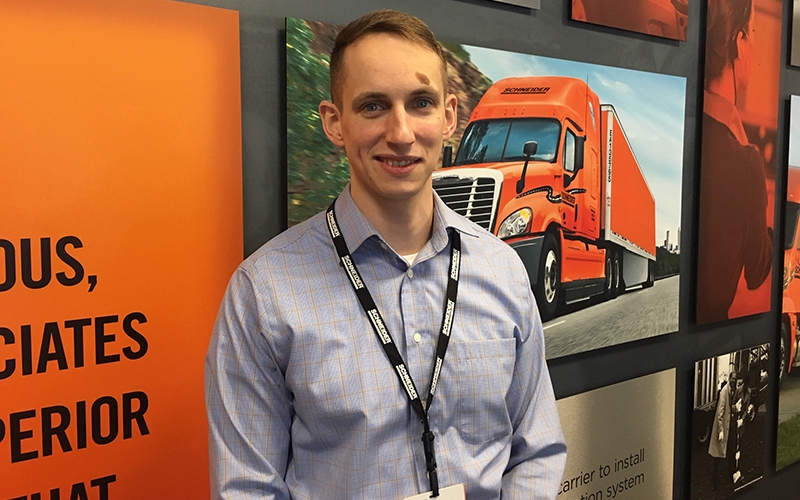 "Leaving was not a decision we took lightly; the Army was really good to us, and I loved leading soldiers and non-commissioned officers. But, it was a good time to transition out for my family – and it would give me the opportunity to take everything I had learned about being a leader and apply it in the business world."
"I was really interested in the fact that so many people said they came for an initial job, but then ended up staying for years. Everybody I met had so much tenure with the company – it was amazing. That said something to me."
"From what I've observed so far, the driver-focused approach is genuine – it's not just lip service. And, it seems like people are never satisfied with the status quo; everyone is really focused, but they're always looking forward to what's next. I really like that. Also, I'm really impressed by the amount of data used to feed the decision making."
"For me, making personal connections is the most important thing, so I'm looking forward to getting to know the DBLs and drivers in Portland – and putting some faces with the names. I know I'm joining a strong team with a great reputation, so I am really excited to get started."
Looking to make your own career move?
Follow Jonathan's footsteps and explore Schneider's values, military hiring record and career opportunities today.
About the author

Schneider Guy loves the "Big Orange." He's passionate about the trucking industry and connecting people to rewarding careers within it. He's been the eyes and ears of our company since our founding in 1935, and he's excited to interact with prospective and current Schneider associates through "A Slice of Orange."