A leap day look back at one of Schneider's biggest leaps: Our first interstate load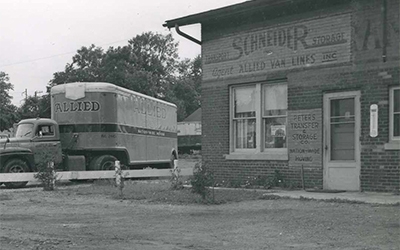 At Schneider, we've taken many leaps over our first 81 years. Few were bigger than our first leap across state lines when interstate commerce finally became a reality for trucking companies in the late 1950s.
Enjoy the story of that interstate first load as recounted in "Chapter One: 'Just Another Load'" of our company history book, "Leap of Faith:" The Story of Schneider:
The sun was just rising as drivers Julius Borley and Emil Elm arrived at the offices of Schneider Transport and Storage in Green Bay, Wisconsin. They exchanged greetings with their dispatcher, Art Schmidt, a large man of few words. They punched a time clock, strode outside and clambered up into the cabs of twin International trucks the bright color of freshly dug carrots.
It was late summer, 1958, and Schneider had only recently acquired the trucks. They weren't new, but they were among the best in a fleet about which the word junk had often — and not altogether inaccurately — been tossed around. That morning, to the relief of Borley and Elm, the engines turned over easily and purred reliably, waiting to be engaged. After running the wipers a couple of times, the drivers pulled out, towing empty 25-foot trailers. Their immediate destination: a Proctor & Gamble (P&G) pulp mill in Green Bay almost directly across the Fox River from the Schneider facility.
Borley and Elm were both seasoned truckers in their thirties. Borley was an Army veteran. Honorably discharged from the service in 1946, he joined Schneider two years later, hauling whatever needed to be hauled wherever customers needed it. A slightly built man, he put on muscle as he loaded and unloaded commodities such as beef quarters and 100-­-pound grain sacks. It was, he says, "bull work."
Chosen men
Among a cadre of 37 drivers in the 1940s, most of whose last names testified to Wisconsin's European immigrant heritage, Elm — who was generally known by his nickname, "Budd" — stood out; he was a Native American. But for a stint in the Navy, he'd lived his whole life within a few miles of where he worked. He was a driver's driver, a serious and soft-spoken man who showed up on time and always got the job done.
Borley and Elm hit it off soon after Borley joined the Schneider team, and by the summer of 1958, with Schneider's driver pool expanded to about 100 men, their safety records and devotion to the job had earned them seniority. It was why Al Schneider, the company's burly, cigar-chomping president, had chosen them for that morning's assignment.
Another state of mind
Borley and Elm drove their empty trucks eastward over the Fox River to P&G's Green Bay plant, where they were to pick up their cargo: two 45,000-pound loads of pressed lap — partially processed pulp compressed into sheets but not fully dried — stacked on pallets. The lap would ultimately be turned into napkins and tissue products at that plant, but first it needed to be refined in an intermediate step that at the time could only be done at another P&G facility in Cheboygan, Michigan. Schneider's job was to carry the lap to Cheboygan, wait for P&G to refine it there and then bring the load back to Green Bay.
What lay ahead of the drivers was a journey of nearly 300 miles, one-way. In trucks that under ideal circumstances could barely make 50 miles per hour while hauling a full load, it would take at least six hours — and these were by no means perfect conditions. Borley would recall years later that the trucks were inadequately powered for the task and that they were hardly traveling on modern interstate highways; these were two-­‐lanes that had been dirt roads just a few years earlier. A little over an hour into the trip, they crossed the Menominee River and did something that no Schneider trucker had ever done before: they entered another state.
Trucking companies' capacity to grow at that time lay in their ability to wrest from the U.S. Interstate Commerce Commission authority to move products across state lines. In cutthroat competition with railroads (still the nation's dominant freight handler in the 1950s) and a growing cast of trucking companies, Schneider was willing to haul practically anything in order to obtain such traveling rights.
The fact that Schneider Transport could reliably make long hauls for a company as large and influential as Proctor & Gamble was proof that it had the capacity to do such work for others. For 51-year-old Al Schneider, the future was — quite literally — riding on Borley and Elm's delivery of that pulp.
The Cheboygan run
Beyond Marinette, the drivers continued northeast, with the shores of Green Bay and Big Bay de Noc to their right and the morning sun dancing on the water. Before long, they shed their jackets, rolled up their sleeves and cranked down the windows, grateful for a breeze in cabs that had no air-conditioning. When they reached Rapid River, Michigan, they turned due east along the southern shore of Michigan's Upper Peninsula. Soon they passed into the coniferous solitude of the Michigan National Forest, now called the Hiawatha National Forest.
It was early afternoon by the time the men reached St. Ignace. Long before they got there, they could see the distinctive profile of the "Mighty Mac," the immense, five-mile-long Mackinac Bridge, which had opened to fanfare only the previous November after three years of construction. When they drove across the windy sweep of the Straits of Mackinac, Al Schneider was waiting for them in Mackinaw City.
Schneider, who had driven to Michigan ahead of Borley and Elm so he could guide them to their destination and add the personal touch to this all-important shipment, climbed into his car, and the truckers followed him down the final, 15-mile dogleg of their journey to Cheboygan. They delivered their cargo to the P&G plant on time and in good order. It took P&G eight hours to turn the 90,000 pounds of lap into enough eight-foot rolls of paper to fill the empty trailers. The loads were waiting when Borley and Elm showed up the next morning. Al Schneider had already departed, so the truckers set out on their own for the backhaul of what would become known as the "Cheboygan Run" — a lucrative round-trip for Schneider Transport.
"We didn't think it was anything special," recalls Borley [who was a Schneider associate for 65 years]. "We thought it was just another load."
In the annals of Schneider, that first trip to Cheboygan was comparable to the discovery of the Cumberland Gap in American history. The Cheboygan Run opened a door for Schneider that would enable the company to grow in ways previously impossible. By the time Al Schneider's eldest son, Don, joined the company in 1961, a team of drivers was working around the clock, running eight loads per day between Green Bay and Cheboygan. An article in the Detroit Free Press declared Schneider to be by far the largest user of the Mackinac Bridge.
And that was just the beginning! Who knows where we would have ended up if things had gone differently with that first interstate load. Today, Schneider has 11,650 company drivers and 18,132 associates worldwide.
Look back on all our leaps by ordering "Leap of Faith:" The Story of Schneider — all proceeds go to charity. Help us make the next leap by searching and applying for a driver, office, diesel technician or warehouse job today.
How could you help make Schneider grow?
Search our job openings and see where you could make a positive impact at Schneider.
About the author

Schneider Guy loves the "Big Orange." He's passionate about the trucking industry and connecting people to rewarding careers within it. He's been the eyes and ears of our company since our founding in 1935, and he's excited to interact with prospective and current Schneider associates through "A Slice of Orange."