2015 Highway Angel Truckstop Tour: Where has Orange taken me?
Oh the places we will go! The past three years of traveling the country for the Highway Angel Truckstop Tour have been such an incredible journey, and I am beyond honored that Schneider has been such a large part of this and made it possible. Possible to share music, stories and friendships with truck drivers across the country. Possible to give them a break from the long, often lonely, hours on the road. And possible to meet them face to face and remind them how much they are appreciated.
The real reason for the tour
It literally has been blood, sweat and tears, but more importantly it has been so much joy. I have learned more than I ever expected about myself, about the trucking industry and most importantly about the hearts and hard work of the American truck driver. I have gotten a window into the world of the truck driver and it has been so eye opening. I feel like we are slowly but surely starting to bridge the gap between the American public and the truck driver, as well as the driver and the company side.
I've traveled this year from California to Connecticut and so many places in between, spreading the good word of this industry. I cannot reiterate enough how many times I hear drivers say, in some form, "Thank you so much for remembering us and being a voice for us. We don't have time or funds to take in entertainment very often, so this has provided us that, and a little bright spot while traveling and being away from our families." That was in fact the whole purpose of this tour when we first conceptualized it, so it is more than rewarding to hear the message is starting to get out there.
One of the biggest benefits of this tour is getting to teach drivers and the American public about the Highway Angel program (watch my "Highway Angel" music video), and so many other image programs we are associated with (such as Citizen Driver and Wreaths Across America), which highlight the extraordinary acts and commendable lifestyles of so many drivers. Being able to be face to face with drivers delivering a message of hope and reminding them that Schneider, country music and the American public believes in them as drivers and values their humanitarian roles out on the road.
You can still make it to a show!
We spent the fall singing at multiple stops for the Citizen Driver program put on by Travel Centers of America. We were able to sing my new song, "I Drive" at the truckstop naming ceremonies for the five chosen drivers of the prestigious award. I was able to speak at each event and tell the Highway Angel message and connect it with their Citizen Driver program, both of which honor truck drivers who perform extraordinary acts.
We also got to perform at the annual Iowa 80 Walcott Truckers Jamboree, truckstop festivals that included cookouts, giveaways, football tailgates, caricature artists and more, and will be wrapping the year with our final tour stop in Nashville, TN ... our own backyard and Music City! Local TV outlets will be promoting this show, local Nashville radio, a live broadcast on site by Renegade Radio Nashville, the Monster energy girls, food and drink sponsors, and much more.
In addition to all of this, I have a new single out on radio this year, so we have been able to couple a radio tour in with our travels. We have visited radio stations across the country, and have a total of 102 stations currently playing "Goodbye Go." That has lead to people showing up at the truck stop events because they knew my song from the radio, so it has opened up our audience reach and demographic, which has been wonderful. AND my new record, "2 Peaches 6 Cookies," is currently available in all TA/Petro locations across the country and selling out!
What's next?
We are already in discussions to plan for 2016 and are looking at a whole new spin on reaching drivers and delivering our message. We are looking to add a major military tie in to the tour next year and make recruitment a main focus alongside image. We are constantly open to new ideas and value new methods and possibilities to grow our brand.
I am beyond honored to be the Highway Angel spokesperson and to work with Schneider to promote this industry I love so much. I have met so many Schneider drivers and I know how much they also value their company. I own lots of orange now, and wear it with pride (Even though I went to college at the University of Oklahoma, so this was initially tough!).
I look forward to the year ahead and continuing to meet drivers and spread the message of this industry that I now call family. Thank you from the bottom of my heart for allowing me the opportunity to literally sing the praises of the trucking industry and for trusting in me to sing, speak and deliver our message across the country. Here's to the future!
Where will Orange take you?
Find out! Search all truck driving jobs near you and apply today.
About the author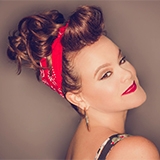 Born in Oklahoma and raised in Texas, Lindsay Lawler spent several years performing in Los Angeles before making her way to Nashville and becoming a featured performer at Tootsie's Orchid Lounge. After performing at the 2010 Great American Trucking Show in Dallas, she formed a partnership with the Truckload Carriers Association and has since been named spokeswoman of their Highway Angel program. Her song, Highway Angel, has become an anthem for truck drivers everywhere. Lawler continues to support the truck driving community through performances on her Highway Angel Truck Stop Tour.