Louisiana flood relief: Schneider associates help flood victims, how you can too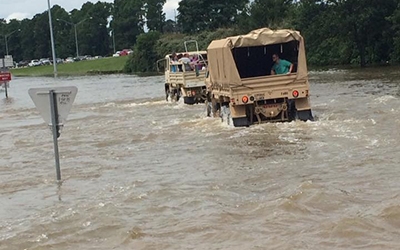 "The blessing of having a dry home was multiplied by giving my wife and I the ability to take in a less fortunate family. … The story is replicated thousands of times across my devastated part of the state,"
Torres said.
"I just did what I could do to help. I've always seen it on TV, but never been right in the middle of it,"
Joyner said.
"I want to thank all of my fellow associates at Schneider for their support of my regional friends, neighbors and associates. In the 26 years I've been with the company, this is just one of many times I've witnessed the generosity of so many Orange Hearts reach across North American to those in need,"
Torres said.
Give back.
Find out how you and Schneider together can give back to those in need.
About the author

Schneider Guy loves the "Big Orange." He's passionate about the trucking industry and connecting people to rewarding careers within it. He's been the eyes and ears of our company since our founding in 1935, and he's excited to interact with prospective and current Schneider associates through "A Slice of Orange."