Schneider recruiter gets inside look at Midwest diesel technician shops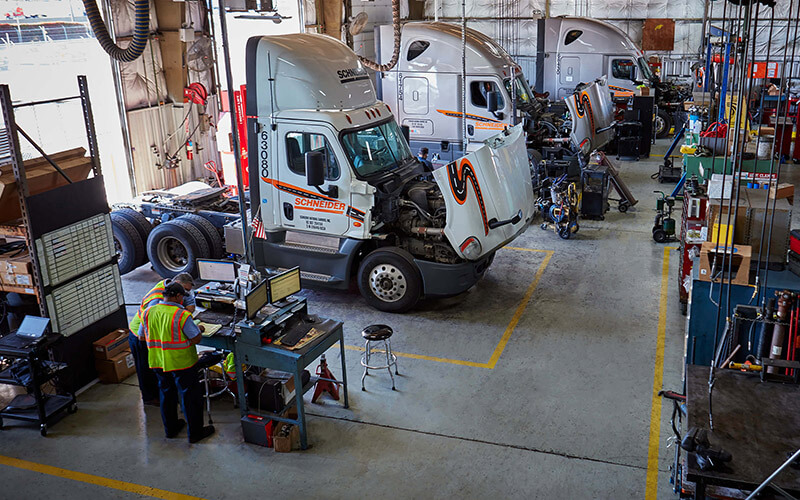 Estimated reading time: 3 minutes
Schneider has over 9,000 company semi-trucks across the United States, and behind that fleet is a dedicated maintenance team that works to keep those orange trailers moving down the road every day.
As a Senior Recruiter, my role is to recruit diesel technicians, service truck technicians and shop floor managers to staff the maintenance teams that keep our trucks moving.
In August, my team and I took a three-day tour across the Midwest to Schneider's maintenance shops in Chicago, and Gary, Ind. to gain a deeper understanding of what some of these roles entail.
Within this blog, I will be sharing my experience in the shops and offering a glimpse into a day in the life of a Schneider diesel technician.
Diesel technicians demonstrate efficiency at the Chicago shop
Our first stop of the trip was at Schneider's Chicago shop, located just a few miles from Midway Airport. The first thing I noticed when I entered the shop was the overall efficiency and organization of the room.
Across the shop floor, a row of painted yellow lines traced out the individual service bays – designated workstations where the trucks would be parked for maintenance or repair work.
A large whiteboard outlined what jobs were scheduled for each bay throughout the day.
As they got to work, the technicians took on each job with almost pit-crew-like efficiency. When a truck rolled up with an issue, they would get the details from the driver, get the work done quickly and get them back out the door.
While walking through the shop, I watched the technicians take on trailer welding jobs, motor repair and general maintenance – only a sample of what a career as a diesel technician entails. Tasks that Schneider's diesel technicians might perform on any given day can range anywhere from equipment inspections and parts installations to more serious mechanical repairs.
Schneider provides some of the more specialized equipment used in its shops, so technicians always have access to tooling over one-half inch, torque wrenches and other specialty tools.
Traveling with a service truck technician for on-site repair
Next, we did ride-alongs with the service truck technicians to see the work they do every day. Each of the service truck technicians we joined were knowledgeable, helpful and had many years in the industry.
Schneider's service truck technicians work mainly outside the shop performing on-site maintenance on company equipment at customer sites, distribution centers and rail yards.
My ride-along brought us to a shipping container yard, where the technician performed an electrical repair on a trailer that had a broken light.
Schneider's service trucks are packed with all the equipment needed to handle minor to moderate repairs, so the technician had all the tools and parts needed to get the work done on-site.
Going inside a tanker with trailer technicians in Gary
After our shop tour and ride-alongs in Chicago, my team headed to Schneider's repair shop in Gary, Indiana.
There, we put on harnesses and climbed inside a tanker to see the environment that our trailer technicians sometimes work in. Schneider's trailer technicians specialize in performing repairs on van trailers and tankers.
Some trailers come in with more general wear like minor cracks, while others have more severe damage that needs extensive welding repair.
While in the tankers welding, technicians wear full protective gear and respirators. Schneider's first core value is Safety First and Always, so the safety precautions that our technicians take are always thorough.
Technicians share why they love Schneider
Throughout our trip, we spoke with technicians who worked at competitor shops before coming to Schneider. Most said they came from roles where they worked 60- to 70-hour workweeks but found a healthier work-life balance at Schneider.
This is because we offer opportunities for first, second, third and weekend shifts. Which makes it easier for our technicians to find a work schedule that harmonizes with their home life.
At Schneider, they have the freedom to be there for their kids' sporting events and appointments. Many of Schneider's diesel technicians also enjoy four-day workweeks, which means more days off and less time spent commuting.
Some technicians also mentioned that Schneider's shop culture allows them to feel good about the work that they're doing. Here, they have shop leaders that check in with them, ask them about their days and give them recognition for their work.
Welcoming the next generation of diesel technicians
Right now, the job outlook for diesel technicians who work in the transportation industry is great.
Schneider has a huge variety of maintenance job openings across the United States, and sign-on bonuses are currently being offered for most roles.
Schneider's wide variety of shop opportunities include:
Diesel technicians.
Tractor technicians.
Trailer technicians.
Diesel assembly technicians.
Service truck technicians.
Senior advisors.
Maintenance team leaders.
Trailer washers.
Service advisors.
Inventory coordinators.
See how Schneider invests in its maintenance teams
Learn more about Schneider's maintenance roles, training programs and facilities by checking out our other diesel technician blogs.
About the author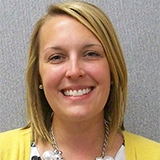 Ashley is a Corporate Recruiter who started her journey at Schneider in 2015. She is active on the Schneider Women's Network and leads all social media and video efforts for Corporate Recruiting. Ashley enjoys working on various projects within the organization, ranging from new system integrations and testing applications to creating videos that showcase Schneider and why it is such a great place to work! She is also a mother of four young children and enjoys spending time outdoors and attending her children's' sporting events.