Mother's Day 2017: Schneider enhances mother and daughter relationship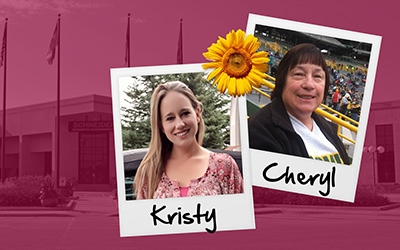 This weekend is Mother's Day. It's a special day to pay tribute to the amazing women who have sacrificed to make us who we are, and to take steps to enhance our mother and son or mother and daughter relationship. For me, I get to celebrate Mother's Day every workday of the year!
There are a ton of things I enjoy about working at Schneider. The people, the culture, the leadership — it's a great place to work. That being said, my favorite thing about working here is that I get to work with my mom, Cheryl.
Up until four years ago, we lived in separate parts of the country. I would get to see her twice a year but it was difficult for our mother and daughter relationship being that far away. She and I had been talking one day and we were both sharing how hard it was being so far away and having her missing so many of her grandchildren's' milestones. She also mentioned that at the time, she wasn't loving her job and was looking for a change.
My mother works in Information Technology (IT) and I told her that Schneider was hiring for a role similar to what she had been doing at the time. I continued to share with her all the reasons why I enjoy working for Schneider and she applied.
Cutting to the chase, it worked out great! My mother accepted the job at Schneider and moved back to Wisconsin. She has been here ever since and our mother and daughter relationship is fantastic.
As an adult, working with your mom is great. I can talk with her in person for professional advice, we can meet for lunch whenever we like and it has, quite literally, brought us so much closer together. The fact that my mom also works for Schneider has really added to the family feel this company has.
This Mother's Day, I want to say Happy Mother's Day to all the great moms out there, but especially mine. I'm extremely grateful to be able to spend this and future Mother's Days with her.
Interested in joining the Schneider family?
Check out our job openings and see if Schneider could be your future home.