National Safety Month: How Schneider puts drivers first with safety in mind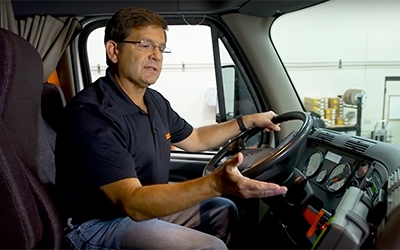 As we kick off National Safety Month, keeping you safe on the road is as important as ever. Safety may be top of mind for you as you climb into the cab of your truck each day, but do you ever think about the technologies and features Schneider has in place that live up to our no. 1 core value, Safety First and Always?
Safety impacts each and every decision we make, big and small, during National Safety Month and every month. Schneider takes an education-first approach to safety, training each driver associate to be prepared for less-than-ideal driving situations. While a well-trained driver is crucial to ensure safety on the roads, equipping the tractor for enhanced safety complements the work of the professional behind the wheel.
Crash Prevention
Schneider takes care of you with state-of-the-art safety technologies that engage quicker than a person possibly could, reducing crashes so you can continue to drive safely and earn a living. Crash prevention technologies installed in Schneider's fleet include:
Collision mitigation. OnGuard is a forward-looking, radar-based system that monitors the distance, speed and deceleration of the vehicle ahead. It uses an in-cab display to alert the driver to take necessary action to prevent a collision. OnGuard can even start to slow down the truck by providing brake power and reducing engine speed if the driver has not engaged the brakes and is approaching a motorist too quickly. By the end of this year, 100 percent of Schneider's fleet will have OnGuard.
Stability control. A sensor in the frame rail of the tractor senses lateral movement. If a vehicle comes at the truck from the left or the right and the driver has to move the truck quickly to prevent a collision, the sensor recognizes the potential for a rollover. It then applies the foundation brakes to slow the tractor down and ensure that the unit remains stable and on the road.
Forward-facing camera. The forward-facing camera captures events such as forward collision warnings, stability control alerts, lane departure warnings and rapid deceleration. Forward-facing cameras (which only face forward and do not record audio) provide fact-based evidence to prove drivers are not at fault when incidents occur.
Automatic transmissions. Automatic transmissions allow drivers to focus on the road rather than shifting a manual transmission, reducing distraction. Automatic transmissions also improve driver comfort and reduce stress and physical fatigue (Did you know the average driver shifts 500 times per day?). Lastly, automatic transmissions have strong performance in city and other terrains and offer better traction, gradeability and fuel efficiency.
Driver Safety Features
Drivers are Schneider's best assets, so keeping you safe is — and always has been — a top priority. For example, Schneider revolutionized the industry in 1986 by being the first truckload carrier to deploy satellite communications devices in tractors, allowing direct, in-cab communication between drivers and their leaders. Over the years, Schneider has continued to emphasize drivers' safety while on the road in the following ways:
In-cab communications technology. Schneider's fleet is equipped with a mobile communications platform, which delivers a variety of electronic tools to improve driver safety and productivity. For instance, in-cab technology features text-to-voice functionality that allows drivers to hear messages. The mobile communication platform also has a navigation system that provides turn-by-turn truck-specific routing.
Injury preventing truck features
On-ground access to the trailer's electrical and air hoses

The airlines and electrical cord have been moved from the center of the tractor to the driver's side, where they're easier to reach. This prevents driver associates from having to climb up on the catwalk and risk injury.

Rollaway prevention

If the parking brake is not engaged and a driver decides to leave the cab, the city horn will sound, reminding the driver to set the brake.

Safe steps and grab handles for safe entry and departure into and from the cab
High-visibility windshield
LED lights
Step-up for drivers to get on and off the catwalk safely
Emergency door on all sleeper berths

This hatch, located on the passenger side, allows drivers to exit the cab away from the engine compartment in case of an emergency.
Is Schneider your next career move?
Put safety first with a company that has your best interest in mind, and use this opportunity during National Safety Month to check out Schneider's wide range of career paths.
About the author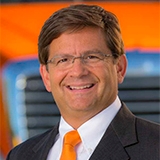 Tom DiSalvi is the Vice President of Safety, Driver Training and Compliance at Schneider. In this role, he is responsible for researching and implementing breakthrough safety technologies and processes to prevent motor vehicle crashes, consistent with Schneider's core value of "Safety First and Always." He joined Schneider in 1991 after serving as an Officer in the U.S. Navy.