Schneider driver Rod Ehrhardt excels as 'Trucker Buddy' pen pal to students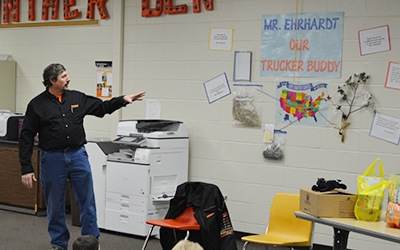 When Joy Spatchek and Gina Meshak, teachers at Reedsville Elementary School in central Wisconsin, requested a Trucker Buddy for their team-taught third-grade classroom, they thought they had a general idea of what to expect: a professional truck driver would be pen pals with their students and expose them to the world beyond their small town. As it turns out, they got that and so much more – because they had the good luck of being paired with Schneider company driver and All-Star, Rod Ehrhardt.
Rod was the perfect fit – not just because he is an award-winning, experienced driver with 20 years of tenure and more than 2 million safe driving miles, but because he has children and grandchildren of his own and inherently knows how to interact with the kids. He has found the perfect balance: he uses humor to educate and personal stories to make connections.
Rod writes to the class each week when he is out on the road; he tells them where he's going so they can mark off the states on their map (he cleverly uses the abbreviations so that the class has to look them up and learn them); he includes pictures of various landmarks, interesting crops and other things they may not see in Wisconsin; and he also describes the freight he carries and what life is like on the road.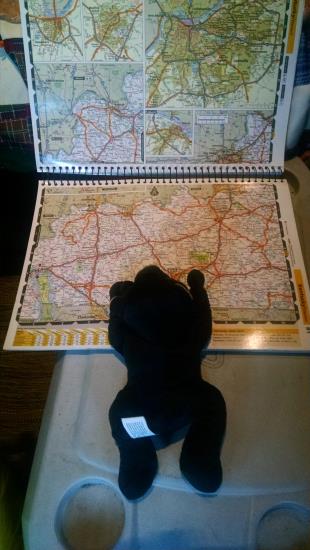 That's pretty standard for a Trucker Buddy – but Rod takes it a step further. He sends care packages containing things like ornamental corn from his extensive garden, cotton from Georgia and rice from Louisiana.
He writes posts on behalf of his travel partner, a small stuffed black panther (the school mascot), whom the class named Shadow; many of Rod's pictures feature Shadow "helping" with a task. Most important, he carefully reads each letter he receives and makes a point of answering every question and making a reference to what each child has asked him.
As Ms. Spatchek describes it, "Their faces light up when they hear their names mentioned as we read Rod's emails out loud each week." Last year, he even read two of the books the class was reading so he could participate in a book study discussion with them.
Some of the kids bring up tough issues in their letters: the loss of grandparent, a parent's illness, the struggles of school. Rod doesn't shy away from the difficulties; instead, he tells them about similar experiences from his own life history and how he faced them.
"It is amazing the bond that is developed between Rod and our students through the weekly emails. He is like an adopted grandpa who listens, tells stories and jokes, and even gives advice,"says Ms. Meshak.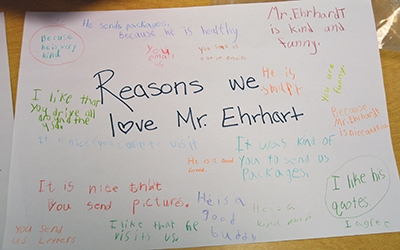 After being pen pals for several months, this year's class was excited to finally meet Rod in December when he visited the school. As a surprise, the class had designated it "Schneider Orange Day," and everyone was wearing company colors as they welcomed him to the room.
When Mr. Ehrhardt arrived, there was joyful pandemonium of hugs and cheers – it was like a celebrity had entered the building. Once order was reestablished, Rod gave a quick talk about life on the road – and he took the opportunity to talk about driving safety with the kids, reminding them to wear seatbelts and to talk to their parents about the dangers of texting and driving. The kids had the opportunity to ask questions and show him their Trucker Buddy display. Afterwards, they read aloud things they had learned from him and the reasons they love him. They also presented him with cards and a GIANT Christmas sock filled with snacks for him to eat on the road.
It was a high-energy, emotion-filled afternoon. Rod summed it up by saying, "I love to see their faces light up; that's why I do this. You never know when some small thing you do will make a lasting impact on someone. I'm sure some of my driver friends will give me a hard time over all this, but that's OK – if my story encourages other drivers to get involved, it's worth it!"
If you are interested in becoming a Trucker Buddy, you can find out more information about the program on its website: truckerbuddy.org.
It's more than just a job.
As a truck driver at Schneider, you could make a positive impact in many different ways. Apply now and see where the job could take you.
About the author

Schneider Guy loves the "Big Orange." He's passionate about the trucking industry and connecting people to rewarding careers within it. He's been the eyes and ears of our company since our founding in 1935, and he's excited to interact with prospective and current Schneider associates through "A Slice of Orange."