Schneider intern reflects on Senior Service Day, volunteering in the community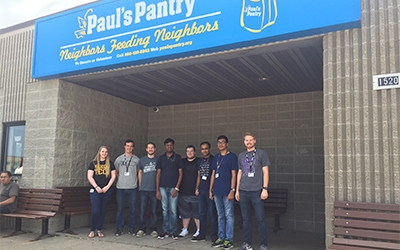 "Schneider is committed to being a positive force for change as a responsible member in the communities in which our associates live and work. We believe that demonstrating strong social responsibility benefits all our stakeholders."
This is the Schneider Way.
As a Schneider associate you quickly learn that this is the basis of the company. As an intern, Schneider immerses you in the culture, and part of that means living out Schneider's commitment to social responsibility and volunteering in the community. Interns aren't viewed just as coffee fetchers or copy makers here, we are members of the Schneider family and we are shown what it truly means to "live orange."
A few years ago the intern program implemented a senior service day. This day requires interns graduating in the fall or spring to help with volunteering in the community during their summer internship. For those of us based in Green Bay, Wis., where Schneider's corporate headquarters are located, we got the opportunity to volunteer at Paul's Pantry.
Schneider has been supporting Paul's Pantry for the past 15 years, whether that be with monetary donations, assistance with food programs, the Adopt-A-Family program or like we did, provide them with volunteers.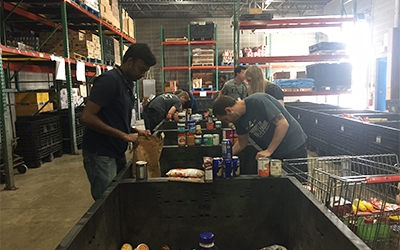 The senior service day lets us give back to our community. Being born and raised in this community, this experience gave me the opportunity to see a side of it that I normally don't see. Entering the pantry, you are surrounded by people who depend on the pantry every week to feed themselves and their family. We were then brought through the warehouses that have donated fruits, veggies, sandwiches, egg cartons, canned goods, baby items, hygiene items, non-perishable items and the list goes on and on. Walking through, you see workers and volunteers sorting through these items to make sure that the families and individuals in need are able to receive what they need. For three hours, my group sorted through large crates filled to the brim with canned goods, non-perishable items and some hygiene and baby products mixed in. After emptying every crate, we then were told that all those items were donated in one day.
It was amazing to learn that each individual contribution makes such a big difference. We also found out that we just went through the first step in the sorting process. Afterwards, another group will go through the crates again to look at the smaller details and to make sure that they were in the right places. Our time at the Pantry flew by, yet it felt like there was so much more work to be done. Even though it seemed as if we only made a small dent, we were able to help make the process quicker and easier for the workers at Paul's Pantry.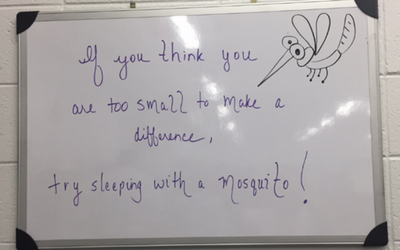 Afterwards, we were brought on a tour through the Pantry. It was open at the time so we were able to see the families and individuals shopping for their food. The goal of Paul's Pantry is to provide a family with enough food every week, for as long as needed, so that they may use their food dollars for shelter, utilities and other necessities, and avoid becoming homeless. We were shown that every second spent there volunteering, every dollar donated, every item received, all makes a difference. As we left the Pantry I noticed a whiteboard on the wall near the exit, it read "If you think you are too small to make a difference, try sleeping with a mosquito." The service day reaffirms just how important it is to be involved in volunteering in the community and giving back. Anything helps.
Looking for real-life experience while in college?
Our Internship Program immerses students in the Schneider culture and the trucking industry as a whole. Find out more about the program and what opportunities are out there for you.