What skills and requirements are needed to be a diesel technician?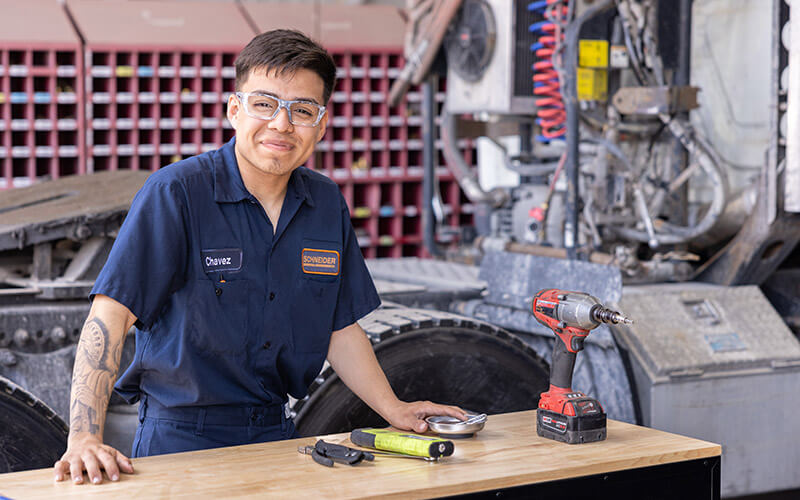 Estimated reading time: 4 minutes
If you think it only takes the right tools, good mechanical skills and a little training to be a diesel technician, it's time to think again! With truck technology constantly changing and vehicle components becoming more technically advanced, it takes a lot more than a decent set of wrenches and a service manual to do the job of the modern diesel technician.
Although the job requirements vary depending on what company you work for and what type of diesel technician (fleet or dealership) you are, here are our top skills needed to be a diesel technician and the basic must-have qualifications if you're interested in joining the field.
Top 7 diesel technician skills
1. Being safety-oriented.
Shops can be dangerous places, which is why it's essential for diesel technicians to focus on safety, follow procedures and watch out for their teammates. This means wearing the proper personal protective gear, cleaning their workspace and other surrounding areas, correctly using the right tools for the job and never cutting corners.
2. Being present, on time and well-rested for your shift.
Diesel technicians work in a fast-paced environment with unexpected challenges. Being alert prevents accidents and helps diesel technicians deliver the highest quality work.
It's your job to keep equipment moving and that's difficult to do when you are tired or late for your shift.
3. Listening and being a team player.
A good listener is a trait needed for many different areas of the diesel technician job.
It is important to be able to understand a driver's description of the problem they're experiencing and communicate back to them when you expect the work to be completed.
The ability to share information and listen to others is a valuable quality to have as a diesel technician.
4. Being adaptable.
The technology used in today's trucks is constantly changing. With new technology comes new tooling and equipment for the diesel technicians who work on trucks. Every repair is a new problem and diesel technicians must be creative in their approach and excited about learning new things.
5. Having good computer skills.
A diesel technician uses the computer quite often, from diagnosing a problem, to managing the communications required to do the job. The following are just some of the things that require computer skills:
Understanding fault codes for engines and fueling systems.
Diagnosing electrical issues.
Troubleshooting codes.
Running different tests.
Sending emails.
Creating work orders.
Filling out work order notes and descriptions.
It's OK not to know how to do all these things when you're just starting out. But as mentioned above, having a ready-to-learn attitude is absolutely needed, and being tech-savvy is a bonus.
6. Being good at math.
Diesel technicians must understand basic mathematics, such as addition, subtraction, multiplication and division to read and understand technical manuals. Knowing how to convert from metric to imperial liquid measurements will help when working with liquid engine components.
Good computer skills and the ability to read and understand an electrical meter also require math and are critical skills for technicians.
7. Being patient.
All diesel technicians face situations where things don't go exactly as planned. Thinking outside the box to complete a job, observing other technicians and having the ability to take a step back and not lose your cool when something is not working correctly are all keys to being successful.
4 basic diesel technician requirements
In addition to having the skills we listed above, most companies will require that you meet the following diesel technician qualifications.
1. Having a high school diploma or GED.
You need a high school diploma or its equivalent to do the job. If you don't have a high school degree and want to finish your schooling, many online courses can help you prepare for the test to earn a GED.
2. Obtaining a certificate or associate degree.
Many companies require a certification or associate degree to work as a diesel technician. Most companies also offer higher starting pay to technicians with degrees. So, finding the right school and diesel program for you is critical.
3. Having the necessary work documents.
When applying, interviewing and ultimately starting your new diesel technician job, you must show proof of your necessary work documents, just like you would for any other job.
Expect to show proof of things like education and employment records, birth certificate, driver's license, social security card, work permits, etc.
4. Investing in high-quality tools.
Being committed to investing in the tools needed to get the job done plays a vital role in being a good diesel technician. Although purchasing higher quality tools is expensive, it will mean completing your job safely and correctly.
Think of it as an investment in your career that will pay big dividends down the road.
Wondering how long it takes to become a diesel technician?
Now that you know what skills and qualifications are needed to become a diesel technician, you're probably wondering how long it takes to become one. Check out this Q&A we did with Universal Technical Institute about the amount of time it takes to become a diesel tech.
About the author

Schneider Guy loves the "Big Orange." He's passionate about the trucking industry and connecting people to rewarding careers within it. He's been the eyes and ears of our company since our founding in 1935, and he's excited to interact with prospective and current Schneider associates through "A Slice of Orange."
More posts by this author