Successful Internship Programs: 20-Year Schneider Associate Started as an Intern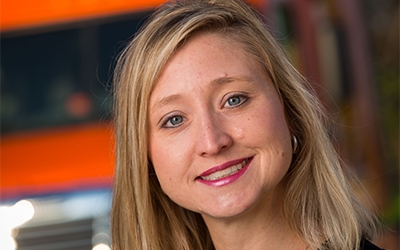 Growing up on a dairy farm in a small town called Denmark, about 20 miles south of Green Bay, Wis., I was very involved in various activities and organizations. I always knew of Schneider. I certainly saw the big orange trucks on the roadways and knew that they were a very successful business, and also a great supporter of the community. My sister was working at Schneider in Customer Service and spoke highly of the company. When I started to think about looking for successful internship programs, Schneider was at the top of my list.
My Schneider internship story
My career at Schneider began in May 1997 when I was hired as an intern while completing my degree at Northeast Wisconsin Technical College (NWTC). I spent the summer learning about transportation and logistics as a member of the Logistics team, while meeting many great fellow associates.
Schneider's Internship Program gave me the chance to network with fellow interns as well as associates from throughout the organization. I also attended various events that helped me to learn of the many opportunities throughout the company. My favorite activity that summer was driving one of the trucks on the "skid pad." When I first sat down in the driver seat, the trainer heard I was a farm girl and thought for sure I would excel at this! After many restarts of the truck and quite a few circles, we both laughed and realized I was a better match for an office position!
From successful internship to successful career
In October of that year I was offered a full-time position as a Logistics Technician and officially began my career at Schneider. I was very motivated to progress in my career and have held many different roles since I started.
I quickly became a Senior Logistics Technician and then Team Coordinator. I have always excelled at public speaking, so I jumped at the chance to become a Trainer when the position became available. In this role, I taught various classes courses to fellow associates. This included traveling to offsite locations across the United States. My favorite trip took me to Europe, and I trained Schneider associates at our former Venlo Office in The Netherlands!
After my time in on the training team, I began my career in leadership as a Customer Service Manager in Logistics. I led a first-shift team and second-shift team for two different customers. After some time in this role, I became a Driver Business Leader and led a group of brand new drivers to the organization. This gave me a great opportunity to really learn the heart of the business and build professional relationships with many new drivers to Schneider.
"I gained a whole new appreciation for the hard-working men and women out on the road each day hauling freight while keeping our roadways safe!"
My next career move took me to Corporate Recruiting Team in Human Resources, initially as a part-time Recruiter for Maintenance. With my background leading drivers, I understood the needs of maintenance, which helped bring in new talent into the organization. I then went back to working full-time as a Customer Service Manager and then a Rates Manager in Logistics.
With a young family, I decided to take a step in a different direction and was a Payment Improvement Representative for three years. That was a great experience to learn more about the behind-the-scenes billing and payment work, while having the perfect work-life balance.
In May 2014, I was offered the opportunity to join Human Resources again as a Corporate Recruiter supporting the Van Truckload and Global teams for non-exempt positions in Green Bay.
Why I love my current job at Schneider
I love this role and the team I work on! I believe my diverse experience in many areas of the organization and previous experience leading others has given me a great perspective on hiring the most qualified individuals! Not only do I get to do my day-to-day tasks, but I also get the opportunity to go out into the community at various events to share all that Schneider has to offer to the community. This includes going to career events, doing classroom presentations, participating in various community activities and connecting with others from around the Green Bay area finding the best new talent for Schneider. I truly make new friends wherever I go!
--
Successful internship programs prepare people for great careers. Starting my career in Schneider's Internship Program gave me so many opportunities and has helped me to build an amazing career path with an excellent organization!
Looking for the perfect internship?
Check out the various internship opportunities we have for college students.
About the author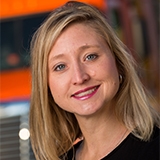 Becky Collar is a Corporate Recruiter and has been with Schneider since starting as an intern in May 1997. She has held various positions throughout the organization including Logistics Technician, Team Coordinator, Technical Trainer, Payment Improvement Representative, Customer Service Manager, Rates Manager and Driver Business Leader.