9 truck driver rewards in Schneider's driver loyalty program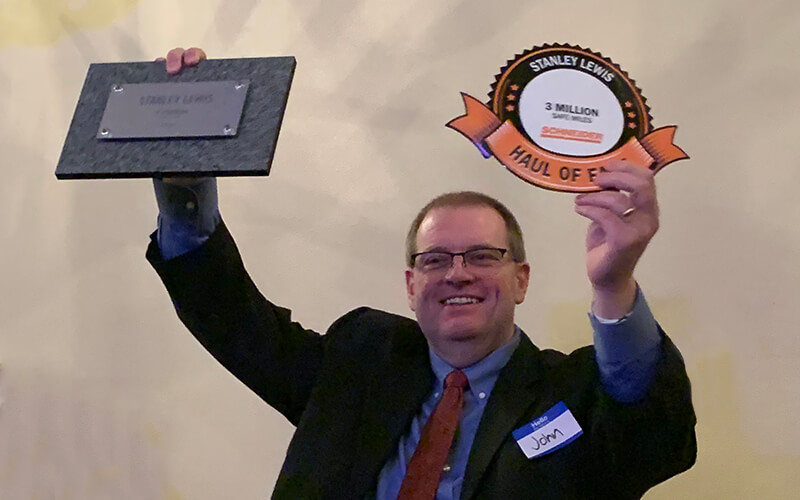 Schneider is a great home for experienced truck drivers, as proven by over 6,000 drivers with over 1 million consecutive safe miles in company history.
Plus, Schneider offers a truck driver rewards and driver loyalty program to make that experience pay off and show appreciation. Some items may vary by type of driving job but in general include the recognition below — in addition to our competitive pay and benefits package.
Schneider truck driver rewards and loyalty program highlights
1. Advantage Club driver loyalty program.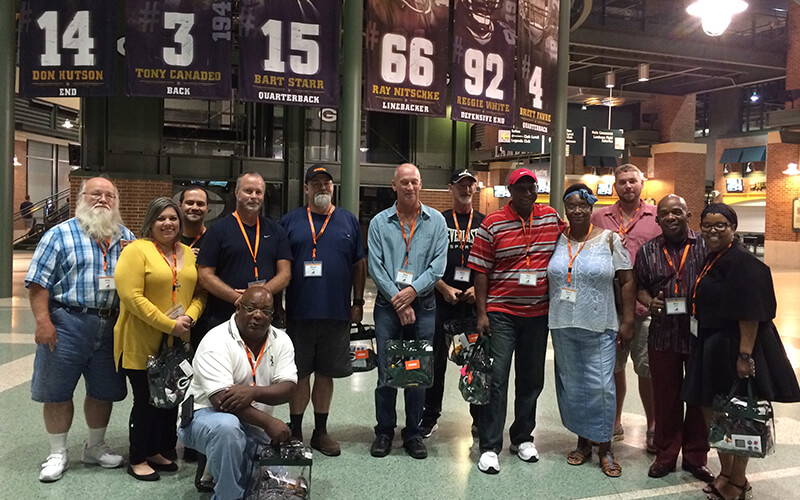 Truck drivers are automatically enrolled in Schneider's Advantage Club driver loyalty program after five years of uninterrupted service. Benefits include:
Free hat and logo patch.
Free membership badge.
25 percent discount on uniform purchases through the Schneider company store.
10 percent off general company store purchases.
10 percent off meals at Schneider facilities.
Eligible to be entered into drawings for sporting events, electronics giveaways and more.
2. Million Mile, Consecutive Safe Driving and Haul of Fame driver awards.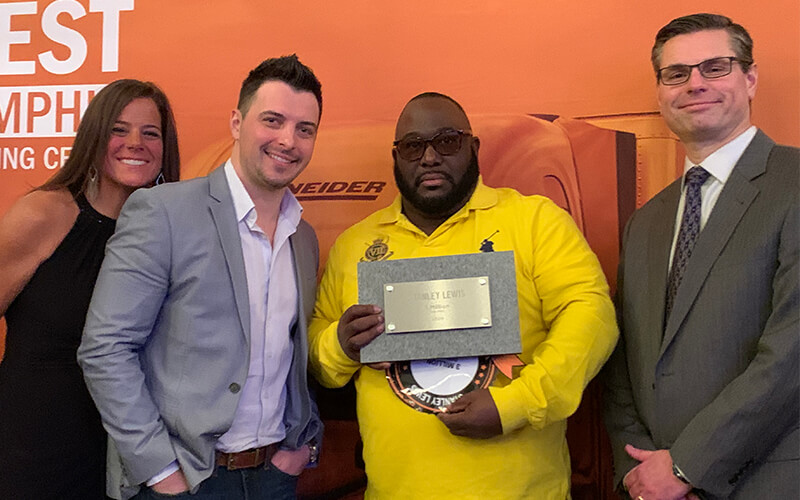 Schneider drivers who consistently demonstrate our culture of safety through their actions are recognized with one of three truck driver awards:
Million Mile Awards are earned when a driver achieves 1 million lifetime safe miles — and again at each additional million-mile increment (we've had 5-million-mile drivers!)
Consecutive Safe Driving Awards recognize drivers who have gone 10 consecutive years without a preventable accident or had more than 24 hours of lost time due to injury. Awards are given at each five-year increment thereafter.
Schneider Haul of Fame recognizes drivers who have accumulated 3 million safe driving miles or 20 consecutive years of safe driving with a personalized plaque on display in Schneider's Green Bay, Wis., corporate headquarters.
Award winners — past and present — are invited to bring one guest to a dinner banquet in which they'll receive a commemorative plaque, jacket patch, truck decal and reward points for other incentives.
3. Milestone shirts and jackets.
When you've reached certain longevity milestones — six months; one, three and five years; and then every five years after — you will be eligible for driver recognition points, which can be used at the online company store for shirts or to put toward a jacket (jacket options begin at one year).
4. Patches.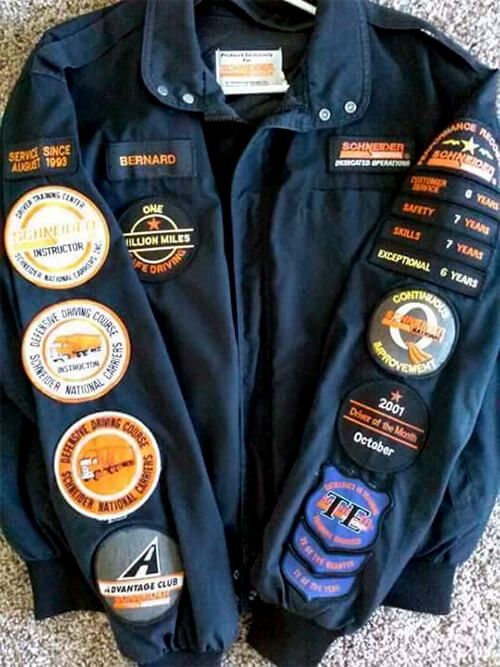 Drivers receive patches for reaching a variety of milestones, and some are specifically designed to be added to the award jacket they have received. Availability of patches varies by driving opportunity, but generally speaking, they are given for:
Reaching annual goals related to:

Return to work or days worked.
Safety (no preventable accidents or lost time injury less than 24 hours).
MPG standards (an exceptional patch is also awarded if all three goals are attained in the same year).

Tenure (example: "Service since …" patch that comes on each jacket).
Million Mile and Consecutive Safe Driver awards noted above.
Upon retirement.
Joining the Advantage Club described above.
Driver of the Month.
5. Truck stop points program.
Schneider has collaborated with a major truck stop chain to offer truck driver rewards in conjunction with their loyalty points program. The reward program card and app includes offers like:
Special coffee pricing.
Shower rewards.
Laundry rewards.
Free food at participating restaurants.
Redeeming points for merchandise or services at the truck stops.
Schneider drivers also receive points for birthdays and company anniversaries.
6. Driver Associate Appreciation Days.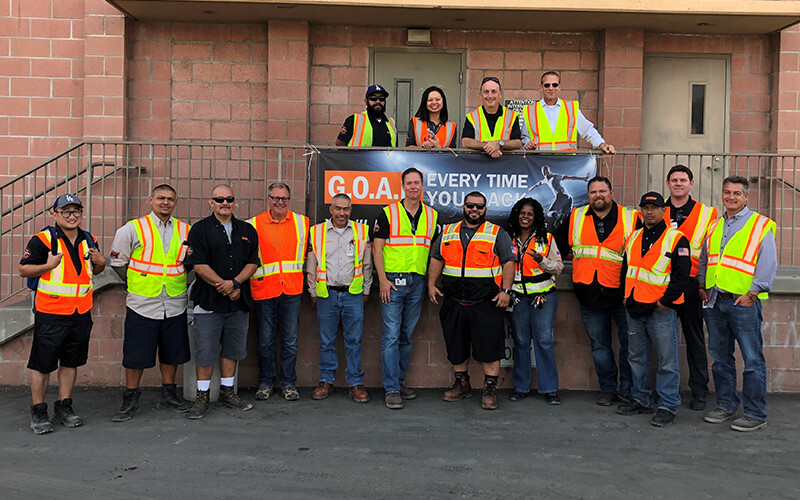 Driver Associate Appreciation Days are held in September to coordinate with National Truck Driver Appreciation Week. The events vary by location, but most major facilities offer food, refreshments and prize giveaways. Leaders are on site to say thank you in person and to celebrate collective achievements.
7. Driver of the Month.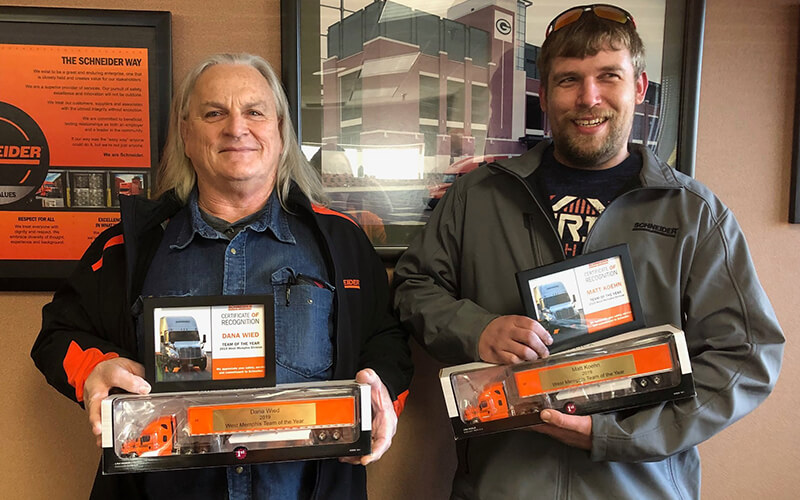 The Driver of the Month program recognizes individual drivers for superior performance on a monthly basis. This award is managed and facilitated at the local level, so implementation may vary. Drivers can ask their driver leader for local details.
8. Recognition Points Program.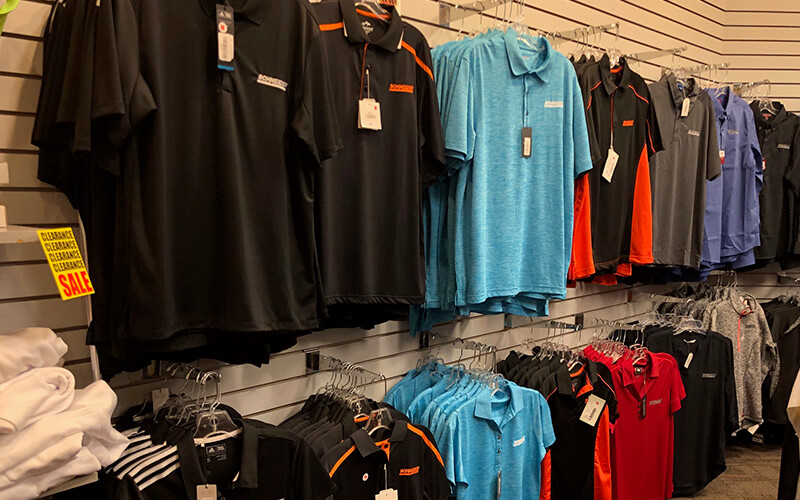 You automatically receive recognition points for milestone anniversaries (in five-year increments), and some areas award additional points for other milestones. Those points can be used in the online Schneider store to select merchandise from thousands of choices.
9. Shopping discounts.
Schneider works with a vendor to offer exclusive discounts at some of your favorite national and local merchants. You can discover thousands of great discounts.
Details on this, all the other truck driver rewards and driver loyalty program items can be found by current Schneider drivers on Schneider's Compass app and platform.

Ready to get your truck driver rewards?
If you're an experienced truck driver, learn more about experience driver pay and benefits, orientation, truck driving jobs and more.
About the author

Schneider Guy loves the "Big Orange." He's passionate about the trucking industry and connecting people to rewarding careers within it. He's been the eyes and ears of our company since our founding in 1935, and he's excited to interact with prospective and current Schneider associates through "A Slice of Orange."
More posts by this author