8 truck driver trip planning tips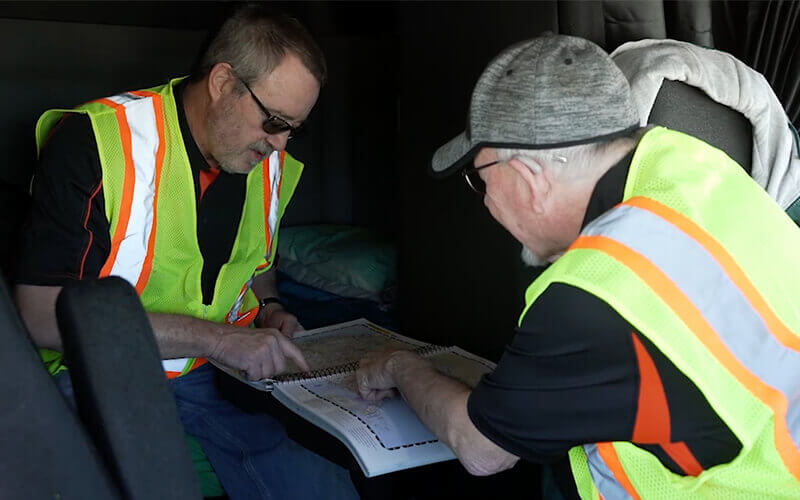 Plain and simple: trip planning is a must for truck drivers. It helps drivers determine where they're going, when they're going to get there and if there could be any issues along the way.
We sat down with a Schneider Driver Instructor, Henry Frautschy, to talk about the ins and outs of truck driver trip planning, and here are his tips:
Trip planning tips for truck drivers
1. Trip plan every single day
Make trip planning an integral part of your pre-trip inspection. Eat breakfast, get ready and then do your pre-trip and trip planning. Whether you are hauling a load that you will be dropping off later that day or starting a three-day trip, trip plan.
2. Use multiple resources for directions
Google Maps and Apple Maps: Use these applications using their satellite point-of-view to look at the locations from which you are picking loads up and where you'll dropping. Make sure you only use these apps when planning your route while trip planning, as cell phones should never be used while driving.
Atlas: Use to clearly get a picture of where you will be driving and to get a broader view of how you are going to get there.
Navigo GPS on the tablet: Use it while driving to navigate where you are going…but do not rely on only this resource.
3. Write down the directions
Try writing down each step of the route on a post-it note, stacking them on top of each other and pulling them off as you complete each step. Some drivers even use dry erase markers to write directions in the corner of their windshield.
4. Look for obstacles along the route that could set you back
Take note of: border crossings, road closures, construction, tolls and small cities you may have to drive through
5. Plan where you are going to take breaks
For 10 hour breaks… Have a primary location and a secondary location planned before you leave. For example, your primary location could be the Schneider Operating Center in Gary, Ind. and your secondary location a rest stop along the route, about an hour outside of Gary. Have an alternate in case things don't go as planned during your day.
For 30-minute breaks… Before you leave for the day, have an idea in mind of where you plan on stopping, but prepare to be flexible and adjust depending on your location.
6. Check the forecast
Use an app on your phone to see what the weather is like where you are and where you are going. Dial 511 or go on the state's DOT website to check how the weather is affecting road conditions.
7. Think about where you are traveling to and through
If you know you will be driving through a big city, trip plan in a way so you can drive through it during an off-time to avoid rush hour.
If you are traveling to the East Coast, spend extra time thinking about parking and have back-up plans in case lots are full.
8. Update your ETA throughout the day
If you know you are ahead of or behind schedule, it is vital to communicate with your driver team leader (DTL) about any time adjustments that need to be communicated to the customer via Schneider Customer Service. Always find a safe a legal place to park your truck before calling your leader.
If you are ahead of your original schedule and update your estimated-time-of-arrival (ETA), your next-available-time (NAT) will also need to be updated. Keeping you NAT updated could mean getting another load that day, resulting in more miles and more money for you!
Updating your ETA if you are behind schedule lets the customer and your DTL plan for your delay.
Why should truck drivers trip plan?
Although trip planning takes more time initially, in the long run, it will make you a safer and more efficient driver.
Henry remarked, "A lot of new drivers don't give trip planning the attention it deserves. They find themselves backed up against the end of their day, and they're not going to make it home on time or they're not going to make a delivery on time and they don't even know it yet because of their lack of trip planning, which should include updating their ETA."
So, next time you're thinking about starting your day without taking the time to trip plan, remind yourself of the all headaches you could save yourself if you take 10 minutes to do it.
Looking for more truck driver tips?
Check out more of our truck driving blogs, covering a wide range of topics to help you become a more efficient driver out on the road.
About the author

Schneider Guy loves the "Big Orange." He's passionate about the trucking industry and connecting people to rewarding careers within it. He's been the eyes and ears of our company since our founding in 1935, and he's excited to interact with prospective and current Schneider associates through "A Slice of Orange."
More posts by this author