5 ways truck drivers can help stop human trafficking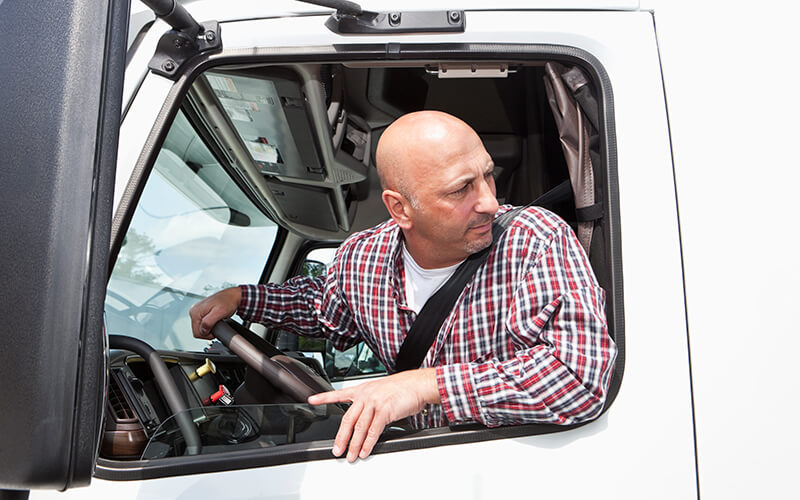 Estimated reading time: 4 minutes
Truck drivers are the eyes and ears of our nation's highways. Spending weeks out on the road allows truck drivers to see and hear things non-commercial motorists might miss.
Unfortunately, one of the things drivers might see during their travels is illegal activity like human trafficking. That's why Schneider sponsors groups like Truckers Against Trafficking (TAT), an organization that educates and empowers truck drivers and those working in the transportation industry to combat human trafficking.
What is human trafficking?
Human trafficking occurs when people are illegally bought and sold for forced labor or commercial sex. Traffickers use force, fear, fraud and coercion to capture and control their victims.
Human trafficking has been reported in all 50 states and there have been hundreds of thousands of victims, ranging in age, race and gender, across the United States. But where exactly does trafficking take place?
Where does human trafficking occur?
Human trafficking isn't just a national issue; it's a local problem, too. Although trafficking can happen anywhere, it often occurs in locations with high traffic such as:
Truck stops.
Large events (i.e. sporting events, conventions, etc.).
Hotels and motels.
Casinos.
Streets.
Top ways truck drivers can help stop human trafficking
Truck drivers should NOT try to recover possible trafficking victims themselves. Instead, Truckers Against Trafficking recommend that drivers follow these simple steps to help stop human trafficking:
1. Keep your eyes open for signs.
Knowing how to spot common signs of human trafficking is the first step in combatting the issue. However, this can be challenging, as the age, gender, race and appearances of trafficking victims can vary greatly.
Truck drivers can use the following signs as indicators that trafficking may be taking place:
Minors engaging in sexual acts.
Someone with a malnourished appearance.
Signs of physical injuries and abuse.
Fear or apparent discomfort.
Branding or tattooing of trafficker's name (often on the victim's neck).
Scripted or rehearsed responses to social interaction.
Someone not knowing where they are.
Someone who is not allowed to speak for themselves.
Citizens band (CB) radio chatter about "commercial company."
Trucks flashing headlights to indicate a "buyer" location.
Mention of a pimp or meeting a quota.
2. Ask questions.
Gathering information can be extremely helpful when identifying and reporting human trafficking. So, if it is safe to do so, ask questions to better understand the situation.
The following are just a few questions truck drivers can ask to identify possible trafficking victims:
Do you keep your own money? If not, who does?
Who are you traveling with?
Do your parents, siblings or relatives know where you are? If not, why not?
When was the last time you saw your family?
Are you free to come and go as you please?
Are you or your family threatened? What is the nature of the threats?
Can you text or call whoever you want? Does anyone else share your phone or control your communication?
Truck drivers should try to be kind and conversational when asking questions and avoid judging or talking down to possible victims.
3. Call for help.
One of the most important things truck drivers can do to help stop human trafficking is talking to people who can do something about the situation.
Drivers can help by calling the National Human Trafficking Hotline at 1-888-373-7888 or texting INFO or HELP to BeFree (233733).
Drivers should call 911, not the hotline, if there is an emergency or if they believe a crime is in progress (i.e. a minor being sold for sex).
The goal of the National Human Trafficking Hotline is to help assess situations and involve local law enforcement if needed. The 24/7 hotline is confidential and anonymous, and drivers do not have to be 100% certain that trafficking has occurred to call.
Truck drivers should try to provide the following information when they call:
Descriptions of cars or trucks: Include the make, model, color, license plate, truck and/or USDOT number.
Descriptions of people: Provide number of people, height, weight, hair color, eye color, age etc. and take a picture if it is safe to do so.
Specific times and dates: Explain what time the event took place and what day it was.
Locations: Provide the location or address of where you noticed signs of trafficking.
4. Let someone nearby know what's happening

After calling the National Human Trafficking Hotline, truck drivers should also report the situation to someone in the area. This could include the owner, manager or employees of a nearby business or truck stop on the road.
Doing this will increase the awareness of trafficking in the area and hopefully cause even more bystanders to take action or report the problem in the future.
5. Empower your carrier or company to take action.
Schneider is one of many transportation companies that supports and promotes Truckers Against Trafficking (TAT) and organizations that educate truck drivers about human trafficking. In fact, over the years, Schneider has trained over 60,000 drivers through TAT.
Truck drivers can continue to fight human trafficking by encouraging their carrier or company to support organizations like TAT or by taking part in TAT's events, company training options or free certification course.
Want to learn more life-saving safety tips?
Schneider is dedicated to educating truck drivers on how to stay safe and keep their fellow motorists safe both on and off the road. You can discover even more ways to improve your personal safety habits by checking out our safety themed blogs.
About the author

Schneider Guy loves the "Big Orange." He's passionate about the trucking industry and connecting people to rewarding careers within it. He's been the eyes and ears of our company since our founding in 1935, and he's excited to interact with prospective and current Schneider associates through "A Slice of Orange."
More posts by this author