10 CDL safety tips to use when driving through a work zone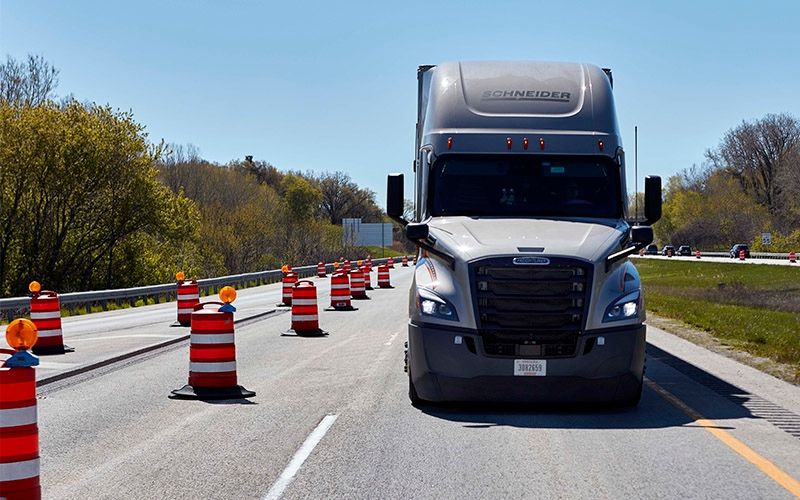 Estimated reading time: 4 minutes
Driving through a work zone can be daunting, especially when facing unfamiliar roads, signs and vehicles. Because of this, it's important to take extra precautions to ensure your own safety as well as the safety of those around you.
Whether you've been driving a semi-truck for decades or got your commercial driver's license last week, use these safety tips when driving through a work zone to make sure you and road construction workers get home safely.
10 safety tips to

follow

when driving

through a work zone
1.

Expect the unexpected

.
Construction zones sometimes present unforeseen and potentially dangerous situations for drivers. Depending on the level of traffic, lanes may unexpectedly close, and vehicles may be redirected in new directions.
The best way to remain safe in a construction zone is to proceed with caution and always pay close attention to your surroundings. Be prepared to slow down at any moment if you see workers or signage in the area indicating a decreased speed limit.
2. Slow down

.
When driving in a construction zone, it is vital to drive at, or below, the posted speed limit. You should be ready to slow down or stop at any moment by keeping your speed in check.
It goes without saying, but stopping is easier when you are traveling at or below the recommended work zone speed limit.
For reference, a truck driving at 60 mph travels 88 feet per second. If you're going 60 mph and pass a sign that says, "Road Work 1,500 feet," you'll be in that work zone in just 17 seconds.
3. Stay alert

.
When driving through a work zone, you should be prepared to deal with more distractions and sudden changes than normal.
On top of the hazards you should always look for, like distracted drivers, you need to be aware of:
Construction workers.

Heavy machinery.

Flaggers.

Sudden lane changes.
Reduced speed limits.

Narrow lanes.

Uneven roads

.
4.

Drive defensively

.
To stay safe around the extra hazards found in work zones, you should practice defensive driving.
Some defensive driving tips to follow include:
Scan

far and wide

for hazards

.

Keep extra distance

between workers

,

barriers

and

equipment

.

Anticipate

other

drivers'

actions.

Signal early

when changing lanes

.
5

. Pay attention to the sign

s.
Some common signs that truck drivers need to look out for when driving in a work zone include:
Remember, some work zones — like those where workers are line painting, road patching and mowing — are mobile, meaning the workers move down the road as the work is finished. Just because you don't see the workers immediately after you see the warning sign doesn't mean they're not out there.
6

.

Follow

any directions given by the flagger.
To ensure the safe passage of vehicles during construction, traffic workers are often used to direct traffic along modified routes. Usually, there is a sign that reads "flagger ahead" to tell you traffic may be stopped or escorted.
You must follow the flagger's directions, as they have the same authority as a road sign in a construction zone. Because of this, you can be cited for disobeying their directions.
7

. Take your time changing lanes

.
Flashing arrow panels or "lane closed ahead" signs mean you need to merge as soon as safely possible. Don't zoom right up to the lane closure and then try to merge into the line of traffic. If everyone cooperates, traffic moves more efficiently.
When changing lanes in a construction zone, be as predictable as possible with your movements. Complete a safe lane change by:
Checking and double-checking your mirrors and blind spots to ensure there is enough room for you to get over.
Signaling for at least three seconds to make your intentions clear to other drivers.

Taking at least seven seconds to complete your lane change (while still keeping an eye on your mirrors).
8

. Leave plenty of space

.
The most common crash in a highway work zone is a rear-end collision. Most rear-end accidents occur because of drivers following too close and traveling too fast for the conditions.
Remember to leave seven seconds of braking distance between you and the vehicle in front of you at all times. Since work zone traffic is so stop-and-start, it can be advisable to increase this number to around 14 seconds.
9.

Consider taking a detour

.
Highway agencies use many ways to inform motorists about the location and duration of major work zones. Often, agencies will suggest a detour to help you avoid the work zone entirely. Plan ahead, stay alert and stay safe so you get home safely.
For information on national traffic and road closures, check out the U.S. Department of Transportation (DOT) Federal Highway Administration (FHWA).
10

. Be patient

.
Construction zones aren't there to personally inconvenience you. They're necessary to improve the roads for everyone.
Whether you're dealing with irresponsible drivers or long delays, the best way to deal with the frustration of driving in a construction zone is to take a deep breath, collect yourself and calm down. Safety always comes first.
Looking for more helpful safety tips?
For advice on everything from how to couple your trailer to how to handle driving in heavy rain, check out our
large collection
of driver safety blogs.
About the author

Schneider Guy loves the "Big Orange." He's passionate about the trucking industry and connecting people to rewarding careers within it. He's been the eyes and ears of our company since our founding in 1935, and he's excited to interact with prospective and current Schneider associates through "A Slice of Orange."
More posts by this author