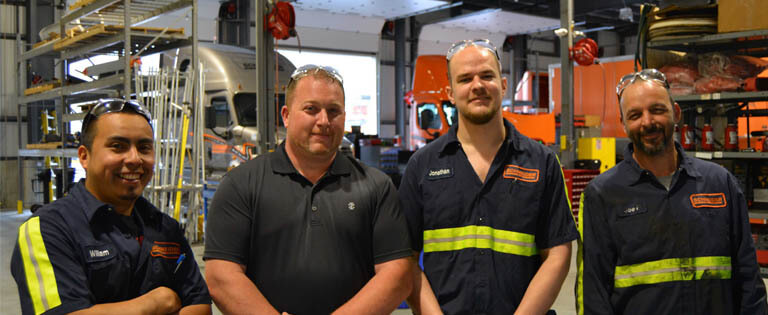 Opportunities
Shop opportunities are endless
Schneider invests in our maintenance team and creates a culture that fosters career growth. We want you to be as excited about your career path at Schneider as much as we are! Check out our maintenance opportunities below and join the Diesel Technician team today.
Diesel Technician I
The Diesel Technician I provides hands-on support to technicians such as executing tire changes, along with electrical and accident repairs. In this role, you will perform various tasks, including general shop duties, routine part pick-ups and stocking, inventory management and tracking repairs.
Diesel Technician II
As a Diesel Technician II, you will service trailers, tractors and other shop equipment. If you have preventative maintenance expertise, this role will be perfect for you. Diesel Technicians enjoy performance-based pay and competitive benefits. We'll provide the training and shop tooling you need to get the job done right.
Tractor Technician Sr
Schneider Tractor Technician Sr handle all major repairs on our fleet of over 10,000 tractors and 37,000 trailers. It's a big job, which is why we need professional, skilled diesel technicians on our team. If you have three or more years of experience as a fleet or diesel technician, our Tractor Technician Sr role is a match for you!
Service Truck Technician II
Want to be a truck driver's on-the-road hero? Schneider's Service Truck Technician II perform on-site maintenance. This may include anything from tire changes to accident repairs. In this role, you will make smart decisions to maintain the safety of our team and equipment, utilizing our software to track your maintenance successes.
Maintenance Team Leader
Are you aspiring to be a leader of the pack? If you have goals of working in a shop management position, our Maintenance Team Leader would be a smart career move. In this role, you'll assist in managing the shop in an effective and efficient low-cost manner, while learning best practices of how to manage an industry-leading maintenance team.
Diesel Technician career paths
With company-paid training at your fingertips, you can stay on top of your game or work your way into something new. Pick a place to start; then grow from there!
"The best thing I enjoy about my job is the interaction with many different people. I also like that we have a great TEAM SPIRIT. The atmosphere of TEAM, RESPECT and INTEGRITY."

Joseph
Diesel Technician II
Find a Diesel Technician job near you