Starting July 2021, mileage for drivers will be calculated using practical miles. More on this change

Tanker Driver Trainer
Home daily | Gary, IN
Act as the subject matter expert in commercial driving by supporting tanker drivers with various training needs and evaluating essential skills as a Tanker Driver Trainer. Enjoy preparing new tanker drivers for a rewarding career with Schneider.
Gary Tanker Driver Trainer job overview
Accountable for administering hands-on training based on individual driver needs, in accordance with curriculum developed by the curriculum design team.
These trainings include but not limited to: performance enhancement training, preliminary skills behavior assessment, experienced enhancement module, annual evaluations, safetrac, return to work, hazmat, logging, road testing, etc.
Partner with Safety and Training Leadership and Operations to help resolve problems or issues identified during training, then make recommendations on next steps.
Maintain and update training records to ensure compliance.
Identify, correct and report any unsafe act conducted by a Schneider associate.
Support Operations in other capacities to include repositioning equipment, hauling freight and performing truck inspections.
Be a resource for professional driver associates on a variety of questions related to driving.
Assist in the transfer of personal belongings, turn-in of equipment and execution of administrative details needed for driver out processing.
Help new driver associates adapt to the lifestyle of an over-the-road driver.
Haul freight regularly.
Represent Schneider and self in a manner that reflects pride and professionalism through following the dress code and by strict adherence to the organizations core values of Safety, Integrity, Respect and Excellence.
Other duties and responsibilities may be assigned, and the scope of the job may change as necessitated by business demands.
*Based on CDL driver experience, performance and location
Gary Tanker Driver Trainer qualifications
Valid Class A Commercial Driver's License (CDL) and DOT physical card.
Minimum 12 months of Class A driving experience.
Previous verifiable instructor/training experience preferred.
Have a knowledge of and adherence to policies.
Live within 50 miles of Gary, IN.
Tanker endorsement required at time of hire.
HazMat endorsement required after starting — Schneider's self-paced online certification training will help you secure it.
Strong knowledge of regulatory requirements with minimal logging or Hours of Service violations.
Ability to identify, analyze and correct unsafe or aggressive driving habits.
Demonstrate a positive, professional attitude and the ability and willingness to accept change.
Strong leadership qualities.
Additional Tanker Driver Trainer job benefits
Annual profit-sharing bonuses available.
Medical, dental and vision insurance, plus flexible spending options and company-paid life insurance.
401(k) savings plan with company match plus a company-paid retirement plan.
Unlimited referral bonus potential.
Credit for Military Experience and Military Apprenticeship programs, plus more military benefits.
Leading equipment and technology specs designed for driver comfort.
Many more — see full driver benefit package.
Hear more about this role from our Driver Trainers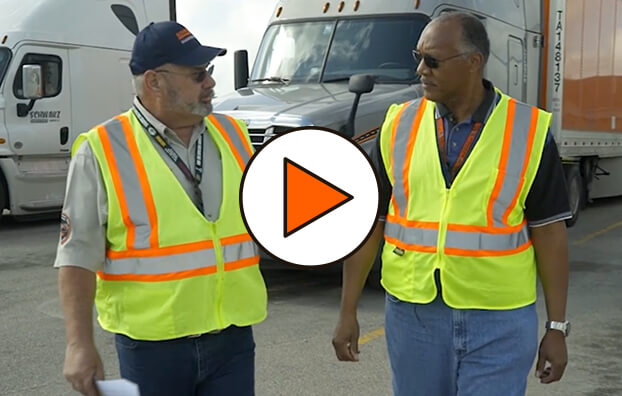 Schneider uses E-Verify to confirm the employment eligibility of all newly hired associates. To learn more about E-Verify, including your rights and responsibilities, please visit www.dhs.gov/E-Verify.