How fast can semi-trucks go? - 5 factors that affect truck driver speed limits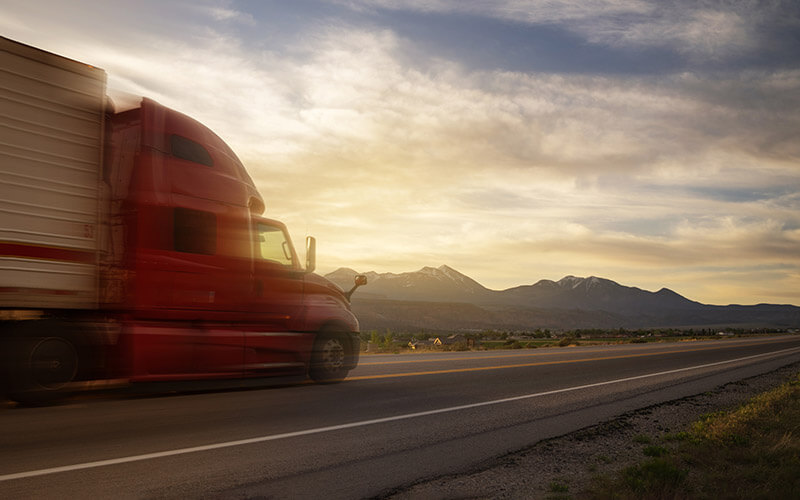 Estimated reading time: 4 minutes
Some of the most common questions truck drivers and trucking companies get asked are "Why do semi-trucks often drive slower than the motoring public?" and "How fast can semi-trucks go?"
The speed limit in most states can range from 55 miles per hour (mph) to 80 mph. However, many trucking companies do not allow their truck drivers to exceed 65 mph.
In this blog, we'll explain how fast Schneider semi-trucks can go and share some of the top factors trucking companies consider when determining truck driver speed limits.
Schneider's speed stance
Schneider's maximum cruise speed for most trucks is 65 mph.
It's important to note that there are a few exceptions to Schneider's speed stance:
California-, Oregon- and Washington-domiciled intermodal trucks and dedicated trucks that operate mainly in these states, often have a lower cruise speed limit because the speed limits in those states are lower than 65 mph.
All Schneider drivers are allowed to exceed their governed speed slightly when passing other vehicles to help insure that, when passing other vehicles, we are able to do so quickly and safely.
5 factors that impact truck driver speed limits
1. Safety.
Safety is typically the top influencer for trucking companies when deciding the top speed limit their drivers can go.
This is because speed is a direct influencer on the amount of stopping distance a driver needs. The faster a semi-truck hauling a full trailer travels, the longer it needs to come to a complete stop.
Regulating truck driver speed limits allows companies to not only reduce the number of accidents that occur on the road, but also decrease the severity of accidents.
How Schneider determines semi-truck speed limits that allow drivers to remain safe
Operating safely and efficiently is at the core of the work we do at Schneider.
So, when deciding our truck driver speed limits, we perform extensive testing and analysis to ensure that we set the right speed without sacrificing safety. Advancements in safety technology play a major role in this analysis.
Over the years we've tested a variety of equipment like collision mitigation systems and electronic stability control technology that can help prevent accidents by automatically reducing speed to avoid collisions or helping drivers maneuver more safely on the road.
2. Driver experience.
Trucking companies often receive questions from their drivers about increasing the speed limits of their trucks.
Receiving this feedback helps companies determine if changing their speed stance is necessary.
How Schneider gathers truck driver feedback to improve the driver experience
We at Schneider value our drivers' opinions. That's why we monitor and respond to driver feedback through:
Face-to-face communication with drivers.
Driver surveys.
Driver location ratings.
Monthly virtual driver chats.
Virtual recruiter Q&A's.
Social media.
So, when determining how fast an 18-wheeler can go, Schneider collects driver feedback and works to meet drivers' needs and requests while ensuring that we maintain the safety and well-being of everyone on the road.
3. Equipment specs.
Equipment plays a big part in how fast a semi-truck can travel. Older trucks often aren't as efficient or safe as newer model trucks. So, the types of trucks a company operates may influence how fast their drivers can go.
How Schneider's equipment impacts truck driver speed limits.
Schneider feels that, currently, it's appropriate to set our governed cruise control speed at 65 mph, thanks to our investments in engine performance and aerodynamic technology.
We've also made investments in technology and equipment that help enhance drivers' situational awareness and safety performance when traveling at faster speeds.
This safety technology includes:
Collision Mitigation Systems (CMS).
Forward and side-facing cameras.
Lane Departure Warning Systems (LDW).
Electronic Stability Control (ESC).
Side Guard alert systems.
4. Fuel efficiency.
Another major factor trucking companies consider when changing speed policies is fuel efficiency. The faster you drive, the less fuel efficient your vehicle becomes.
However, increasing fuel efficiency doesn't just save money, it also helps companies reduce their carbon footprint.
Both factors play a huge role in companies' decisions when it comes to semi-truck speeds.
How Schneider's speed policy impacts fuel efficiency
At Schneider, we feel 65 is the sweet spot when it comes to our driver speed limit. Our research and analytics show that fuel efficiency begins decreasing when drivers start traveling faster than 65 (but, as mentioned, doing so is sometimes necessary for safety or other reasons).
In fact, we've found that for every one mph slower a driver drives at, he/she saves one-tenth of a mile per gallon.
Bettering our fuel efficiency helps cut back on fuel expenses and allows us to reinvest that money into other areas, like driver earnings and safety efforts.
5. State speed limits.
Drivers are expected to operate at the posted state speed limit or less, depending on conditions (weather, visibility, traffic, etc.).
When trucking companies are determining company speed limits, they must ensure that their regulated speed doesn't exceed or fall too far below the average state speed limit.
How Schneider uses truck technology to monitor posted speed limits
Many of Schneider's new trucks come equipped with sensors that detect speed limit signs and display the posted speed on the driver's dash.
This allows drivers to keep track of the posted speed, regardless of if they didn't see the last speed limit sign.
We plan on continuing to enhance our technology to provide improved speed monitoring capability to help drivers.
Want to learn even more trucking facts?
Have you ever wondered how long a semi-truck is? What about how many miles a semi-truck can travel on one tank of fuel? Get the answers to these and many more frequently asked trucking questions in our truck driver fun fact blog.
About the author

Schneider Guy loves the "Big Orange." He's passionate about the trucking industry and connecting people to rewarding careers within it. He's been the eyes and ears of our company since our founding in 1935, and he's excited to interact with prospective and current Schneider associates through "A Slice of Orange."
More posts by this author