'How long is a semi truck?' and other fun facts about semi trucks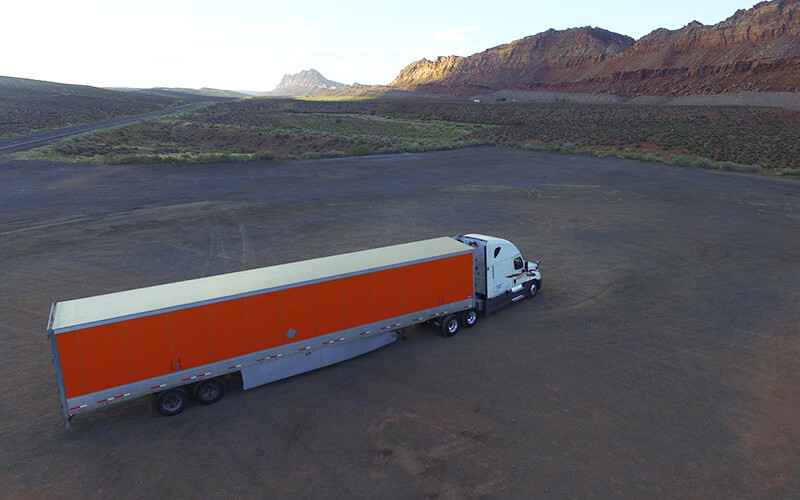 Semi trucks are everywhere you look on our nation's highways, delivering the goods that meet your needs. "If you bought it, a truck brought it," as the saying goes.
But too few people stop to think about the truck drivers behind the wheel and the fascinating machines they operate.
So we've compiled some FAQs, like "How long is a semi truck?" and nine other interesting facts that'll make you appreciate what drivers do every day with this equipment.
10 fun facts about semi trucks
1. Why is it called a semi truck?
A semi-trailer truck, sometimes just called a "semi," is the combination of a tractor and one or more trailers hauling freight, which is why some call it a tractor-trailer. Still others call them 18-wheelers since the combined unit typically has 18 wheels.
The semi-trailer itself only has rear tire tandems, requiring a tractor to pull it, with the trailer hitch connected to a truck's fifth-wheel. The tractor can drive without a trailer, which differentiates it from a straight truck, which has one frame containing the engine, driver compartment and cargo area.
2. How long is a semi truck?
A semi truck is about 70 feet long, combining the tractor and trailer.
The length can vary considerably based on:
Type of tractor: Sleeper cabs, which have a bed inside for drivers who haul farther away from home, are typically about 20 feet long, though each manufacturer and spec can alter that.
Type of trailer: A standard dry van trailer is 53 feet long, which overlapping a few feet over top of the tractor, makes the unit about 70 feet. Double or pup trailers are typically 28 feet in length, while intermodal containers can be 20 or 40 feet. Tanker trailers, flatbeds and a wide variety of other trailer types are available, all in slightly different lengths.
State requirements: Companies can often get creative with the length of equipment for specialty freight needs, but each state has different regulations as well for overall length.
3. How heavy are semi trucks?
Semi trucks can get up to 80,000 pounds for gross vehicle weight with both tractor and trailer, according to most weight restrictions. That's typically divided with up to 12,000 pounds over the steer axle and 34,000 pounds over both the drive and the trailer tandem axles.
Oversized loads can exceed those amounts with special permits.
Truck drivers are also limited to how much weight they can haul based on their CDL (Commercial Driver's License) type (e.g., Class A vs. Class B CDL).
4. How long does it take to stop a semi truck?
It can take 370 feet to stop a fully loaded tractor-trailer at 60 mph. This is why it's so important for motorists to never cut in front of a semi truck, and for truck drivers to maintain a proper following distance.
5. Why do semi trucks sometimes drive slower than the speed limit?
Many semi trucks have speed limiters (or governors) built into their trucks as a way to optimize fuel efficiency, which is better for both the environment and the bottom line. For example, Schneider's speed stance is 63 mph for many tractors.
This is why you'll sometimes see two semi trucks stay next to each other for long periods of time while passing, if one is governed 2 mph faster than the other, for example.
Some states also have speed limits specifically for trucks.
6. How many miles can a semi truck go on one tank of gas?
Semi trucks can go about 2,100 miles on a tank of diesel fuel (not usually gasoline), assuming tanks totaling 300 gallons and an average fuel efficiency of 7 miles per gallon.
Of course, each driver needs to know the fuel tank size and fuel efficiency in his or her truck. Many companies offer fuel optimization solutions to help drivers safely maximize fuel stops, and Schneider is a fuel efficiency leader within the industry.
7. Do semi trucks only have manual transmissions?
When many people think of trucking, they automatically think about complicated shifting patterns. Many still contain manual transmissions, but Schneider, for example, has been shifting to automated manual transmissions. Automated means they're mechanically manual with most shifting handled by a computer (in part to help with fuel efficiency), with driver override options.
You can obtain a CDL (commercial driver's license) with an automated restriction, which still opens plenty of career opportunities.
8. What amenities are available in semi trucks?
Each trucking company orders specific amenities for their drivers, and each manufacturer offers unique spec options, but in general, modern trucks are like homes away from home, packed with driver-friendly features.
Schneider's 2020 truck spec, for example, includes APUs (auxiliary power units), power inverters, fridges, memory foam mattresses and more, in addition to automated transmissions.
9. What is the average life of a semi truck?
Semi trucks average about 10-15 years of lifespan, but it's highly variable on maintenance standards, type of freight hauled (80,000 pounds and city driving vs. lightweight long hauls) and driver performance.
While many trucks can hit 1 million miles in its life, a high-mileage driver could exceed 120,000 miles in a year.
Schneider's average age of fleet is 3 years, and we typically make our well-maintained used fleet trucks and trailers available after about 6 years.
10. What percentage of freight is moved by semi truck?
About 71 percent of freight by weight is moved by semi trucks, totaling almost 11.5 billion tons of freight, according to the American Trucking Associations (ATA).
The ATA also projects freight volumes to grow 35 percent by 2029, which means driving jobs will only expand, making job security one of the many benefits of truck driving.
Curious about Schneider's semi trucks?
Schneider has made many recent upgrades to its trucks to enhance the driver experience and comfort. Learn more about them and how you can get the keys to drive one.
About the author

Schneider Guy loves the "Big Orange." He's passionate about the trucking industry and connecting people to rewarding careers within it. He's been the eyes and ears of our company since our founding in 1935, and he's excited to interact with prospective and current Schneider associates through "A Slice of Orange."